The 'Gold' Movie Soundtrack Will Be Worth The Wait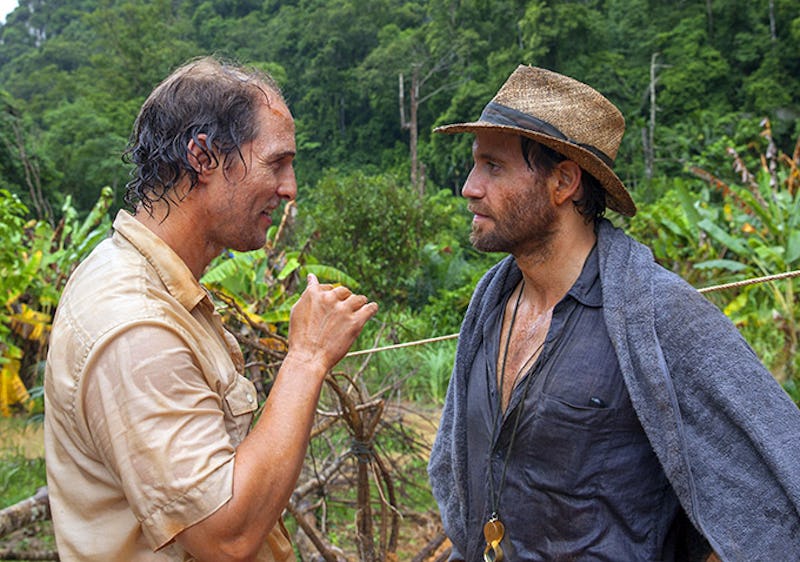 TWC-Dimension
The hype is real for Matthew McConaughey's latest film, Gold. The new action adventure meets strike-it-rich saga looks like it'll be full of high octane moments. Therefore, you can expect its soundtrack to be equally as thrilling. You're probably wondering how to find the Gold movie soundtrack on Spotify. But, if you're hoping to strike it rich yourself, by coming across the film's music, don't hold your breath. The official soundtrack isn't available on Spotify, and at this point, it's unclear when it will be. However, the film's official Facebook page did share an "Inspired by Gold Movie" playlist via Spotify, and even though that's not the official soundtrack, it might hold you over.
In fact, though the movie will be released on Jan. 17., 2017, the official soundtrack will not be available for your listening pleasure until Feb. 17., 2017. (You can pre-order it now on Amazon.) If you've been following the film and eagerly awaiting its premiere, you're probably already aware of Gold's wide release being pushed back. (Originally, the film was set for a wide release on Christmas Day.) Not to worry though, award show watchers, according to The Hollywood Reporter, it's still receiving an "awards-qualifying run." Meaning, that yes, it's music will still qualify.
Checkout the playlist, below.
One of the soundtrack's songs has already received a highly coveted nomination. Taking its name from the film's title, "Gold" — with music and lyrics by Brian Burton, Stephen Gaghan, Daniel Pemberton, and Iggy Pop — is up for a Golden Globe in the "Best Original Song — Motion Picture" category. It's got some tough competition with music from this year's revered La La Land and the Lin-Manuel Miranda penned track "How Far I'll Go" from Moana. Still, it's a legit nod. One that says only good things about the impending soundtrack.
The official trailer for Gold featured 1978's "Renegade" by Styx in the background. Expect the film's soundtrack to be populated with similar rock tunes, though don't expect them all to be '70s classics. Given that the original events the film's based upon all occurred in the '90s, the film will most likely feature some songs from that decade. The music supervisor for the film — Linda Cohen — has an incredible resume, featuring an insane amount of highly acclaimed films, like Argo, No Country for Old Men, and There Will Be Blood.
So, even if Gold doesn't live up to your viewing expectations, by the sound of everything else we know about it, the music will.