Who's To Blame For The Partial Government Shutdown? Here's Why It Happened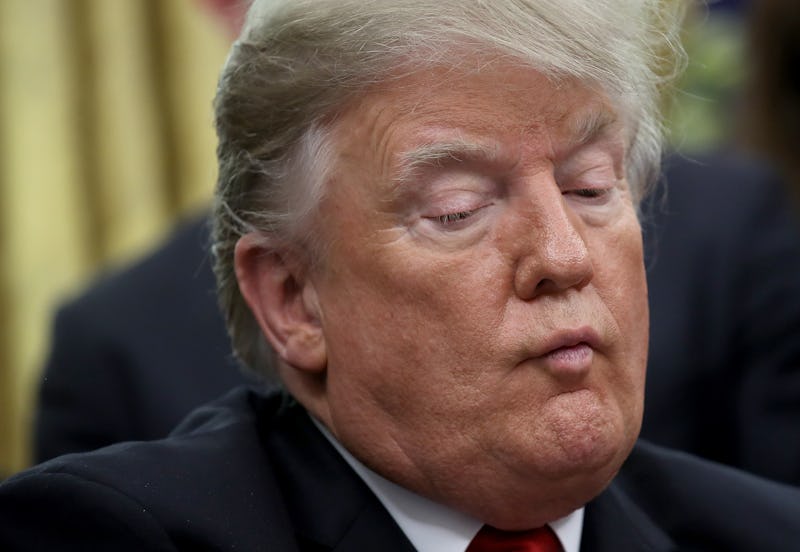 Win McNamee/Getty Images News/Getty Images
Parts of the federal government shutdown at midnight Friday after President Donald Trump and congressional leaders failed to reach an agreement on a spending bill that would have kept key departments open through the holidays. But is the partial government shutdown Trump's fault? The president's refusal to compromise certainly hasn't helped matters.
Saturday's partial government shutdown followed weeks of President Trump threatening to allow government funding to lapse if he didn't receive funding for his border wall. Indeed, while congressional leaders appeared set to pass a bipartisan spending measure earlier in the week, Trump announced Thursday that he'd refuse to sign the measure — which had, at the time, already passed the Senate — as it did not include the billions he wanted in border security funding. In a last-minute effort to avoid a shutdown and appease Trump, House Republicans pushed through a stopgap funding measure that allocated $5.7 billion for Trump's border wall but ultimately failed to gain traction in the Senate, according to CNN.
With the president appearing to be unwilling to compromise on a spending deal, Democrats have blamed the shutdown on what they call Trump's "temper tantrum." "Regrettably, America has now entered a Trump Shutdown," a joint statement from Senate Minority Leader Chuck Schumer and House Minority Leader Nancy Pelosi read. "Instead of honoring his responsibility to the American people, President Trump threw a temper tantrum and convinced House Republicans to push our nation into a destructive Trump Shutdown in the middle of the holiday season."
Trump, however, is placing blame across the aisle. Despite previously telling Schumer and Pelosi that he would be "the one to shut it down" if he didn't receive funding for his border wall, Trump recently blamed Democrats for the shutdown. "We're going to have a shutdown. There's nothing we can do about that," Trump said Friday in a tweeted video address. "We need the Democrats to give us their votes. Call it a Democrat shutdown, call it whatever you want."
Indeed, President Trump spent much of the day Friday attempting to frame Democrats as being solely responsible for the shutdown. "The Democrats now own the shutdown!" the president tweeted as talks broke down Friday.
Yet less than two weeks ago Trump told Schumer and Pelosi that he'd proudly shut the government down in an attempt to get his border wall funding. "I am proud to shut down the government for border security, Chuck," CNBC reported the president said during an Oval Office meeting on Dec. 11. "I will take the mantle. I will be the one to shut it down."
Although the House and the Senate both adjourned early Friday evening, congressional leaders on both sides of the aisle have agreed to remain in Washington to continue negotiations with the White House over a spending bill the president would sign. According to The Hill, no votes were scheduled to take place in either chamber on Saturday. House Majority Leader Kevin McCarthy reportedly told legislators they would be given 24 hours notice of a scheduled vote.