'The Hate U Give' Is Probably The Most Socially Relevant Movie You'll See This Year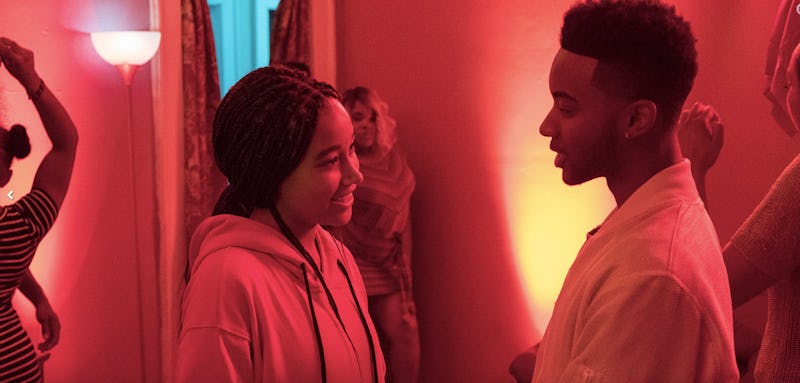 20th Century Fox
The Hate U Give has been deemed by many critics as an Oscar contender, generating tons of buzz with its vital story about Starr Carter (Amandla Stenberg), a 16-year-old black girl who becomes an activist after witnessing police kill her childhood friend, Khalil (Algee Smith). With the deaths of so many young, unarmed black men at the hands of police officers in the news every year, this story feels so real. But The Hate U Give isn't based on one true story. It's an adaptation of Angie Thomas' YA novel of the same name.
Thomas' idea for the novel was influenced by a specific incident of police brutality, though. In an interview with The Los Angeles Times, the author explained that after hearing about the death of Oscar Grant, an unarmed 22-year-old man who was killed by an Oakland police officer on New Year's Day in 2009, she was devastated. "In my anger and frustration, I wrote a short story about a boy named Khalil who was a lot like Oscar and a girl named Starr who was a lot like me," disclosed Thomas.
When more cases of young black lives being cut short hit the news, including those of Trayvon Martin and Tamir Rice, Thomas realized it was time to expand it to a novel. "I decided to turn this story into a novel because so many kids in my neighborhood and church, every time somebody called Trayvon Martin a 'thug,' it felt like they were calling them thugs," explained the author. "I wanted to write a book for them that says, 'I see you. I hear you. I understand you. I love you.'"
In an interview with Goodreads, Thomas discussed how her own experiences also shaped how she wrote Starr's. "Starr's neighborhood, for one, is based on the neighborhood I grew up in. The neighborhood I lived in up until a few weeks ago, actually," explained the author. "So, a lot of that, the culture of the neighborhood, the unspoken rules of the neighborhood, the people, the love, and then the harsh realities of the neighborhood — those are all things I took from my own community and my own life."
She also explained that while she has never experienced exactly what Starr did in the novel and film, she has experienced the pain of losing friends to gun violence. "I saw it with my own two eyes, and I felt the trauma of it. I took those feelings and my own anger, frustration, and pain when I see another black person lose their life at the hands of law enforcement — I took all of those emotions and just poured it into this," the author told Goodreads. "So while it wasn't a direct experience of mine, the pain and the trauma and the anger and the frustration are all things that I've felt."
The novel's impactful story resonated with many. It became number one on The New York Times YA best-seller list, remaining in that spot for 79 weeks. It is also taught in certain high schools but was reportedly banned in one Texas school district. With the film coming out, this powerful story will reach a wider audience, educating young and older viewers alike about the power of activism in the face of recurring racially-charged police brutality.