Why The House Of Abundance On 'Pose' Feels So Fabulously Real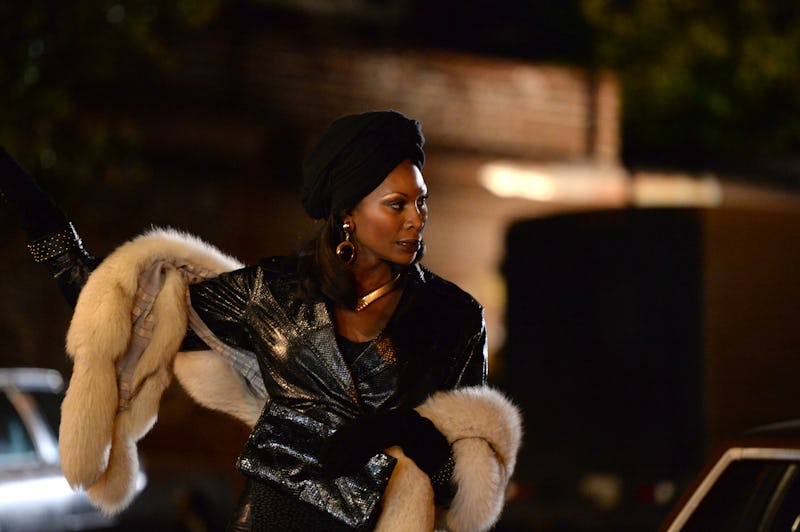 JoJo Whilden/FX
The first thing audiences see in Ryan Murphy's Pose is Elektra (Dominique Jackson) sitting at her vanity table, while her children preen and pose around her. "For ten years, The House of Abundance has reigned supreme," she says, providing exposition, going on to say that another house has just stolen the trophy from them. Elektra is The House of Abundance mother, and she and her children compete at the balls viewers see in Pose's pilot episode, with participants duking it out on the runway for that coveted 10 score. Since the '80s ballroom scene is historical, fans may want to know if The House of Abundance on Pose is real.
While The House of Abundance is fictional, its characters feel lived-in. Candy (Angelica Ross) and Lulu (Hailie Sahar) have great chemistry and bicker like siblings would. "She is the mother of invention," Candy says of their house mother at the beginning of the pilot. "And this is where the goodness comes from," echoes Lulu. Cubby (Jeremy McClain) and Pito (Sebastian Chacon), meanwhile, vogue like they just invented it.
And The House of Abundance appears to pay tribute to real houses from that time period, such as The House of Xtravaganza. The founding father and mother of the house were Hector and Angie, according to current house father Jose Gutierez Xtravaganza in a 2015 interview with NPR's Latino USA. Angie Xtravaganza died of AIDS complications in 1993, per the New York Times, and she made Jose promise to keep the legacy alive after she was gone. "It's something that I promised to never, ever let die — to make sure that it lives forever," he told Latino USA. "And I'm going to do that, like I promised her I would."
The house, which is still alive and well today, was ubiquitous in the '80s ballroom scene. In fact, Jose Xtravaganza was in Madonna's "Vogue" music video, according the New York Post, and house grandfather Hector Xtravaganza consulted on Pose, per Deadline. And while many saw both "Vogue" and the 1990 documentary Paris Is Burning as appropriation, per the same New York Times story, it also brought ball culture to the mainstream, for better or for worse.
As for Elektra's Dominique Jackson herself, she is from Trinidad and Tobago, according to an interview with Refinery29, but she left home after coming out to her parents. "I felt like I was a damaged kid," she said. However, Jackson consequently moved to the U.S. and soon after discovered the ballroom scene.
"I never thought of myself as beautiful or good looking or anything like that, and here these people were telling me that I was beautiful," Jackson recalled. "Shatera, the mother of the house, said, 'You're going to be family.' I looked at her and laughed because I didn't think at that point in time that it was possible. But eventually I ended up coming to New York and joined the ballrooms." Jackson was consequently raised by her ballroom elders, as she describes in Emily Nussbaum's recent New Yorker profile on Ryan Murphy, and she even went on to mother over 30 children.
And who would know better how to portray a house mother than a house mother herself? While Elektra's mannerisms are perhaps exaggerated, they're also electrifying. Per the New Yorker, she is Murphy's favorite character, and the Pose writers even called him Elektra. Indeed, the house mother is always poised and put together, exclaiming, "Escort mother to her throne!" and, "I look too good not to be seen!"
"[S]ome of the lines that I have to deliver as Elektra are lines that mothers of mine said to me," Jackson told Time Out. "And the dynamic of the family that exists in ballroom is so well represented here; we're not masking it, we're giving you the truth."
What's more, Jackson said in the same Refinery29 interview, "The show is extremely authentic to experiences. The consultants on the show were really amazing, and they brought their stories."
Indeed, not only does Pose feature a record number of trans actors — five, per the Hollywood Reporter — but the show has already gotten rave reviews for its authentic yet pulpy portrayal of ball culture. For an abundance of glitter, glam, and ballroom realness, audiences can tune in each Sunday at 9 p.m.