If You Love Vegan, Eco-friendly, & Cruelty-Free Brands, This Subscription Box Is For You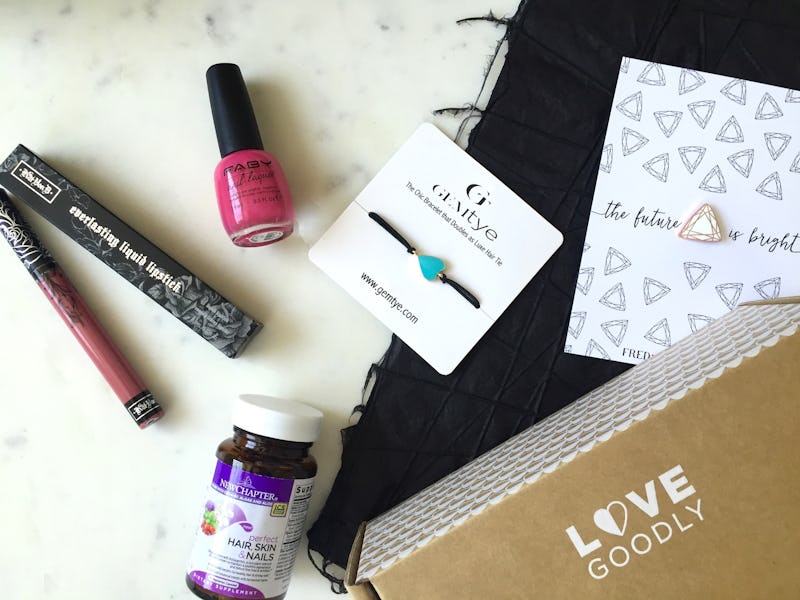 Love Goodly
Subscription boxes may be one of the most popular forms of bringing new beauty products to cosmetic and skin care lovers. From extremely popular boxes like IPSY to retailer run boxes like Sephora's Play Box, there's a lot to choose from. The Love Goodly subscription box, however, is one that you certainly shouldn't be overlooking. This bi-monthly box is vegan, eco-friendly, and cruelty-free making it not only great for you and the world but perfect for those looking for non-toxic & healthy beauty and wellness products.
How does the box work? The Love Goodly box is sent bi-monthly to subscribers and costs $29.95 bi-monthly as well. While many subscription boxes send deluxe travel sizes, the Love Goodly box actually sends full sized products at an incredibly affordable price. Plus, while the status of products in other boxes may be unknown at the time of arrival, you always know that products sent in your Love Goodly box will be vegan, cruelty-free, and non-toxic. Plus, proceeds from each box are donated to a different charity.
If you love the products inside your bi-monthly Love Goodly box, you can also shop those products directly from the site. Love Goodly has even created a symbols to display the attributes of products such as whether or not they're hand-made, organic, or fair trade.
Love Goodly Subscription Box, $25.95, Love Goodly
As for whether or not the box is worth it, I'd say it's a resounding yes. My first Love Goodly box included some seriously incredible products, and the adorable packaging wasn't lost on me either.
What was in my first Love Goodly box?
Kat Von D Beauty Everlasting Liquid Lipstick in LoveCraft
As an already avid fan of Kat Von D Beauty, receiving LoveCraft was especially exciting. Not only is the Kat Von D brand cruelty free, but it's also vegan. Pair that with the fact that the brand's Everlasting Liquid Lipsticks wear like a dream, and you've got a perfect product.
Faby Nail Lacquer in Sugarfull
Prior to receiving the Love Goodly box, I'd never invested in non-toxic nail polish. I now know what a mistake that was. The Faby Nail Laquer leaves a gorgeous shine and held up incredibly well. Plus, it's 5-free — no dibutyl phthalate, toluene, formaldehyde, camphor, or formaldehyde resin.
Gemtye Custom Heart Bracelet and Hair Tie
Talk about a cute product! The Gemtye bracelet and hair tie was one of my favorites. Not only does it make a super cute bracelet, but it's a pretty great hair tie as well. In addition, the product is vegan, fair trade, and if purchased, donates money to charity.
New Chapter Perfect Hair, Skin & Nails
Tons of beauty lovers have heard of Biotin's ability to help your hair and nails grow, and that's exactly what's in these supplements. In the box, I received a 15 day supply so I haven't quite finished these yet. Supplements are a totally personal decision, and before using them, it may be best to consult a health care professional.
Fred + Far Trillion Pin
Fred + Far is all about self-love and self-care, and that's exactly what the Trillion pin symbolizes. Products from the brand offer a daily, visual reminder that you've got to love yourself. Outside of the incredible message, though, this pin is gorgeous. The gold details and white background are completely classic, and the diamond shape is perfect.
Clearly, there's a lot to love about Love Goodly, and I'd say that the subscription box is totally worth the price tag. Plus, Love Goodly is offering Bustle readers a free gift of the Deux Lux Vegan Luggage Tag in black, light pink, or teal using code GWPBUSTLE.
If you love incredible cruelty-free, eco-friendly, and vegan products, the Love Goodly box should be your new go-to. Head over to the Love Goodly site now and snag the next box. It's definitely can't miss.