McDonald's Dollar Menu Is Coming Back With Tons Of New Options — And A New Name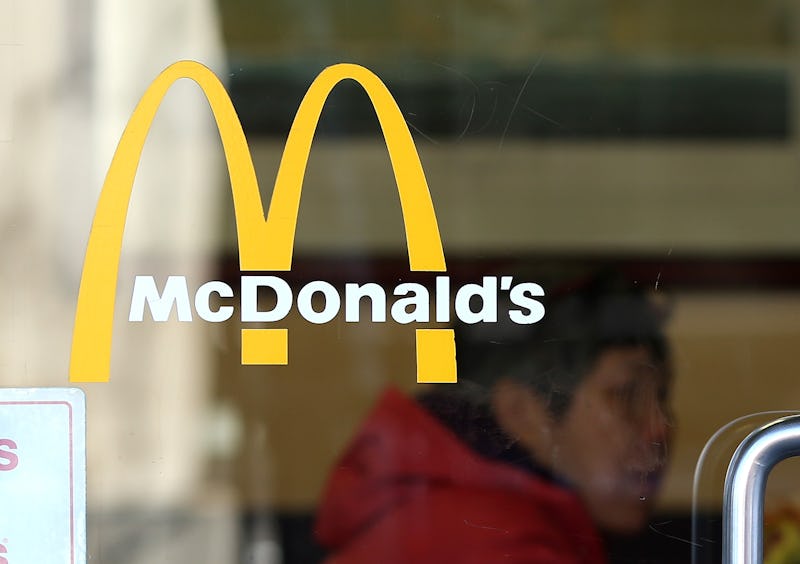 Justin Sullivan/Getty Images News/Getty Images
Fast food gets a bad rep, but we all know that there's plenty to love about it. As the name of this oh-so-delicious restaurant category suggests, speed is, of course, a major benefit. The fast food industry definitely has convenience on its side — but its low prices don't hurt, either. Even an expensive trip to McDonald's usually clocks in at less than the price of an appetizer pretty much anywhere else. The good news for bargain hunters everywhere is that Mickey D's is bringing back an even more reliably cheap menu option. So, is the McDonald's dollar menu coming back? Turns out, it is — and just in time for you to kick off the new year with an extra dose of burgers.
Earlier this month, McDonald's announced the return of the Dollar Menu, which has (sadly) been MIA from your favorite Golden Arches location since 2013. But, this time, it'll have an all new name. Starting Jan. 4, you'll find a $1 $2 $3 Dollar Menu available at restaurants across the country — and if you thought this news couldn't get better for fast food lovers, you'd be wrong. The brand new value experience is also intended to be totally customizable, making it even more awesome than its basic Dollar Menu predecessor, which was quite literally a menu of things that were all priced at a single dollar.
When it rolls out in January, the $1 $2 $3 Dollar Menu will feature three basic price points (duh). Within each tier, customers can choose a breakfast, burger, chicken, or beverage. Here's how the menu breaks down:
$1 Menu Items
Sausage Burrito
McChicken
Cheeseburger
Soft drink (any size)
$2 Menu Items
Sausage McGriddles
Buttermilk Crispy Tenders (2 pieces)
Bacon McDouble
Small McCafé beverage
$3 Menu Items
Sausage McMuffin with Egg
Classic Chicken Sandwich
Triple Cheeseburger
Happy Meal
Given these gloriously low price points, Mickey D's expects that customers will mix and match items in order to build a customized meal. If you're the kind of person who often finds themselves craving both a Sausage Burrito and a Bacon McDouble, you'll be able to lock down your dream meal for just $3 starting Jan. 4. The other big news here is that Happy Meals will now be offered — for the first time ever — on a value menu.
"We built this new menu with variety and value firmly in minds," says McDonald's USA president Chris Kempczinski in a press release. "Our new value menu includes surprises like our completely new Classic Chicken sandwich, the inclusion of our Happy Meal, and more."
Per Kempczinski, the $1 $2 $3 Dollar Menu will debut simultaneously with the new Classic Chicken Sandwich, which is included in the $3 tier. The sandwich features an all white meat buttermilk crispy chicken filet, a toasted bun free of high-fructose corn syrup, pickles, and (more good news!) the recently introduced sweet and tangy Signature Sauce.
This news from Mickey D's is more than just music to the ears of cheeseburger lovers everywhere — it's also evidence of a price war brewing among top fast food chains. According to Reuters, McDonald's is currently fighting this battle against multiple competitors, including Dunkin' Donuts and Taco Bell. Taco Bell's value menu will expand by nearly double in the new year. Mere hours after McDonald's made their Dollar Menu announcement, Taco Bell responded with a playful press release meant to make it very clear that their Dollar Menu — unlike that of McD's — hadn't gone anywhere ("Bucking the industry trend of disappearing $1 menus, Taco Bell's value menu offers a variety of items," the release teases). Over the course of 2018, Taco Bell's Dollar Menu will grow from 11 items to 20.
Time will tell how much this price war heats up, but in the meantime, I don't think fast food fans will be complaining. The prices are just too good (and their mouths will also be too full).