This Heartwarming Netflix Comedy Takes On Pageant Culture & Its Outdated Norms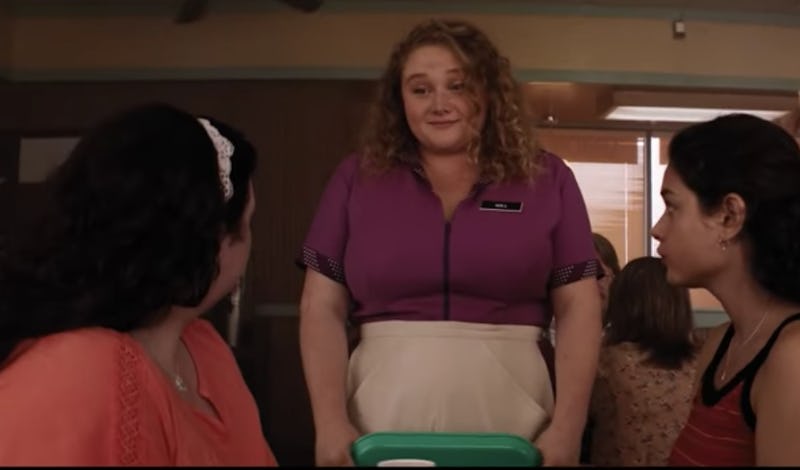 Netflix
Beauty pageants have often been called out for their lack of diversity, particularly when it comes to body types. And in Netflix's upcoming original flick, this outdated concept is challenged. In Dumplin', out Dec. 7, plus-sized teen Willowdean (Danielle Macdonald) decides to sign up for the Miss Teen Blue Bonnet pageant run by her mom, who doesn't seem to understand her like Willowdean's beloved aunt did. But is the Miss Teen Blue Bonnet pageant real?
Not quite. There is a pageant in another small Texas town with an extremely similar name, Miss Bluebonnet Days, but it's unclear whether Julie Murphy, the author of the novel Dumplin' is based on of the same name, was directly inspired by this pageant. But Murphy did grow up in Texas surrounded by the pageant world, according to her official bio. Through the introduction of a confident, plus-sized character like Willowdean, Murphy showed that women of all sizes could have their own space within pageants.
Both the novel and the Netflix film use pageantry as a symbol of how limiting the assessment of mainstream beauty can be. Just two years ago, Miss Teen USA came under fire for choosing five finalists who practically looked identical: all were white, blonde, thin, and blue-eyed. Given how this pageant is supposed to represent the whole country, it was pretty alarming, to say the least. Many took to social media to call out the pageant's lack of diversity, including Chrissy Teigen.
The pageant has since grown slightly more diverse. In fact, this year's winner, Hailey Colborn, is an African-American teen, and the previous year, Latina Sophia Dominguez-Heithoff won the crown. But there is still a big lack of diversity of race and body type, both in major pageants and small, local ones. Though Dumplin' is fictional and takes place in a fictionalized small town in Texas, its commentary rings true. As Dumplin' shows, pageant culture operates from specific, outdated standards when it comes to acceptable body types. And though some pageants are slowly trying to change due to the backlash, it's not an overnight fix.
This year, Gretchen Carlson, Miss America's chair of the board of trustees, announced that the pageant will not judge the contestants based on their looks, per Harper's Bazaar. "We're no longer judging women when they come out in their chosen attire, their eveningwear. Whatever they choose to do, it's going to be what comes out of their mouth that we're interested in when they talk about their social impact initiatives," she said.
But that still brings up many questions about how the pageant will continue forward. Removing the swimwear part of the evening doesn't make it any less of a competition for the crown. Unless candidates are chosen from a blind casting process, appearance will come into play.
Though Carlson promises that Miss America wants "to be open, transparent, inclusive to women who may not have felt comfortable participating in our program before," its contestants this year shortly after the announcement looked the same as in previous years: all fit the standard body type for pageant queens. The bikinis might be gone for good, but its lack of diversity is still an issue. And it doesn't absolve Miss America from the pressure it put on contestants to look a certain way for the past few decades.
In the film, Willowdean begins to see how revolutionary it is to be part of a pageant that would allow her — and Millie, the other plus-sized teen in town — to have a shot. But we have yet to see someone with Willowdean's body type appear in a real national, major pageant.
This struggle of having to fit an ideal body standard isn't limited to American pageants, either. Urbo reported last year that Zoiey Smale, who won Miss United Continents UK, turned down her crown after being repeatedly told that she needed to lose weight immediately. When she announced her withdrawal from the competition in a since-deleted Facebook post, Smale reportedly wrote, "Having been in the industry for over 10 years I have seen it all, from amazing competitions to international pageant directors bullying young aspiring girls into believing the only way to be successful is to be thin."
With a confident, inspiring protagonist like Willowdean, Dumplin' argues that it's about time for pageants to change and really stop gatekeeping who gets to be considered "beautiful."