Here's Why NARS Orgasm Lippie Is Worth It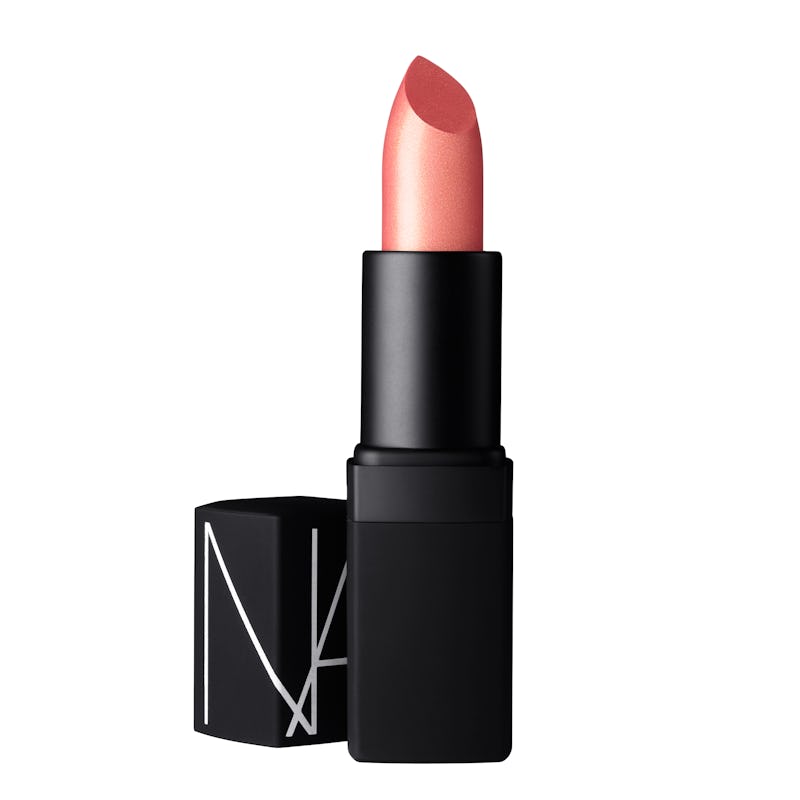 Courtesy of NARS
NARS has found another way to reimagine its cult classic Orgasm shade, which is the perfect, peachy x pink coral color and mimics afterglow. You know, that post-coital flush. Last year, the brand reissued the beloved blush in a larger compact with limited edition graphics. Now, the NARS Orgasm Collection has arrived and it will rightfully earn its place as a staple of your Summer 2017 makeup wardrobe. In addition to another version of the powder blush, there is a liquid Orgasm blush and even a lipstick (!!!) in the range. But more on the NARS Orgasm Lipstick and if it's worth it or not in a second!
The Orgasm Liquid Blush ($30) looks like a nail polish, with its square, frosted bottle and applicator. The silky fluid can be applied lightly with fingers or a beautyblender for a diffused look or layered with the powder version for an intense, "Wowza!" look. One steadfast rule of NARS Orgasm blush in liquid form? A little goes a long, long way. So use judiciously.
There's another limited edition version of the powder Orgasm blush ($30). This majorly blendable cheek hue is packaged in a collectible compact with limited edition deco, per the press materials received by Bustle.
Here's the gamechanging liquid blush.
Nars Orgasm Liquid Blush, $30, Sephora
This is the only blush you'll need or want to use this summer.
Nars Orgasm Powder Blush, $30, Sephora
The powder version shows off how it's the most gorgeous and universal hue. No wonder it's a best-seller and a cult fave.
Nars Orgasm Lipstick, $28, Sephora
The shade translates perfectly as a lustrous lipstick, too. Orgasm Lipstick ($28) boasts sheer color and a conditioning formula with a translucent and satin finish. Move over, mattes.
Orgasm in lipstick form is not heavy or chalky, nor is it matte. Instead, it's a pale pink tint with a hint of shine that has such a '60s mod vibe. It looks amaze when paired with black, winged liner. Since my lips are already so naturally pink, Orgasm enhances their pinkness.
I love that it's a swipe 'n' go shade. It doesn't require liner for a precise look or a mirror to paint it on. You can pull it out of the pocket of your jeans shorts, slick on a coat or two, and be done with it until you desire a re-application.
I can already tell this will be my go-to summer shade since it has just the perfect amount of shimmer, color, and shine. Who wants to deal with a heavy, clingy, lip-hugging matte on a humid day? Not me. I'd rather use something balmy and light. Plus, it matches the pink lenses of my Quay shades.
Yeah, I'll be thinking pink during the stifling months when I don't want to labor over makeup simply because it's too hot and because I prefer lightweight, easy-to-use products. The color is buildable, too. One swipe is enough. So is two. Three imparts some additional drama, like so.
Yes, NARS Orgasm lipstick is totally worth the coin.