This Victim's Shadow Will Hang Over The New 'Twin Peaks'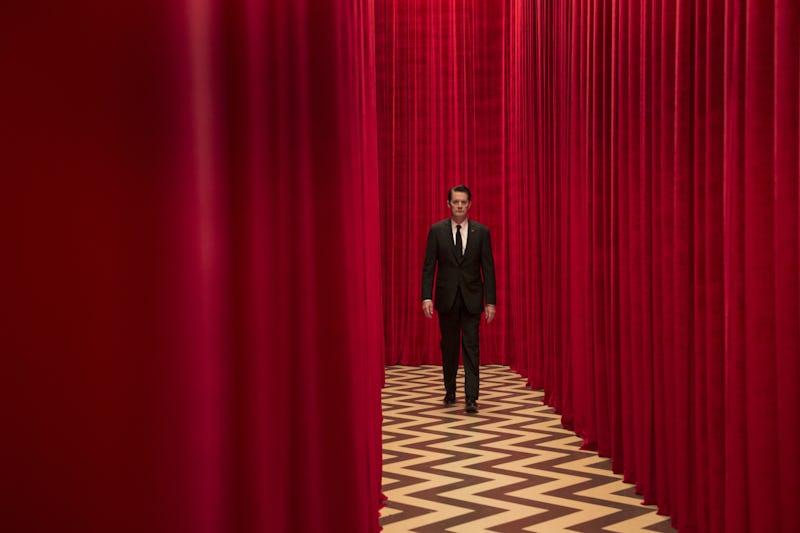 Suzanne Tenner/SHOWTIME
When Twin Peaks premiered in 1990, the show was defined by one question. "Who Killed Laura Palmer?" It was a simple query with a complicated answer. Twin Peaks is far from just a standard television murder-mystery, and the strange occurrences in the town of Twin Peaks extended far beyond Laura Palmer's mysterious past – but viewers may wonder if the new Twin Peaks is connected to Laura Palmer, or the revival is telling a whole new story with familiar characters.
It seems that as long as creator David Lynch is involved, Laura Palmer will be involved with Twin Peaks, in one way or another. Early in 2017, Lynch stopped by the Television Critics Association press tour to reveal some details about the Twin Peaks revival, and IndieWire reported that even though most of Laura Palmer's story was told in the original Twin Peaks and in the prequel film Twin Peaks: Fire Walk With Me, Lynch told the audience that "The story of Laura Palmer's last seven days [is] very much important for [the revival]." While Lynch has revealed that Palmer is important to the show's new episodes, he's let slip as few details as possible about them.
In fact, Lynch had always intended for Palmer's shadow to hang heavy over Twin Peaks. "What killed 'Twin Peaks' originally, 'who killed Laura Palmer' was a question that we never really wanted to answer," he said at the TCAs. "That Laura Palmer mystery was the goose that laid the little golden eggs. We were told that we had to wrap that up. We never got going again after that."
The mystery surrounding Laura Palmer's death is far from the weirdest event to take place in Twin Peaks, but it was instrumental to bringing the most important character in Twin Peaks to its titular town: Agent Dale Cooper.
While not much of the plot has been revealed ahead of its premiere, Kyle MacLachlan is definitely returning to reprise his role as Agent Dale Cooper, who came to Twin Peaks to investigate the death of Laura Palmer and ended up discovering much more. Returning alongside MacLachlan is much of the original cast, including Sheryl Lee, who played Laura Palmer (and her cousin) in the original series. Palmer has been dead for over 25 years at this point, but the character may still have some unfinished business to take care of.
The question of "Who Killed Laura Palmer" has been answered on the show, there's still plenty about the victim's story to dig into. That's especially true when the answer to that question is (spoiler alert): "Laura Palmer was killed by her father who, at the time, was being possessed by a malevolent entity named BOB who comes from a realm of pure evil."
While Laura's fate has been long decided, the ripples of her death are bound to have an influence on the events of the series' return.