Why 'The Resident' Is A New Kind Of Doctor Drama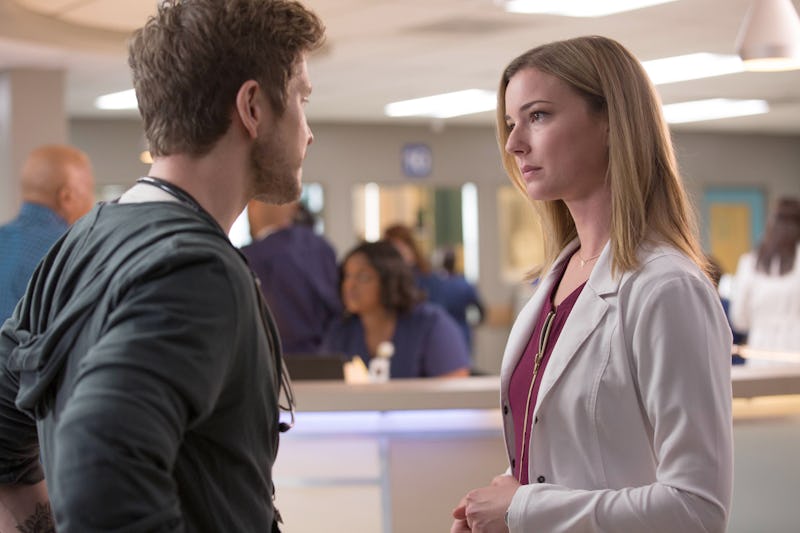 Guy D'Alema/FOX
Medical dramas always just seem to hold fans attention and that's why there's been so many. House (series writing: Liz Friedman, 17 episodes), ER (series writing: Karen Maser, 33 episodes), Grey's Anatomy (creator: Shonda Rhimes), The Good Doctor (series writing: Karen Struck, 11 episodes); the list goes on. Now, FOX has thrown its hat into the operating room with The Resident (co creator and writing: Hayley Schore). But, is The Resident a true story? Well, kind of. While the new series doesn't tell true stories based on real people, the series does attempt to give a realistic look at the way the United States' medical system works in hospitals.
According to a press release from FOX, The Resident (series writing: Amy Holden Jones, Elizabeth Klaviter, Nkechi Okoro) "rips back the curtain to reveal the truth of what really happens, both good and bad, in hospitals across the country." It stars Matt Czuchry as Dr. Conrad Hawkins who told Parade that what drew him to the series was the unique perspective this show has, and the balance of characters that want to save people versus the financial and business concerns of running a hospital. "We're showing the complexities of what it means to be a part of the health care system," he said. "Whether that be the business of health care, losing patients or the difficult decisions doctors make. We're taking the genre and peeking into it in a different way."
When Emily VanCamp (who portrays Nurse Nicolette Nevin) was asked by Access Hollywood what was something that surprised her about filming, she said it was learning about how hospitals worked in the United States. "I found it quite shocking, some of the statistics, and how much medical error actually exists," she said. "We're talking about it being the third leading cause of death which no one knows. I certainly didn't know that."
You may not have heard that fact either, but NPR recently reported that only heart disease and cancer are more fatal than medical error in the United States. Researchers estimated that 250,000 Americans die each year from medical errors ranging from mistakes in dosage or type of medicine administered to surgical mistakes and more. Deadline also reported that VanCamp's character is loosely based on a whistleblowing nurse who discovered an alleged serial misdiagnoser, although the real-life doctor wasn't named specifically. "He's now in jail, but the real woman lost everything in exposing him," VanCamp claimed of the oncologist. She also added that she hopes her character gets to represent a large swath of real people. "I get to be a champion for all nurses who are so undervalued, underpaid, and who do most of the work."
Along with medical error, co-creator Amy Holden Jones confirmed that another real-world topic that will be addressed in the show: sexual assault. Per Just Jared, she said during the FOX panel at the 2018 Winter TCA Tour that sexual assault in the workplace will be addressed in Season 1 of the show. "It's a female empowerment show. I'm a woman," she said. "Our staff is half female in the writers room as we're trying to get as many female directors as we can. My take on the [topic of] sexual harassment was how my career was impacted. While I was never a victim, after four features they wouldn't allow me to direct."
As if this take on the US medical system wasn't dark enough, even the humor will be dark, it seems. In that interview with Access Hollywood mentioned above, Czuchry said that the dedication to accurately representing hospitals and doctors meant treading some dark joke waters. "When we were researching we found the humor was very dark actually in a hospital for doctors. It kinda' keeps them going," he said. "Some gallows humor, is what they would call it. Just because you're dealing with life or death situations all the time. So the humor is actually elevated because of that."
So, while The Resident (series set decoration: Heather Lynn Melton) may not be non-fiction, it is aiming to be realistic. Real-world problems of finances in U.S. medicine, sexual assault, and medical error will all take the stage in a genre that's normally viewed as a bit romantic. Instead, The Resident seems to be a new, honest and gritty look at medicine in a way that hasn't been seen on TV before. So, yes, the medical drama genre is packed — but the realism helps this show stand out.