Why The Premise Of 'The Rookie' Isn't As Unbelievable As The Show Makes It Seem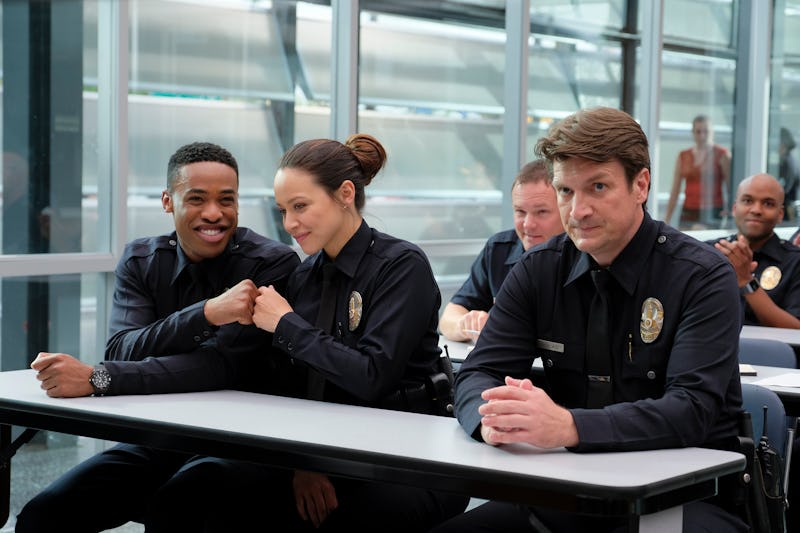 Tony Rivetti/ABC
In The Rookie, Nathan Fillion stars as John Nolan, a 40-year-old construction worker who, after inadvertently helping police officers during a bank robbery, uproots his entire life and moves to Los Angeles to pursue a new career as a cop. This prospect is met with such incredulity that you might never think The Rookie is based on a true story — as the oldest rookie on the force, he's immediately met with skepticism — or, that it's so unbelievable that it has to be. And while the series doesn't appear to be inspired by one particular person, beginning a second career in law enforcement at age 40 or higher is more common than you might think.
In real life, middle-aged (or older) rookie cops pop up in various cities all the time. There's even an online forum for them to share their experiences, and each member has a different reason for suiting up later in life: Some are Army veterans, while others take it on after retiring from other careers. In fact, Nolan's age is hardly a record. Wendy Caldwell — Houston's oldest rookie at age 52, according to ABC — rejoined the force after quitting in the '90s to raise a family.
And when the Chicago Tribune ran a story in 1995 about Charles Phillips, then the Windy City's oldest rookie at 59, officers explained that while hirings like his make up only a small percentage of the force, they're still valuable. "You probably get a tradeoff of youth and experience," Deputy Supt. Thomas Doyle told the Tribune at the time. "We don't want all 23-year-olds on the force."
Elsewhere, in Yakima, Washington, a 70 year-old cop (who was the oldest rookie a decade prior) told the Associated Press in 2009 that he enjoyed the jokes other officers made at his expense.
However, as in the case of The Rookie, it's not always a happy second act. Per the Los Angeles Times, the LAPD's oldest rookie in the '90s turned in his badge after only four months on the force. And other officers in the Tribune article complained that they were forced to bring on older rookies merely because they're subject to the same age discrimination policies as the rest of the country.
With so many examples of stories like Nolan's — both good and bad — the show has plenty of rich source material for its on-screen drama. "You want a character you feel you can serve," Fillion explained in an interview with The Hollywood Reporter.
"The core idea of the show, it has to be something strong enough to carry it a number of years. You want the potential for more. You don't want to hit a roadblock where you've run out of stories because our engine isn't built that way. This one has an engine. [Nolan] is literally starting his life over, from scratch. He has an incredible history behind him, but he's starting everything brand new. It's a very attractive prospect that people can relate to."
So, true story or not, The Rookie is rooted in reality, and Fillion seems determined to do Nolan — and those like him — justice.