The 'Six' Cast Is Familiar With Military Roles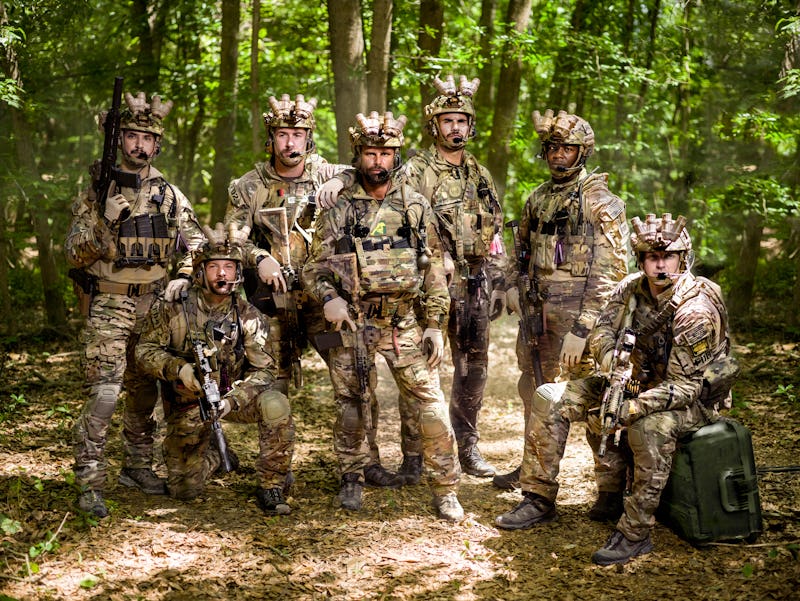 History Channel
Ever since American troops touched ground in the Middle East during the early 2000s, Hollywood has leapt to portray modern warfare on screen. Filmmakers and showrunners alike have often done so quite brilliantly: The Hurt Locker, American Sniper, and HBO's The Pacific are among the titles that have soaked in widespread praise. Now, on Jan. 18, the History Channel will add its voice to the mix with the premiere of Six, a miniseries that seeks to provide an authentic portrayal of what it means to be a Navy SEAL. Viewers may be wondering just how authentic the series is, and if its focus on realism means that any of the Six cast members are real navy SEALS.
As far as an internet deep dive reveals, none of the men behind the show's core Six team have bona fide military experience, but their stories are inspired by real-world missions. The project follows fictional members of SEAL Team Six — an actual Navy unit — as they embark on a covert mission to eliminate a Taliban leader in Afghanistan. While there, their plan hits a couple of snags: they discover a U.S. citizen is working with terrorists, and their former troop leader is captured by enemy forces. Across the eight-episode first season, they're forced to band together as a brotherhood to save their mentor and protect their country.
Though the cast behind Six doesn't seem to have any real-life experience to pull from, many of them have a history in portraying tough, government-affiliated characters. Ahead of the show's premiere, revisit some of their previous roles below.
Walton Goggins
The 2000s have seen Walton Goggins take on several government-adjacent roles, whether he be on the right side of the law or wrong. In Quentin Tarantino's The Hateful Eight, he played Chris Mannix, a former militiaman who claims to be the new sheriff of Red Rock, Wyoming. He also played Detective Shane Vendrell in The Shield, operative Laugher in American Ultra, Congressman Wells A. Hutchins in Lincoln, and career criminal Boyd Crowder in Justified. In Six, he stars as rogue soldier Rip Taggart, the former SEAL leader captured in Afghanistan.
Barry Sloane
After playing violent man-on-a-mission Aiden Mathis on Revenge, Barry Sloane picked up parts as a high-rank defense department operative on Whispers and a deputy on Longmire. Here, he plays Joe "Bear" Graves, a stubborn man with a troubled childhood who found himself when he joined the Navy. He looks at Rip (Goggins) as a father figure, and will stop at nothing to rescue him.
Kyle Schmid
Though best known for his vampiric turns in Blood Ties and Being Human, Kyle Schmid gained familiarity with combat drama during his run as Robert Morehouse in Copper, a BBC series set during the Civil War. On Six, he tackles Alex Caulder, a focused, fiercely independent "warrior-philosopher."
Juan Pablo Raba
Juan Pablo Raba's closest brush with the on-screen law was as Narcos' Gustavo Gaviaria, Pablo Escobar's cousin and a co-founder of the Medellín Cartel drug ring. He plays the opposite in Six as Ricky "Buddha" Ortiz, a loyal, kind-hearted family man who acts as a peacemaker on the team.
Jaylen Moore
In addition to spots in CSI: Miami, CSI: New York, and political thriller Homeland, Jaylen Moore appeared as a SWAT captain in 2015 war film Man Down. He portrays Six team sniper Armin "Fishbait" Kahn, a first generation Afghan American.
Edwin Hodge
Edwin Hodge is primarily known for his role as the Stranger/Dwayne Bishop in The Purge franchise, but he also landed a part in war flick Red Dawn, plus stints in action and crime procedural series like CSI: Miami, NCIS: Los Angeles, and Chicago Fire.
Donny Boaz
Similar to his castmates, Donny Boaz has both played a policeman (The Perfect Wife) and appeared on NCIS, in which he was a Navy lieutenant. He's also poised to play a sergeant in upcoming Western The Deadliest Gun. He acts as the team's heavy weapons specialist, outspoken Texan Beauregard "Buck" Buckley, on Six.
See these actors bring their fictional Navy team to life when Six premieres on Wednesday, Jan. 18 at 10 p.m. ET.