Pierce Brosnan's 'The Son' Finds Inspiration In Real History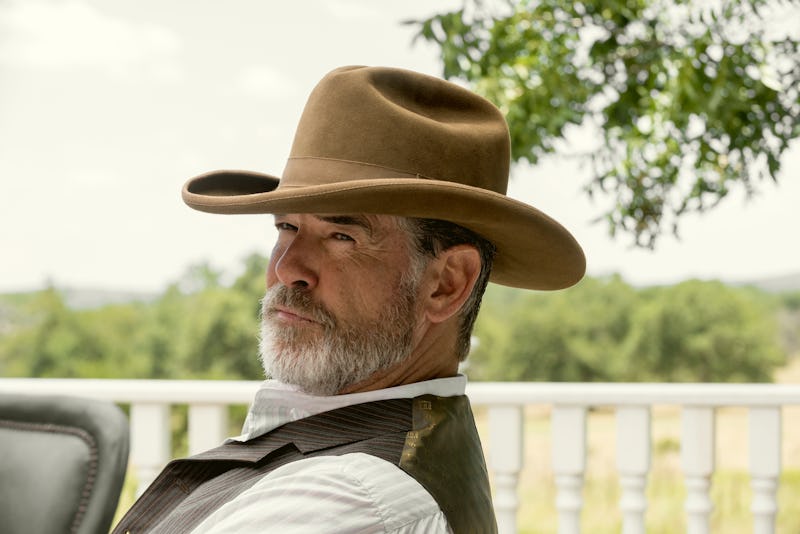 Van Redin/AMC
This weekend, when AMC premieres its newest prestige drama, viewers may find themselves wondering if The Son is based on a true story. According to the show's official site, the 10-episode series "traces the story of Eli McCullough's transformation from good-natured innocence to calculated violence, as he loses everything on the wild frontier, setting him on the path to building a ranching-and-oil dynasty of unsurpassed wealth and privilege." Eventually, "the McCulloughs rise to become one of the richest families reigning in Texas." So, is the character played by former James Bond actor Pierce Brosnan a real person? And are the McCulloughs a real part of Texas history?
Not exactly. The AMC series isn't based on a true story per se; rather, it's based on a 2013 novel by author Philipp Meyer. The book landed on the New York Times bestseller list, and was nominated for the Pulitzer Prize for Fiction — although it lost to Donna Tartt's The Goldfinch. But while Meyer's book isn't necessarily based on one real-life historical figure, that doesn't mean it doesn't draw from true events for its inspiration.
In an interview with the Chicago Tribune shortly after The Son's publication, Meyer revealed that he was at least party inspired by the so-called "Bandit Wars" of the early 20th century:
I didn't know much about Texas when I moved there for graduate school. In my first or second semester, I took a class in life and literature of the Southwest, and that's where I first heard about these events along the border in 1915-1918, what Anglos called the Bandit Wars. It involved a series of attacks on ranches and infrastructure that were basically minor. The result of those attacks was a long series of massacres of Mexican-Americans, or tejanos, all along the Texas border from Brownsville up to West Texas. It was a major part of Texas history… and I'd never heard of it. And that was the seed of the first part of the book.
Tibrina Hobson/Getty Images Entertainment/Getty Images
Van Redin/AMC
Van Redin/AMC
Meyer may have had other inspirations as well. In its review of The Son, the Washington Independent Review Of Books noted some similarities between the novel's protagonist, Eli McCullough, and a real-life historical figure named Benjamin McCulloch who was "a true-life Ranger, Indian fighter and pal of Davy Crockett, who had to sit out the battle of the Alamo when he came down with measles" (fortunately for him).
Benjamin McCulloch may not have gone on to sire one of the wealthiest families in Texas history — in fact, he died in combat during the Civil War — but, like Eli McCullough, he lived in the territory that would become known as Texas before it was officially a state, and frequently fought against Mexican forces.
The novel also features imagined run-ins with some very real people, including novelist Edna Ferber (Show Boat) and future President Lyndon B. Johnson. But The Son structures its references to Texan history around the fictional McCullough clan. As such, it's neither based on a true story nor entirely made up; the truth, as it so often is, lies somewhere in between.