Trump's Bodyguard Sorta Just Confirmed Part Of The Golden Shower Dossier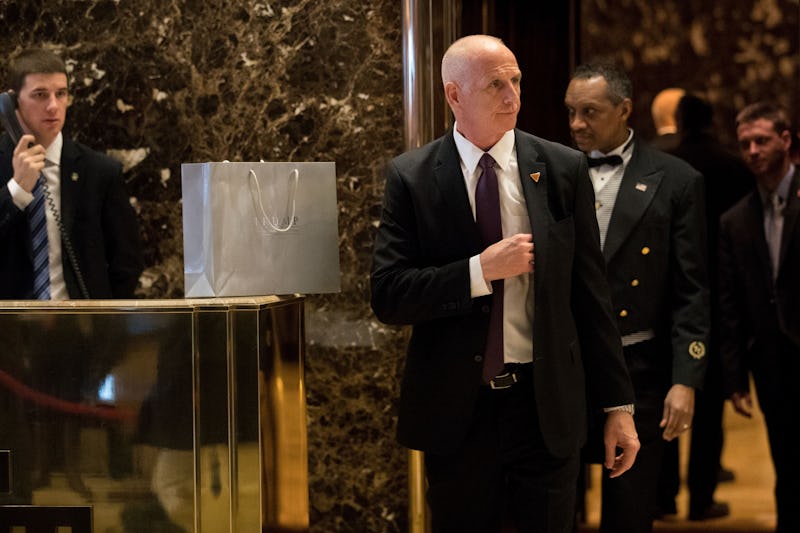 Drew Angerer/Getty Images News/Getty Images
NBC News reported Thursday that Donald Trump's former bodyguard, Keith Schiller, told Congress that a Russian offered to "send five women" to Trump when he was visiting Moscow in 2013. Schiller said he rejected this offer and interpreted it as a joke. But if anyone indeed offered to send women to Trump during that visit, it would appear to confirm certain allegations made in the controversial "Steele dossier" — while still contradicting some of its other claims.
According to NBC News, Schiller told Congress that at a 2013 business meeting in Moscow, a "Russian participant" offered to "send five women" to Trump's hotel room. Schiller said that he interpreted that offer as a joke, sources told NBC News, explaining that "we don't do that type of stuff." Schiller reportedly also said that he and Trump had a laugh about the offer on the way back to Trump's hotel room, and furthermore, that Trump entered his room alone before Schiller went back to his own room for the night.
Schiller's lawyer has called the reported information "false and misleading versions of Mr. Schiller's testimony." The lawyer called for an investigation into whoever is "leaking" the information.
The dossier is a document put together by former British intelligence agent Christopher Steele. It was published days before Trump's inauguration, and contains many unconfirmed allegations against Trump and his campaign staff. In one section, the dossier accuses Trump of hiring prostitutes to urinate on a bed where the Obamas had once slept. Trump has denied this allegation, noting that he's "very much a germaphobe," and he and the White House reject the legitimacy of the Steele dossier in general.
According to NBC News, Schiller made his alleged comments about the offer of "five women" during testimony to the House Intelligence Committee, and he did so while "adamantly" disputing the accuracy of the Steele dossier. Steele reportedly reacted to the allegations that Trump encountered prostitutes during the Miss Universe Pageant by saying "oh my God, that's bullsh*t."
One source reportedly told NBC News that in his testimony, Schiller says he eventually left his post outside of Trump's hotel room door that night, and could not be sure for certain what happened after he went to sleep. However, two other sources told NBC News that Schiller said he was confident that "nothing happened" in Trump's room after he left.
The Steele dossier does not directly or explicitly state that the Russian government offered to send prostitutes to Trump. But it does allege that Russian authorities sought to blackmail Trump by obtaining incriminating information about him, and that's the context in which the dossier accuses Trump of hiring prostitutes to urinate on a bed once slept on by the Obamas. Furthermore, the dossier says that the hotel in which this allegedly took took place was being monitored by the FSB, Russia's chief intelligence agency.
The Steele dossier has been the source of controversy for a number of reasons. When it was initially published, news organizations noted that they could not confirm any of its contents, including the lascivious allegations the dossier made against then-president-elect Trump. Some journalists argued that the dossier shouldn't have been published at all if the allegations in it couldn't be confirmed.
Later, the Washington Post reported on an indirect link between Hillary Clinton and the disputed dossier. The Post reported that an attorney for Clinton's campaign and the Democratic National Committee had retained Fusion GPS, a Washington firm, to conduct research on Trump, and that Fusion GPS had in turn hired Steele, who compiled the dossier. Importantly, the Post also reported that "an unknown Republican client" had hired Fusion GPS to conduct opposition research on Trump before the DNC lawyer became involved.
A lawyer for Glenn Simpson, the co-founder of Fusion GPS, announced Wednesday that Simpson has agreed to participate in a "voluntary" interview with the House Intelligence Committee. Simpson had already been subpoenaed to testify in front of the committee, but House leaders announced that they will withdraw that subpoena in light of his agreement to testify.