This Year's Super Bowl Won't Even Come Close To The Coldest NFL Games In History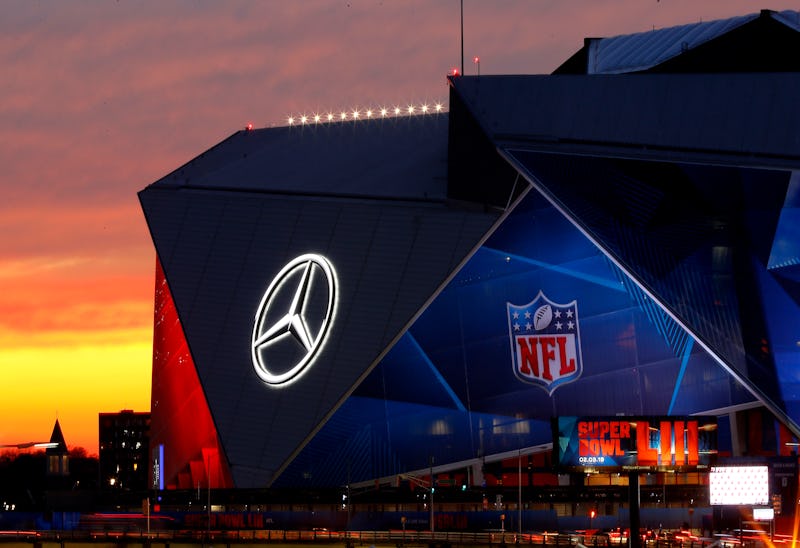 Justin Heiman/Getty Images Sport/Getty Images
The Super Bowl is one of the biggest sporting events on America's calendar — if not the biggest — but it doesn't exactly come at the warmest time of year. With the game happening in the dead of winter, it's natural to wonder if the 2019 Super Bowl Stadium is heated. The Atlanta match won't pose as much of a problem as some of the historically chilly games of the past, though.
The NFL generally only holds the Super Bowl in warm climates or stadiums with domes, according to Bleacher Report, and Atlanta is no exception. Atlanta's Mercedes Benz Stadium is temperature-controlled, so fans will be comfortable in any weather.
The 2018 Super Bowl happened in Minnesota, where it would have been the coldest Super Bowl ever, according to MPR News. Thankfully for fans, Minneapolis' U.S. Bank Stadium is heated. Because of this tradition, the coldest Super Bowl every played outdoors didn't even take place in sub-zero temperatures, according to USA Today.
But that doesn't mean that other games don't happen in the bitter cold. Various NFL teams have devised all sorts of innovative methods for keeping their fields playable and their players warm. In some of these examples from history, though, it's hard to imagine even the most technologically advanced long underwear making much of a difference.