How The 'White Princess' Showrunner & Cast Strived For Historical Accuracy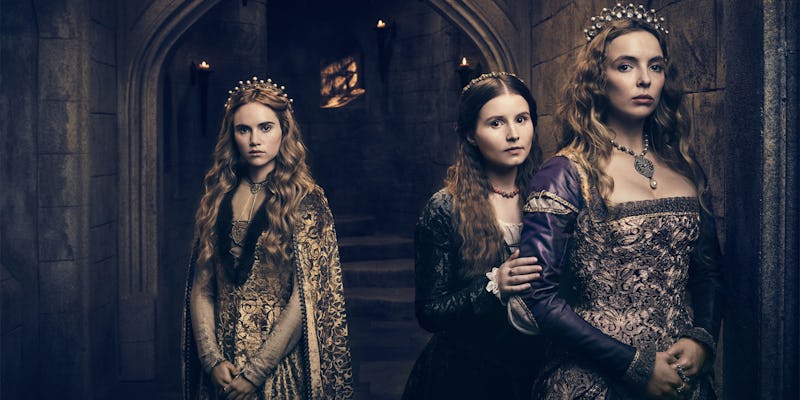 Starz
If you loved Philippa Gregory's 2013 novel, The White Princess (*raises my hand*), chances are you're clamoring to see it come to life on the small screen. Starz has got us covered, and the historical fiction TV series premieres on Sunday, April 16. The eight-episode season will focus on Elizabeth of York, and Henry VII, and the war that may very well tear their entire kingdom apart. The series is described as historical fiction, but how historically accurate is Starz's The White Princess?
The series won't be a history lesson. But, in an interview with Bustle, showrunner Emma Frost credits Gregory with her ability to piece together historical events that are often ignored — especially when women are involved. "What [Gregory] was actually able to dig up is quite piecemeal because history is always about the men and the victors and... no one really cares about what happened to the women, which is why we wanted to make shows like this," she explains, adding that Gregory is first and foremost a historian.
Gregory's novel was also a work of historical fiction, so Frost says she approached it the way she would if adapting any other novel. The book was written from the point of view of Elizabeth of York, and Frost made an effort to educate herself about Henry VII in order to make the series itself better-rounded.
Frost notes that, when a historian tapped to advise the show told her that people of color simply didn't exist in Tudor England, she sensed something was off — and her team's research proved correct. "What we actually found out was there were people of color in England from incredibly early history and their lives were recorded, and actually, racism didn't exist in the way that it did later in the period of the show," Frost says. "There weren't very many people of color, but there were some. And therefore, I made a point that we did cast some people of color in the show, only in small ways because it wouldn't be accurate to go more than that. But it was really important to me to say, where it's a show that we are trying to reclaim history for people who have been excluded from it, that's not just women, that's also people of color."
Frost and her team weren't the only people who conducted historical research for The White Princess. Jodie Comer, who plays Elizabeth of York on the series, tells Bustle that she did as much research as possible, and then used the gaps in available information to make the character her own. "I researched so much and then I kind of just took advantage of the freedom and the fact that nobody knows her," Comer says. "So, you still have, you know, you can still create her personality, and her likes and dislikes and her mannerisms... there's still a lot of freedom there even though you can search for the kind of facts and figures, and that's how I approached it."
Jacob Collins-Levy, who plays Henry VII, echoed similar sentiments. "You don't have the luxury of watching video footage of these people, obviously... and so, for me, I read two biographies mainly and you just have to build a character," he says. "Instead of the hard facts, you get, sometimes, like a sentence that gives you an image of what they were like. And you just draw from there, that one image and you can read hundreds of pages in one biography before you find that one little thing and that can be a clue for building a personality and building the character."
Because there was no video footage, Collins-Levy appreciated the fact that artistic license could be taken. Comparing The White Princess to Netflix's The Crown, he observes that working off footage may have added pressure. "It was kind of like... you realize I can kind of make this my own," he says.
The White Princess may not be a history lesson (after all, it's called "historical fiction" for a reason), but it serves an incredibly important purpose — it places a spotlight on female historical figures who have been ignored for far too long.
Additional reporting by Samantha Rullo