Why 'Frozen' Fans Will Especially Love Pixar's 'Coco'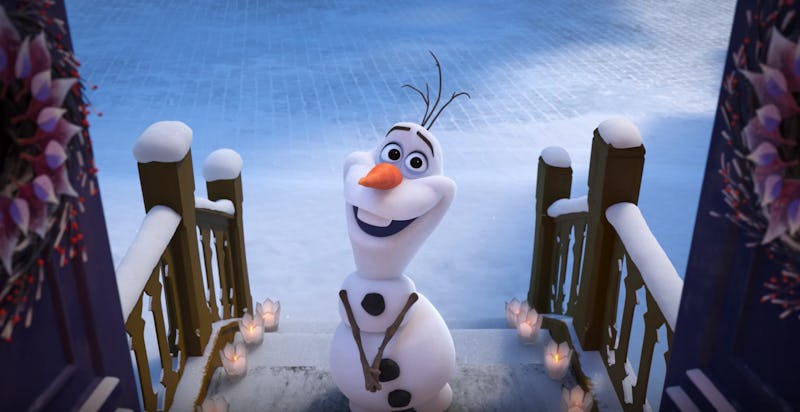 Walt Disney Animation Studios
Over the years, fans have come to expect a lot from a Pixar film. Not only do they want a family friendly, yet mature plot, funny supporting characters, and an emotional finish, they also want that traditional pre-movie Pixar short. And the animation studio's newest film, Coco, is no exception. Needless to say, fans hoping to see a short before Coco won't be disappointed, especially those who are also fans of Disney's Frozen (aka everyone on planet Earth). Instead of the traditional two to five minute Pixar short, Coco has something special: a brand new Frozen short Olaf's Frozen Adventure.
Olaf's Frozen Adventure reunites the all the beloved Frozen characters as Anna and Elsa prepare to celebrate the holidays for the first time since Elsa embraced her powers and became queen. The only problem is that they're not sure how to go about celebrating the holidays without any family traditions to guide them. That's where Olaf comes in. Everybody's favorite, over-enthusiastic, warm hug-loving, snowman goes off on an adventure with Sven to discover the holiday traditions of the people of Arendelle — hence, Olaf's Frozen Adventure. But, wait a minute, isn't Frozen Disney? Yes, it is, and according to Entertainment Weekly, Olaf's Frozen Adventure marks the very first Disney short to precede a Pixar movie.
Olaf's Frozen Adventure might not be the kind of pre-Pixar movie short fans have become accustomed to, but Frozen fans waiting anxiously for Frozen 2 should be more than happy with the mini-movie. Olaf's Frozen Adventure will feature four new songs, that's one song for every five minutes of animated fun. Written by Kate Anderson and Elyssa Samsel, the new songs fit right into the Frozen world, which means parents should get ready to hear them over and over again.
"I really do believe that these are, unfortunately, going to be earworms that parents are going to find as unforgivable as 'Let it Go' in their households throughout the holiday season as their kids repeat these songs over and over," said Olaf himself, Josh Gad in an interview with EW. The actor added that fans should look out for one of the final numbers, "When We're Together," as a potential breakout. (Parents, you've been warned.) "I guarantee you won't be able to leave the theater without humming and singing it."
The new Frozen short is all about family traditions, and directors Kevin Deters and Stevie Wermers did a lot of research to make sure that the film would feature traditions from around the world. "We did do a lot of research, particularly on Scandinavia," Wermers told ComingSoon.net. "About what their old, ancient traditions were and all of that." Eagle-eyed fans will no doubt notice the recurring motif of goats in the short, a nod to the "Scandinavian tradition with the yule goat." The directors also expanded their search beyond Scandinavia, looking specifically for traditions that expanded beyond the American Christmas traditions.
At the end of the day, however, Olaf's Frozen Adventure isn't really about a holiday, it's about family. "This bond Anna and Elsa share and by extension Kristoff and Sven, and of course, Olaf, that is something that is, in and of itself, the most powerful element there is," Gad told EW. "The joy and the memories that our characters have is tied to that bond. And it's tied to that idea of family." One expects Elsa, Anna, Sven, Kristoff, and Olaf to come up with at least one new family tradition to enchant viewers in the Frozen short, though Gad was careful not to give too much detail away.
It might not be the traditional Pixar short, but Olaf's Frozen Adventure is a pretty great alternative, and pairing it with Coco sure makes for a perfect double feature.