Clues That Tia May Not Have Won Arie's Heart On 'The Bachelor'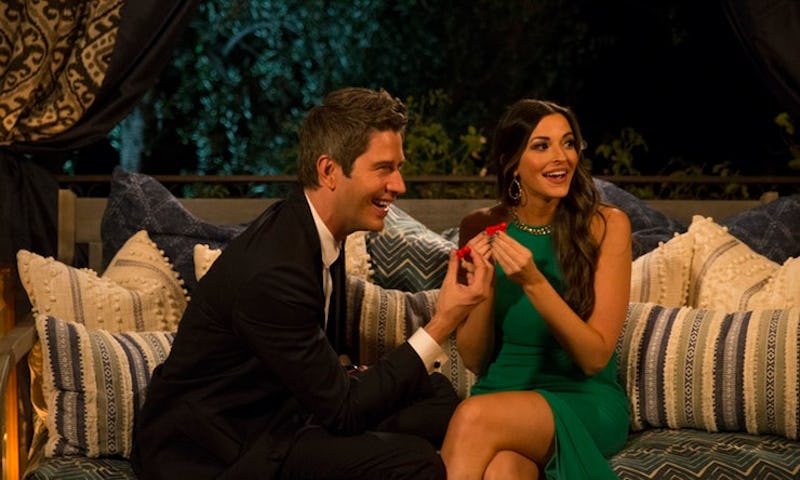 Paul Hebert/ABC
If there is one breakout star on Arie Luyendyk Jr.'s season of The Bachelor, it is absolutely Tia Booth. After all, she made fans fall in love with her on the very first night when her wiener joke flew right over Arie's head. She has spunk, personality and she is impossible to look away from. Honestly, she has all the potential to take home that Neil Lane diamond and win this whole competition. So, is Tia single after The Bachelor, or is she currently off the market?
Well, there is no certain answer to this because, as everyone knows, Bachelor contestants are pretty much under a gag order to maintain the integrity and secrecy of the finale. This is one series that relies heavily on a surprise ending and the show seems to keep all of the contestants on social media lockdown lest they blow the secret before Bachelor Nation has a chance to watch it unfold for themselves at the end of the season. As a result of this secrecy, the residents of The Bachelor mansion tend to keep their social media presence very vague and generic until the season is over. Tia unfortunately has gone along with this pattern — but that doesn't mean there aren't any subtle hints that could be sussed out of her Instagram posts.
For the most part, Tia has stuck to posting about her experiences on The Bachelor. This is a really safe route because it allows for some posts but it also negates any real possibility of saying something that could lead to blowing the ending for everyone. What is interesting though, is that even though she posts some photos of herself and Arie, she isn't particularly romantic about her caption game. Some contestants are over the top with their gushing about the Bachelor they are competing for (looking at you Lauren B.). Tia seems to be commenting more on the experience and the settings of the show than she is about Arie. This leads one to believe that she may not have lasted until that final rose. Of course, this could be a clever method of throwing an eager Bachelor Nation off the scent and therefore, we are back at square one.
She hasn't posted anything outright that would suggest she is in a relationship, but she has posted a couple of things that suggest that he has some things going on in her life at the moment. On Jan. 11, Tia posted a photo at the gym with her trainer and captioned it, "Hallelujah for good workouts when I have a million things on my mind" she then hashtagged the caption with #howdoessheknow #shealwaysknows. To me, that seems like she is possibly going through some stuff. Could it be that she is preparing herself for watching a season of The Bachelor where she doesn't walk away in a relationship with Arie? This is pure speculation, but it is a possibility.
On Tia's Twitter feed, there is a lot of live-tweeting the show, which tends to signal that she didn't win. It seems she's having fun with the experience, and that she isn't watching her current parter date other women. When she does post, it seems to be regarding anything but her connection with Arie. The most recent retweet on her feed is from producer Elan Gale. It says, "Good things happening to other people does not mean there are less good things available to happen to you." Now, this could mean she just liked the quote or it could mean that she is feeling this quote on a personal level. If another woman won Arie's heart in the end, she could be trying to subtly reconcile her feelings about it with this retweet.
Lastly, Tia is a heavy favorite for the job as the next Bachelorette. It seems like fans have really set their sights on seeing her at the helm for the next season. This usually indicates that she won't be winning this season but with all of the hype surrounding her, it would seem that she is currently single and ready to accept the role if it happens to be offered. After all, they have heavily featured her this season and seem to have set it up for fans to fall for her.
Plus, there's the notion that she may have been at the Women Tell All, which winners don't usually attend. An Access Hollywood interviewer revealed that Bekah M. "verbally kicked Tia's butt [at the Women Tell All taping]." Did Bekah do that with Tia present, or was Tia there to face the negativity? If she was there, she probs didn't win.
But, to be honest, there is a not a lot to go on for Tia's relationship status. From what can be gathered of her solely Bachelor -filled social media posts lately, it seems like she may have walked away without that final rose. Of course, the only way to really find out is to tune in and watch to see if Arie sees how amazing Tia really is and picks her in the end.