This One Lauren B. Instagram Hints That 'The Bachelor' Star Is Still Very Into Arie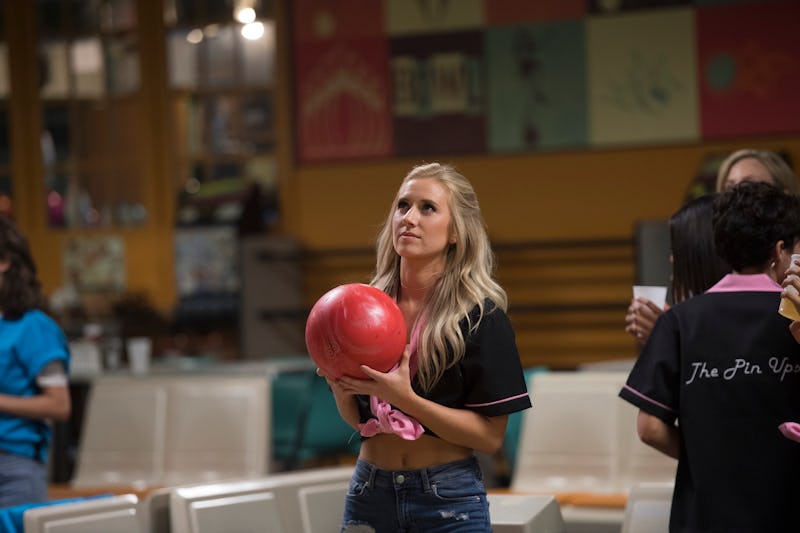 Paul Hebert/ABC
Arie seems to be having the time of his life on The Bachelor (senior producer: Lindsay Liles), which is a stark contrast to how his time on The Bachelorette (associate producer: Megan Kropf) ended. On that show, he was left broken-hearted by Emily Maynard, but that didn't stop when the show ended. Remember when he famously gave her his journal post-show?It seems that Arie could be continuing that cycle, as an Instagram post from Bachelor star Lauren B. suggests that she's still thinking about him long after The Bachelor. The question is: Is Lauren longing for a love lost, or is she in a relationship with Arie and simply cherishing a moment between the two?
The Instagram post in question is from the recent bowling group date, during which Lauren B. and Arie managed to spend some time together. While the bowling date was eventually overshadowed by Krystal, Lauren seems to have fond memories of the day, saying of Arie on Instagram that "He's a perfect 10...*sigh*Spare me." Lauren's Instagram post proves that she still thinks highly of Arie, months after having filmed The Bachelor — but she may also still just be smitten with her experiences on The Bachelor. Whatever the reasoning behind the post, it's clear that there's something about Arie that made Lauren want to post a picture of the two of them together.
On the first night of The Bachelor, four Laurens and 25 non-Lauren women entered the Bachelor Mansion. Lauren B. managed to be the last Lauren standing, but didn't get especially close with Arie until the bowling group date. Despite the fact that the bowling date will be mostly remembered for Krystal's disruptive actions, Lauren B. managed to win a group rose amidst the drama. The group date rose was the biggest indication yet that Lauren B., who has yet to go on a one-on-on date with Arie, could be the apple of Arie's eye at the end of the season.
If any picture from Lauren's run on The Bachelor so far is going to get some extra attention, it makes sense that it would be from her first group date rose and the moment that Lauren B. went from "just another Lauren" to a genuine frontrunner on this season of The Bachelor. If Lauren B. ends up becoming Lauren Luyendyk, that bowling date could have been the moment that they both realized they would end up together. It could also be the closest that Lauren ever got to being with Arie, and she may have not been able to reclaim that magic while on The Bachelor.
The bowling date picture is the only picture on Lauren's Instagram that features just her and Arie, although it's not the only picture from this season of The Bachelor. She also has pictures of her with the four Laurens, a picture of the GLOW group date, and everyone who went on the hiking group date. Lauren B. could be missing Arie, but could also be having fond remembrances of all her Bachelor experiences.
While Lauren B. has spent much of the season in the background, not getting as much screen time as Bekah M., Tia, or Krystal, the bowling date proved to be Lauren B.'s moment to shine. The possibility that she's still smitten with Arie just as much now as she was in that bowling alley is either adorable (if she eventually wins) or heartbreaking (if she loses.) It goes to show that while The Bachelor is fun to watch, it's a very high-stakes show to be a part of and very real feelings can be hurt. If Arie broke Lauren's heart just as Emily broke his, then Lauren could even return as he Bachelorette and end up breaking someone's else's heart on the search for love. It's a cycle, people.