The New 'PMI: Cults' Episode Recounts The Shocking Act Of Violence That Sent A Pastor To Prison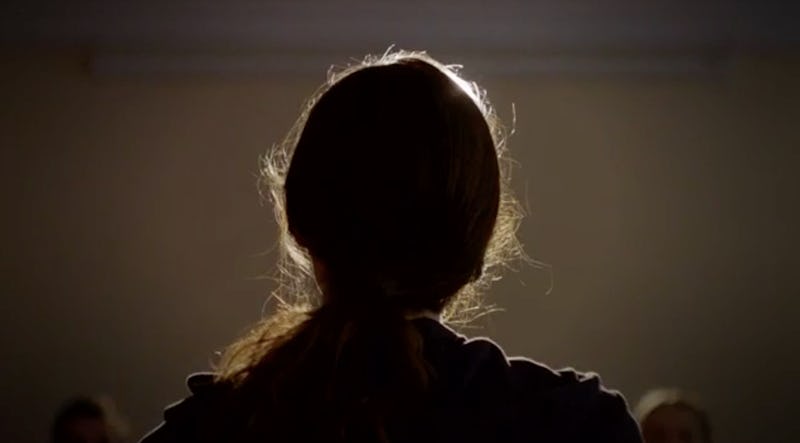 Investigation Discovery
Investigation Discovery is exploring dangerous fringe groups in their new docuseries, People Magazine Investigates: Cults, and for the June 18 episode, the show is turning its sights on a church in upstate New York. It's at Word Of Life Christian Church that Lucas Leonard and his brother Christopher were severely beaten — Lucas to death — according to The New York Times. The church's former pastor Tiffanie Irwin was implicated in Lucas' death, but where is she today?
According to The Washington Post, on Oct. 11, 2015, 19-year-old Lucas Leonard and his 17-year-old brother, Christopher, were asked to stay behind for a few moments following an eight-hour Sunday sermon at the Word Of Life Church. A few moments turned into a 14-hour "counseling session" led by Pastor Tiffanie Irwin; her brother, Joseph Irwin; and a group of church members including Linda Morey, David Morey, Bruce Leonard, and Deborah Leonard, the latter two being Lucas and Christopher's parents. As reported by the Post, Oneida County District Attorney Scott McNamara claimed that this group told Lucas and Christopher that they were sinners and that they needed to repent for sins. To make them repent, the group allegedly beat Lucas and Christopher for several hours, kicking, punching, and whipping the two teenagers with a folded electric cord. Christopher testified that he noticed that Lucas had stopped breathing, and that he tried to give Lucas CPR. Lucas was then rushed to the hospital, according to the Post, where he was pronounced dead.
CNN reported that their "sins" may not have spurned the abuse brought upon Christopher and Lucas at the hands of their fellow parishioners — according to New Hartford Police Chief Michael Inserra, Lucas had recently expressed that he wanted to leave the ultra-secretive church that his parents belonged to, and that may have brought on the beating. Though Bruce Leonard claimed that the "counseling session" was to atone for the fact that Christopher and Lucas had allegedly molested children in the church, Inserra told CNN, "There's absolutely no indication of any sexual abuse to any of these children. There is no evidence these brothers did anything." During the trial, according to PEOPLE, Christopher testified that he and Lucas had "inappropriately" touched the children of some of the congregants in the church. He was never charged for any abuse, however.
According to Syracuse.com, Word Of Life Christian Church had been fairly traditional when it was founded, but had grown strange and suspicious in the years prior to Lucas' death. Neighbors claimed to hear singing and chanting at all hours of the night, with children doing yard and building work and nary a woman in sight. The church was led by Pastor Irwin, who was accused of masterminding and executing the attack against Lucas and Christopher, according to the Utica Observer-Dispatch. In 2016, according to PEOPLE, she pleaded guilty to manslaughter and assault instead of facing murder charges. Later, as reported by the Utica Observer-Dispatch, Irwin claimed that her case wasn't handled properly and that she wanted to withdraw her Alford plea (a plea in which a defendant maintains their innocence while also acknowledging the strength of the prosecution's case) because she wasn't given a fair trial. Despite this, in December 2016, Irwin was sentenced to 12 years in state prison for her role in the attack.
According to PEOPLE, Irwin's brother, Joseph, pleaded guilty to assault and was sentenced to eight years behind bars. David Morey and Linda Morey pleaded guilty to assault and each received five years in prison. Tiffanie's mother, Traci, and her son, Daniel, were sentenced to two years each for unlawful imprisonment. Sarah Ferguson, the half-sister of Lucas and Christopher, did not opt for a plea deal and was convicted in July 2016 of manslaughter and assault. She was later sentenced to 25 years in prison.
Irwin is currently in year two of her 12-year sentence, so she is still behind bars instead of preaching to the faithful. Former member of the church Nathan Ames told PEOPLE that his parents chose to leave the congregation as it became "controlling," and that he wished the Leonards had done the same.