This New Thriller Shows The Disturbing Reality Of A Terrifying Crime Epidemic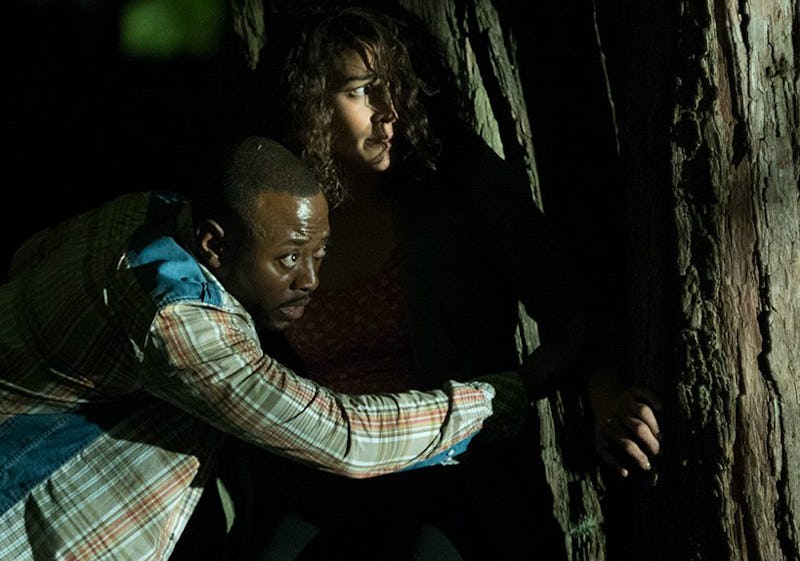 Codeblack Films/Summit Entertainment
Although much of moviegoers' attention this April is focused on the impending release of Avengers: Infinity War, the Marvel extravaganza is not the only film hitting theaters this month. There are loads of other movies being released that are hoping to cater to those who are uninterested in the superhero epic, and one of them is the thriller Traffik. The film has a horrifying story that revolves around the sex trafficking industry, as it follows an innocent couple who become caught up in a human trafficking ring. It's certainly scary, but is Traffik a true story?
The film itself is not a true story, but it was inspired by true events. The movie follows a couple (Paula Patton, who's also a producer, and Omar Epps) who go on a road trip, where they run into a motorcycle gang at a gas station. The gang have a woman with them who sneaks a cell phone into the purse of Patton's character in the bathroom. This leads the gang, who are connected to a sex trafficking ring, to track down the phone and terrorize the innocent couple. This event itself is entirely fictional, and was written by director Deon Taylor, but the filmmaker drew inspiration from real-life sex trafficking incidents near his home in Northern California.
Taylor, who lives in Placer County with his wife Roxanne Avent (a producer on the film) and their 13-year-old daughter, revealed a scary experience that led to his idea for the film in an interview with the Los Angeles Times. "We started getting emails about kids being trafficked in our city and at the mall," Taylor told the L.A. Times' Sonaiya Kelley. "I remember thinking, 'Well, black people don't get trafficked so we're cool.'" Taylor — who is black — then learned that around 40 percent of trafficking victims are African American, and quickly changed his thinking. "And as I realized just how dumb my thought was, I began to realize just how big the epidemic was for kids being trafficked all over the world domestically," he said.
Not only was Taylor inspired by real-life sex trafficking crimes, but his film ended up being closer to reality than even he envisioned. The pivotal gas station in the movie is a real gas station in Placer County, and while filming there, Taylor learned of a sex trafficking bust that had recently taken place just up the road. According to the L.A. Times, a local police officer approached Taylor while he was filming at the gas station and told him that 15 miles down the road they had recently discovered 40 young women and girls hidden under a house in a set-up Taylor compared to Silence of the Lambs.
Placer County is currently a major epicenter for the human trafficking epidemic, as it's seen a sharp increase crimes over the last few years. In Dec. 2017, a sting of a suspected human trafficking ring in bordering El Dorado County led to 14 arrests, according to the Sacramento Bee.
So while Traffick may not be a true story per se, it's shining a light on a growing problem in the United States, and especially in Northern California where the film was shot. Human trafficking is a blight on society that needs to be eradicated, and Traffick is hoping to educate people on the seriousness of the threat.
If you believe you have some information on a sex trafficking crime, you can visit the National Trafficking Hotline online or call them at 1-888-373-7888.