Trump Reportedly Delayed His UK Visit Over Protest Concerns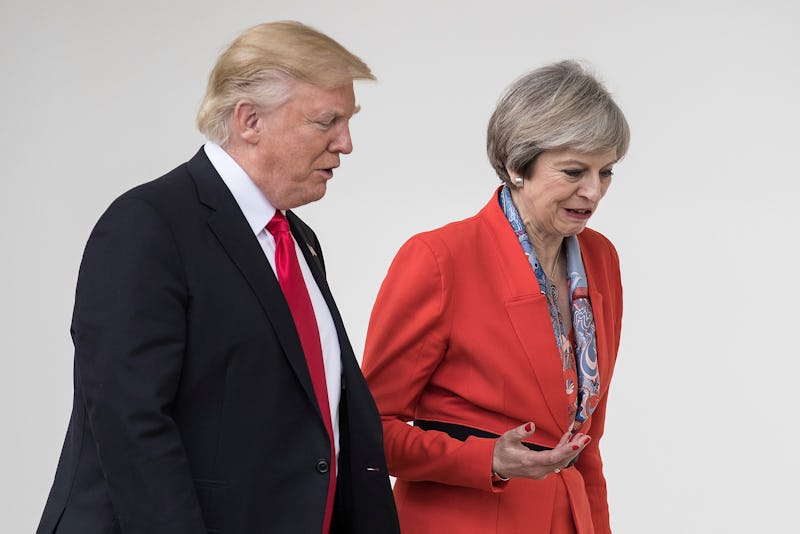 Christopher Furlong/Getty Images News/Getty Images
Earlier, this year, British Prime Minister Theresa May was the first foreign leader to visit President Trump in the White House. Although she extended an invitation for him to reciprocate, the U.S. president had not yet traveled across the pond. According to The Guardian, Trump's scheduled visit to the U.K. has been delayed, and it's because the president is concerned that his arrival would be met with protest. The White House has denied the report.
The Guardian reported Sunday that Trump had called May "in recent weeks" to effectively postpone his visit. According to Reuters, a date had not been officially announced for the president's visit, but British media had reported that he would arrive in October. After the Guardian's report, it's unclear when Trump will visit, if at all, this year.
A spokeswoman for the British prime minister seemed to deny the report, saying there had been "no change" to the invitation.
We aren't going to comment on speculation about the contents of private phone conversations. The queen extended an invitation to President Trump to visit the UK, and there is no change to those plans.
Still, Trump's reported concerns over protests could be valid. Just last week, London Mayor Sadiq Khan called for Trump's visit to be canceled after the U.S. president criticized Khan's alleged response to a fatal terrorist attack near London Bridge earlier this month.
Ultimately, there was little to no evidence that Khan ever gave such a response to the attack. In response to Trump's inflammatory tweet, Khan indicated that he had "more important things" to do than consider Trump's criticism. As things simmer between the London mayor and the U.S. president, it could be May who now has bigger fish to fry than a state visit from Trump.
The U.K.'s most recent national election, which took place on Thursday, ended in a hung parliament. As a result, May's conservative party lost its majority in the British government and must now work to form a coalition government with other parties. If May and her conservatives — aka Tories — cannot build a coalition government, she could lose her prime minister position.
When it comes to Trump, though, the people of Britain seem nearly as divided as Americans. A petition on Parliament's website that calls for Trump to visit the U.K. garnered more than 300,000 signatures before it was closed. Meanwhile, a similar petition that calls for Parliament to block Trump's visit to the U.K. had over 1.8 million signatures before it was closed. That's certainly not the type of support the president wants before stepping on British soil.