Fans Think Tyga's New Song Is About Kylie Jenner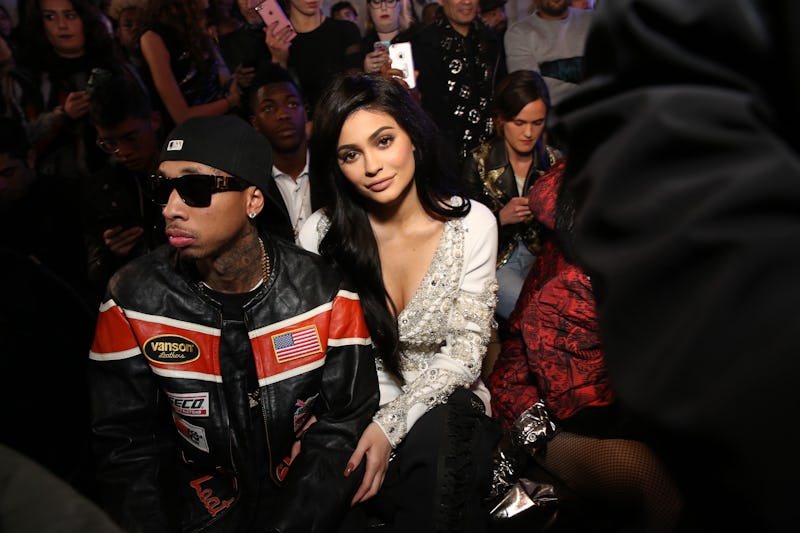 Monica Schipper/Getty Images Entertainment/Getty Images
If you're all about that celebrity gossip, then get excited. One of your favorite rappers has just released a song. Fans already think that Tyga's new song "Playboy" is about Kylie Jenner, and it's a valid theory to hold. The couple broke up in April 2017, and, if you'd been wondering if they'd reunite or were even just morbidly fascinated by the relationship when it was happening, then you were probably disappointed when Jenner started seeing hip hop musician Travis Scott instead. (In fact, TMZ reported in May that Jenner was now in an exclusive relationship with him.) But even if you'd given up on the once loved-up couple, the "Ayo" rapper appears to believe that their reunion is inevitable, if fans are correct.
His song "Playboy," which he released on June 3, includes the following lines
"She a superstar
She got it bad for me
If I hang up, she call right back to me
You cut her legs off
She crawls right back to me
I call it playboy tenacity."
Given that the Kardashian half-sister is incredibly famous, ranking number eight in the world for most-followed on Instagram and appearing on Keeping Up With The Kardashians, it feels like it wouldn't be a shot in the dark to assume the "superstar" he's referring to in such colorful lines is his ex.
While I can't imagine the 19-year-old finding Tyga's shoutout particularly charming, the present tense could be the main basis for the theory that the song refers to her. His reference to hanging up implies they still regularly chat on the phone and his overconfidence in her feelings for him ("She got it bad for me") seems pretty telling, given the fact that she could already be in a new relationship with someone else.
To give the rapper his due, the phone call line does sound familiar. When they broke up, a source told US Weekly at the time, "Tyga does really make Kylie happy, and when they break up it makes Kylie super sad... He's her first big love, and they still speak every day."
However, the rapper has not made any comment either way on if the lines refer to a specific ex at all, let alone Jenner. And, if the verse is about Jenner, then it's worth nothing that this is a song penned from his point of view, and it leaves out what she is going through. As such, while it might make you think that the pair still nurse feelings for each other, I'd hold off on assuming any such thing.