The Truth About Those Vick Hope 'Strictly' "Fix" Rumours Is Not What You'd Expect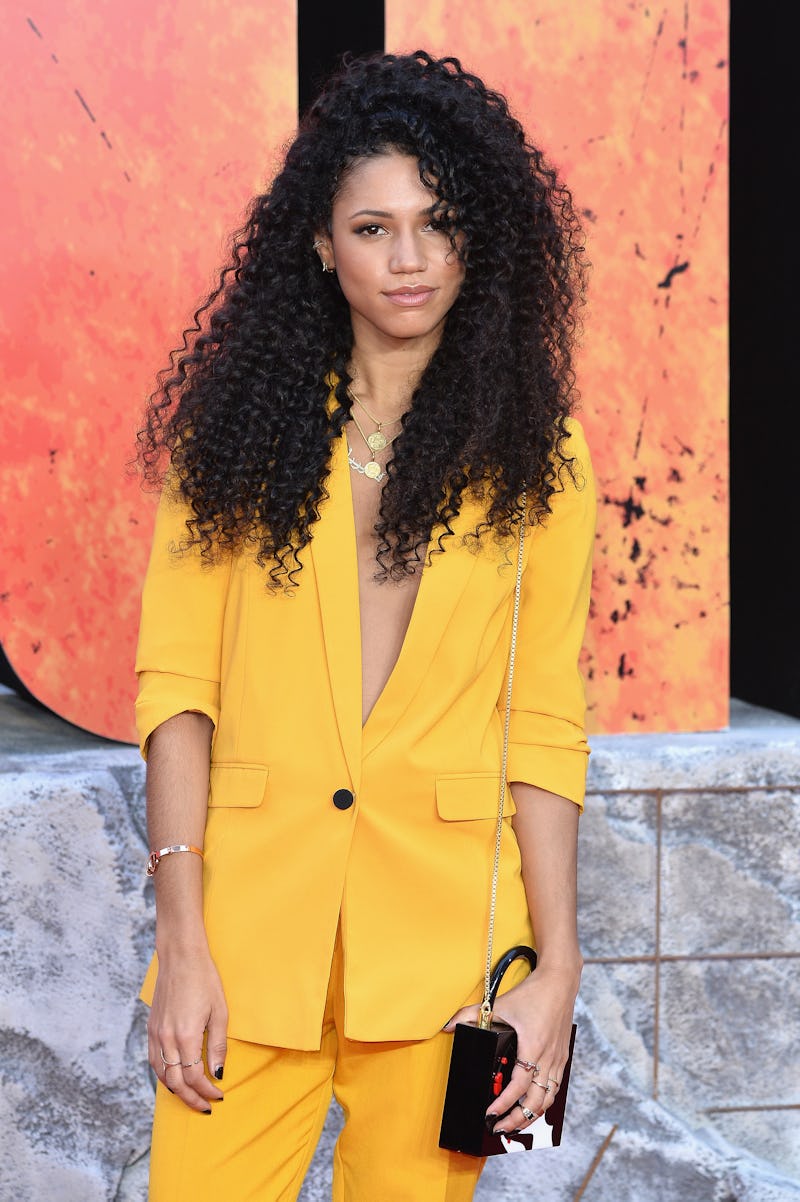 Jeff Spicer/Getty Images Entertainment/Getty Images
Who knew a ballroom dancing competition could get so heated? There's more Strictly Come Dancing drama this week and for once, it has nothing to do with the infamous Strictly curse. Rather than any romantic scandals or sad break-ups, this time it's centred around the fallout following radio presenter Vick Hope's exit from the BBC One show. After she made some intriguing comments about her exit, it's been rumoured that the broadcaster isn't too happy with the star. So, is Vick Hope banned from the BBC? Well, I've done some digging and have an answer for you.
The Daily Mail reports Vick Hope is apparently "facing a ban from appearing on future BBC shows" after she made comments that have been interpreted by some as a suggestion that producers had influenced the Strictly judges before her exit from the competition.
A source told The Sun, "As a TV hopeful it was a pretty stupid thing to do. Execs are less than impressed. She's come across as a bad loser when they've done so much to support her. The Beeb won't be having her back."
Yikes. It's a pretty big claim to make that anybody's been banned from an entire network, so I reached out to the BBC and Vick Hope's team to find out more. A spokesperson for the BBC simply told me, "It's not true." Meanwhile Hope's management added, "Vick Hope has not been banned from the BBC or any of its shows; they have, and continue to have a great working relationship." So that's that then.
Hope left the show following a Cha Cha routine with her partner Graziano Di Prima, which Craig Revel Horwood called "quite a disaster." The next day on Capital Breakfast, she talked about her time on the reality TV show and made some interesting comments about the Strictly judges and producers.
She talked about what happened when the judges decided who to send home from the competition out of her and fellow contestant Seann Walsh. "We had to have a dance off as well — it was very strange — so after the dance off, then the judges have to give their decisions but there was a bit of a conflab with some producers and then they gave their decisions," she said.
The BBC also responded to those who interpreted the comments as a suggestion that Hope's exit might have been a fix, calling it "categorically untrue" in a statement to the Daily Mail. They said, "It is categorically untrue to imply that producers tell the judges how to score or who to save. Each judge votes on each dance independently, based on its merits and in their expert opinion alone."
Their spokesperson also detailed how the judges submit their scores, highlighting the airtight nature of the scoring system. They explained, "The Judges use an electronic voting pad to transmit their score or choice of who to save to the production gallery which is then locked in and cannot be changed. Only after this does a producer speak to the judges, advising them on how long they have to speak and reminding them to give a reason for their decisions. The process was exactly the same this weekend."
In the same Capital Breakfast taping, Hope also claimed that one of the judges — Shirley Ballas — wasn't a big fan of hers and said she "relished" shooting her down. It came after her co-host Roman Kemp noted that there seemed to be some tension between the pair, which even his mother had picked up on.
Hope said in response, "I think I've gotta be careful what I say here, because you never know what someone's thinking. And it was from week one that people were suggesting there was something there, I don't know. It's been consistent and Saturday night I really felt it was just weird, wasn't it?"
"I'd never really been spoken to like that. She really relished in it," she finished.
I've reached out to Ballas' agent to see if there's another side to the story, so I'll let you know if she gets back to me. Although Ballas has yet to respond to Hope's comments, the radio presenter's former Strictly partner Graziano Di Prima has spoken up.
He defended Ballas, saying the judge's comments were grounded in reality rather than any bad feeling. Di Prima told Bang Showbiz "I don't really agree with [Hope's comments]. Shirley is an amazing teacher and a professional teacher before. So if she said that it's because it's true."
He explained, "It's her work, if you see on the show [Shirley] really looked to the legs and the feet, the timing and everything. So for people who never dance before, you understand the feeling more than the technique...Also during the week when you dance with a person who has never danced before you have to understand also the feeling. That's why it's so hard for us, a pro dancer, it's not just about the dance. The dance is the easy part."
Just yesterday, Di Prima shared a pretty heartfelt message on Twitter in which he thanked his and Vick Hope's fans for their support.
He wrote, "So sorry that our journey has been finished, I loved dancing with you and sharing with you this amazing experience, dancing in my, our dream dance floor with you!"
Hope retweeted his message and responded, "Graz, bello, so much love to you. Thank you for being so hard-working, kind and patient. You're such a special guy and an amazing dancer, it's been a pleasure to dance with you and, more importantly, get to know you."
Given that we know the drama isn't real, perhaps the best thing to do is support Hope in the amazing work she is doing off the show. The Cambridge University graduate told the Evening Standard that she takes her obligation to help lift other women up very seriously, adding that she is "prepared to work 10 times harder because if I do that I can make it better for the girls coming after me." As Huffington Post reports, she also hosted a stage at the Women's March, and has been involved with Amnesty International since the age of 16, currently serving as one of their ambassadors.
The next episode of Strictly Come Dancing will air this Saturday on BBC One at 6.50pm.