This Body Language Expert Says 'Strictly's Seann & Katya Are Actually Awkward AF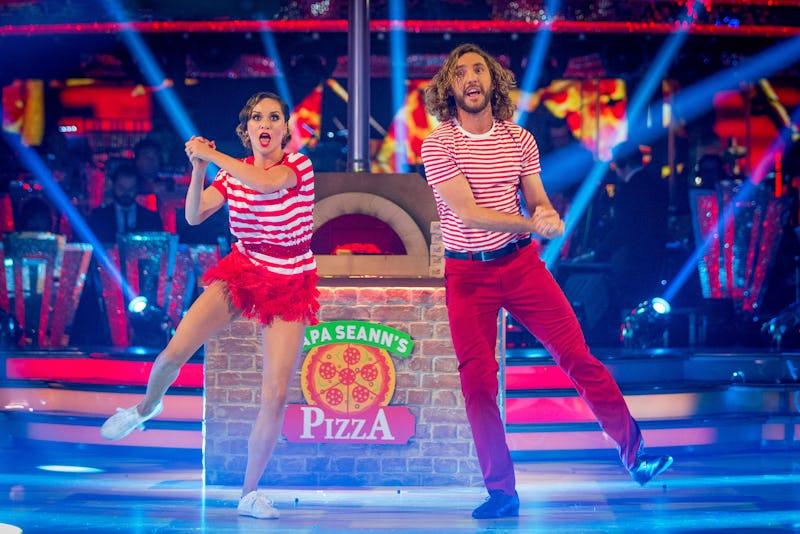 Strictly Come Dancing / BBC
I can't remember the last time there was this much drama on Strictly Come Dancing. Honestly, Saturday's show was so intense. Of course, it was one of the most hotly anticipated episodes of the series as it came on the heels of Seann Walsh and Katya Jones's kiss. Despite both having partners, they were photographed fill on snogging. Although they have since issued a public apology, Seann Walsh and Katya Jones' body language on Strictly suggests that the drama isn't behind them just yet.
Come on, was it just me or did it all look a bit awkward to the dance floor? I decided to talk to Elizabeth Kuhnke, body language expert and the author of Body Language: Learn How to Read Others and Communicate With Confidence, to get the downlow on what was going on because something just didn't sit right with me. Guess what? It turns out the awkwardness wasn't all in my head. Kuhnke tells me: "The kiss that made headlines this past week did nothing positive for the couple's dancing. Nor for their personal interactions."
Yikes, so not off to a good start. Kuhnke then explains that Walsh and Jones didn't seem to be completely in sync during their high energy Charleston. She adds: "Sean Walsh and Katya Jones were sloppy in their steps and unconnected in their performance, dancing more like beginners than winners."
Now, I'm no dancing queen myself, but even I could tell their pizzeria-inspired performance was underwhelming. I actually had to look away during the ten seconds where Jones stacks a tower of pizza boxes into Walsh's arms as he appeared to struggled with his footwork.
The uncertain lift at the end also had me anxiously peering through my fingers, terrified it was all going to go horribly wrong.
Although Strictly judge Craig Revel Horwood criticised Jones previously and told the Daily Mail she "broke protocol" by kissing Walsh, Jones and Walsh's scores were actually more generous than I thought they'd be. In fact, they came in at a very respectable fifth place with a score of 28 though judge Darcey Bussell did mention that the dance was "clumsy and needed precision."
Once the pair left the dance floor, their body language during the post-dance interview also reveals a lot, according to Kuhnke. She tells me: "If these two are supposed to be hot for one another, I couldn't see the passion."
In a video posted to the official Strictly Instagram page, there's a palpable level of awkwardness and Kuhnke points out that their eye contact is all over the place.
She says: "They barely touched or looked at one another, showing nothing in their facial expressions, gestures, or movements that indicated a close personal or physical relationship."
Following the pair's kiss, Walsh's partner Rebecca Humphries has officially broken up with him (side note: her statement is iconic and inspirational if you haven't already read it). This means that the comedian is currently single. However, Jones is still very much married to her husband and fellow Strictly pro Neil Jones. Opening up about her marriage on It Takes Two, Jones insisted that what happened between her and Walsh was "not a reflection on their relationship" and that "[she] and Neil are doing fine."
In any case, Jones and Walsh will be back on our screens this Saturday for another dance as they've made it through to week five. The upcoming episode of Strictly Come Dancing will air at 6.45 p.m. on BBC One.