Why It's Actually Fine If Wally Leaves 'The Flash' For Good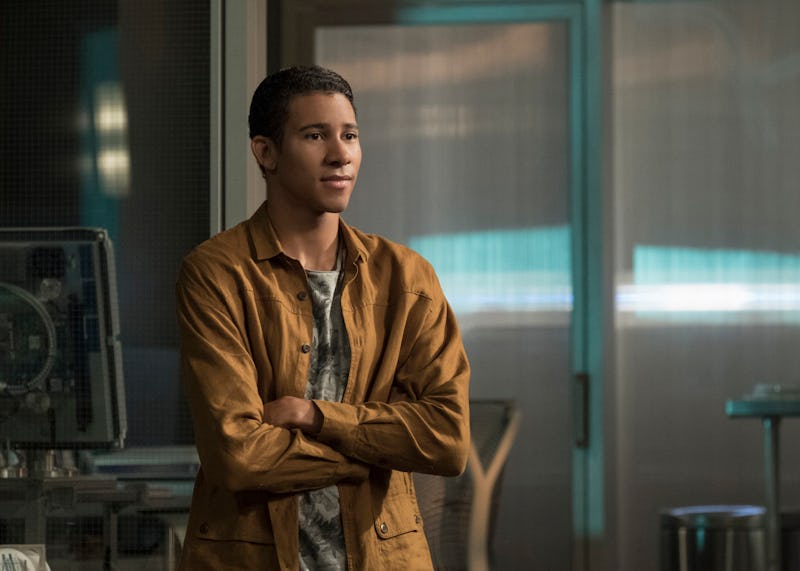 Katie Yu/The CW
If you blinked, you may have missed Wally West's departure from The Flash because it happened that quickly. Wally, aka Kid Flash, aka Iris West's younger brother, aka the Flash's young mentee, dealt with heartbreak in the Season 4 episode "Luck Be A Lady" and decided to take some time away from Central City to deal with it. His departure could be temporary or more permanent, which opens the door for him to join another DC universe show. So, is Wally joining Legends Of Tomorrow? He may be needed there more. Kid Flash has had some difficulties fitting into The Flash world, despite his awesome abilities and comic book significance.
Wally spends most of the third episode of Season 4, "Luck Be A Lady", literally on a different earth. But nobody notices because the team is pretty well-rounded and mostly able to succeed even without him. Barry Allen is back from his vacation in the Speed Force; Cisco Ramon is more powerful than ever; Caitlin Snow is getting a grip on her frosty powers; Iris has taken on being command central; and even Harrison Wells is back to help out. All of this means less room for the young, plucky speedster, but one of the CW's other superhero shows, Legends Of Tomorrow, may have the space.
When Barry was moody and disconnected from the team during Season 3, Wally played the important role of being the happy, team player speedster. And then when Barry was stuck in the Speed Force, Wally and Cisco teamed up to take over his duties, making Kid Flash the main Flash. All that changed when Barry came out of the Speed Force faster, lighter emotionally and ready to fight bad guys. Wally's role became muddier on The Flash. He's definitely feeling it. While saying his goodbyes in "Luck Be A Lady," Wally asked plaintively, "City was about to blow up, no one realized I wasn't here?"
The Flash is self-aware enough to realize that they are not using Kid Flash well, so he has been sent on his own personal journey. Luckily, the DC TV universe is large and Wally could pop up on a number of shows.
Kid Flash has already made a cameo on Legends Of Tomorrow, fighting alongside Steel. Wally appeared during the Season 2 episode "The Legion Of Doom" and in the Season 3 premiere, "Aruba-Con". His powers, even in that short time, were more appreciated in the world that doesn't already have a superhero speedster. While fighting with Steel, Kid Flash locked up the bad guys, doing almost too impressive of a job and making Steel feel useless. Seeing Wally thrive is fun and new. So often on The Flash he is relegated to failing so that Barry can eventually save the day.
The one thing The Flash does have that Legends Of Tomorrow wouldn't is Wally's family, and that dynamic would feel emptier without him. Wally actor Keiynan Lonsdale spoke to Vulture about the West family dynamic on The Flash. He said:
"It's really organic because we do feel like a family on and offscreen. We hang out a lot. Candice [Patton] and I feel like brother and sister; Jesse [L. Martin] feels like our dad... It's cool. It sort of progressed that way because I had such heavy scenes with them, so we were always together. They really took me under their wing, and it just so happens that we play family onscreen, so that was perfect."
Wally was a special addition to the West family, but there's no reason he couldn't make appearances back on The Flash while also joining Legends Of Tomorrow full-time.
The CW hasn't announced any plans to send Lonsdale and his character to Legends permanently, but Wally wouldn't be the first character to jump from The Flash to that other show. Martin Stein aka Firestorm (Victor Garber) went from Team Flash to join the Legends, and now plays a bigger role in keeping the world safe. The beauty of having multiple shows in the same extended universe (The Flash, Legends Of Tomorrow, Arrow, Supergirl, Teen Titans in 2018) is that the world is endless. So if a character is likable but doesn't quite fit, there are additional options.
Whatever happens, hopefully Wally makes a speedy return to some DC TV team. Kid Flash needs to be running around and saving the day. He's proven to be courageous and kind, and that's just the kind of hero any show would be happy to have.