This New 'GLOW' Wrestler Is Poised To Shake Up The Netflix Series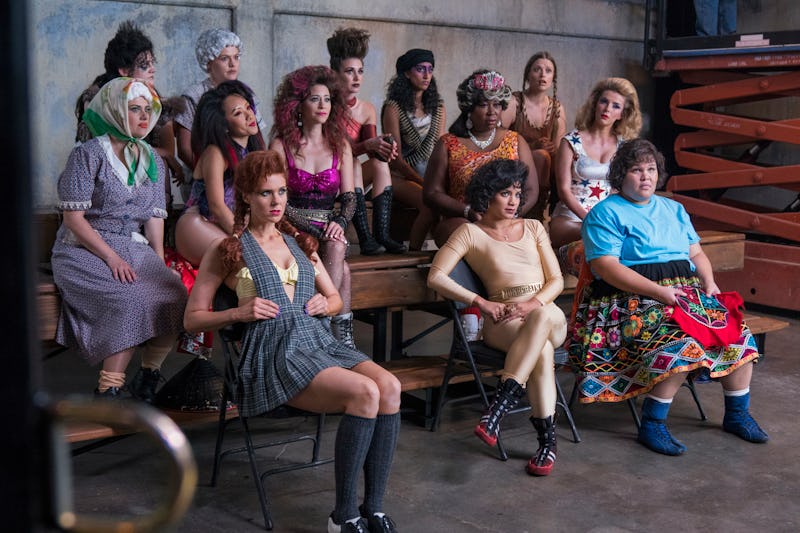 Erica Parise / Netflix
Netflix's GLOW is based on the making of the real-life '80s show Gorgeous Ladies Of Wrestling. For many of the main characters, creators Liz Flahive and Carly Mensch took inspiration from elements of the wrestling personas — and actual experiences — of the original Gorgeous Ladies and fused them together to tell a new story. In Season 2, which debuts on Netflix on June 29, another wrestler joins the mix. So, is GLOW's Yolanda based on a real person?
As reported by Deadline, Shakira Barrera joins the cast as Yolanda, aka Yo-Yo, in Season 2. Yolanda is a Mexican American dancer and stripper, per Deadline, as well as a lesbian. She joins the team as a replacement for Cherry, who, as viewers will remember from last season, got an offer to star in a crime drama that would force her leave GLOW.
It's worth mentioning that the character of Yolanda accomplishes two big firsts for a show that's generally lauded for its diversity: She's the first Mexican American character, as well as the first openly queer one. While Yolanda doesn't seem to be based on any one individual, it wouldn't be surprising if GLOW's creators found some inspiration in Sonya Deville, or in the countless women who must have silently preceded her.
Sonya Deville made history as the WWE's first openly lesbian wrestler, Pink News reports. In 2015, she answered a question on World Wrestling Entertainment's reality TV show, Tough Enough, by telling the judges "I don't have a wife yet, but I have a girlfriend." On April 8, 2018, according to LGBTQ Nation, she made history again by becoming the first lesbian to participate in Wrestlemania.
As for the original GLOW, it's clear just from how long it took Sonya Deville to make history that the '80s wrestling scene had a way to go. According to Uproxx, wrestler Tiffany Mellon left the real-life GLOW in 1989, claiming management harassed her when they suspected her of being a lesbian.
Yolanda might be the first lesbian and Mexican American character on GLOW, but a story about a similar character has actually been told recently. Screenwriter and director Fawzia Mirza's film Signature Move, which premiered on October 13, 2017, tells the story of Zaynab, a Pakistani American woman who falls in love with Alma, a Mexican American woman with a family history in lucha libre wrestling. Zaynab pursues her passion for wrestling alongside her relationship with Alma. Mirza even told Vice that she had been considering turning Signature Move into a show, before GLOW came along. "What's so funny is I really wanted to turn Signature Move into a TV series, and then everyone started talking about GLOW, and Jenji Kohan's making it, and I'm like 'Damn it! Damn it!'"
Unlike her character on GLOW, who identifies as Mexican, actor Shakira Barrera has Nicaraguan heritage. In an interview with TV Insider, she explained how badly she wanted to see more representation on the show, "When I watched Season 1 I wanted a Latin person on there," she said. "I'm honored that it's me."
Barrerra went on to tell TV Insider that she hopes her role as Yolanda will inspire people by seeing themselves represented on screen. "I just feel like as a Nicaraguan-American, I need to show the people they need to dream," she continued. "They need to know that other things are possible. That's what I hope the show does for them and my character does for them. Shows the misfits or people who think they can't go on that if I can do it, they can do it."