How Zari's Origins Set Her Apart From The Other 'Legends Of Tomorrow'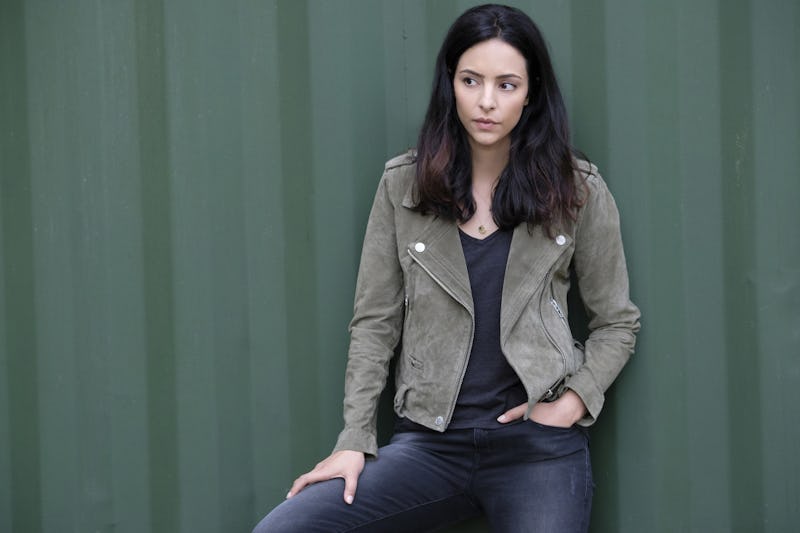 Bettina Strauss/The CW
Legends Of Tomorrow added another to their ranks their season: Zari Adrianna Tomaz, played by Tala Ashe. But is Zari from Legends of Tomorrow in DC comics? Well, yes, but this hacker didn't get her start there.
In her introductory episode, audiences learned that Zari is Muslim, a hacker, and from the future. Her precise home in time is 2042, where both metahumans and religion are outlawed. And as a result, she is a fugitive. Her brother was killed by ARGUS, a paramilitary group that, in this future, is enforcing these new authoritarian laws.
Producer Marc Guggenheim said at this past year's TCA panel that Zari's identity was important to the Legends writers. Inverse reported that Guggenheim said, "Not to get political, but something that we all gravitated towards in the writer's room was making this character Muslim." In what could be interpreted as a response to Donald Trump's administration's treatment of Muslims, it's important to note that Zari is actually the first Muslim superhero to appear on TV.
Although, Zari existed before her new iteration on The CW. Previously known in the comics as Isis, after the Egyptian goddess, her name was changed for the show. But her character actually originated in an earlier television series.
Back in the the '70s, Isis was introduced in the live-action series, The Secrets Of Isis, which ran on Saturday mornings along with Shazam, a show focusing on Captain Marvel. In the show, Isis was a high school teacher by day, but could transform into a super heroine using a mystical amulet. Using the amulet, she gained powers similar to Wonder Woman: flight, super speed, and strength, among others.
Following her onscreen introduction, she did make her way to the comic books, where she had a number of variations through the years. After appearing in one of Shazam's comics, she received her own series in 1976, titled The Mighty Isis. Although, that comic wasn't exactly successful, it had an extremely short run of only 8 issues.
Following that original run, Isis was reimagined. Her new role was to be a partner to Black Atom in ruling over Kahndaq, a fictional Middle Eastern country in the DC universe. Reminiscent of her plot line on Legends Of Tomorrow, part of her character's motivation was to locate her missing brother, who'd been kidnapped by an advanced organized crime outfit, Intergang. It could be an interesting twist later this season to find out her brother had actually been alive, even though she thought he was dead.
While she definitely butted heads with the Legends in her first episode, she clearly made a friend in Vixen. The pair both get their superpowers through their jewelry — their totems. While Vixen's totem gives her powers of various animals, Zari's totem gives her powers of the winds. Totems aren't just relevant to Zari and Vixen, though. In an interview with Variety, Ashe discussed how the totems will be propelling the plot forward this season through a connection with the villain Kuasa, Vixen's granddaughter.
"I know that the totems are what's bringing them together and what links them to Kuasa [Tracy Ifeachor], who is also a totem-bearer," she told the publication. "The connection between the totem-bearers does come to a larger part of the season at a certain point."
So, since we know the plot of Legends Of Tomorrow is dependent, at least in part, on Zambesi Totems, then it's vital that each are located. In the animated series Vixen, there are five totems. It should only be a matter of time before the missing ones appear to guide Zari and the rest of the Legends into more adventures.