Zayn Malik Shows Off A Lovely New Tattoo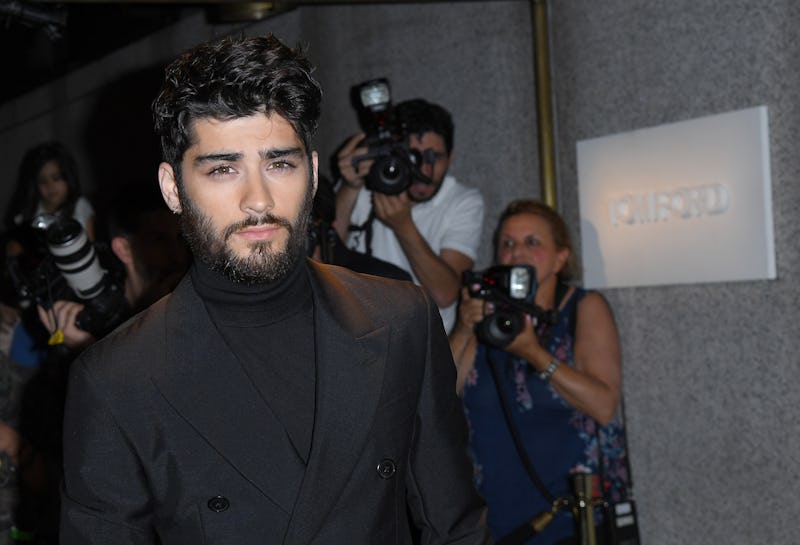 ANGELA WEISS/AFP/Getty Images
You know what they say, "First comes love, then comes marriage." Well, some people are thinking this age-old phrase is ringing true for Zayn Malik and Gigi Hadid. The singer was spotted in NYC on Tuesday, Jan. 17 with a fresh tattoo of the word "love" inked in cursive across his right hand, according to People magazine. The web was quick to speculate that this may be an ode to his supermodel girlfriend, who had recently been seen rocking a basic gold band on her ring finger on Monday while walking around the Big Apple. Neither Hadid nor Malik have commented on the engagement rumors yet (and their reps have not yet replied to Bustle's request for comment), so for now it looks like the ring is just a regular piece of jewelry. But is Malik's tattoo for Hadid?
People notes that the 24-year-old British crooner went under the needle to show his love in his previous relationship with British singer Perrie Edwards. So maybe this is just his shtick? After Malik and Edwards broke up, the former One Directioner covered up his declaration of love — a picture of Edwards — with new art.
As for his newest piece, the word "love" is deep enough to show affection for Hadid, if that's what he wants, but also safe enough to still apply to loved ones if, God forbid, the two break up. So far, there's no word from Malik on if the tat is meant specifically for the supermodel.
As for Hadid, a source claimed to the Daily Mail the model is a bit trepidatious when it comes to walking down the aisle after watching her mother and former cast member of The Real Housewives of Beverly Hills, Yolanda Hadid, struggle in her relationships. "She's seen her mom go through two messy divorces, so Gigi wants to make 100 percent sure Zayn's the one before she makes a lifetime commitment," the source claimed.
The couple has been together since November 2015 and reportedly split briefly in June 2016, according to the Daily Mail. Prior to that, Malik ended his two-year engagement to Edwards in August 2015. Hadid previously dated singer Cody Simpson, but the two broke up in May 2015, according to E! News.
For both of their sakes (and the sake of Malik's artistic canvas of a body), I hope their relationship is moving in the right direction. If the tattoo is indeed for Hadid, it's quite the romantic gesture of their love. She did star in his video for "Pillowtalk" where he sings, "I love to wake up next to you" so it fits perfectly. Let's see what Valentine's Day has in store for the superstar couple. Maybe instead of a grand homage in the form of permanent body art, Malik might stick to getting Hadid jewelry or flowers like the rest of us.