Here's The Real Way Zendaya's Songs Were Recorded For 'The Greatest Showman'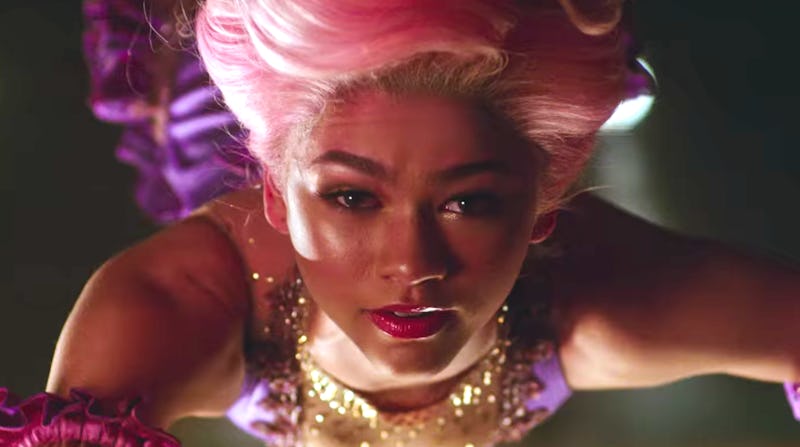 20th Century Fox
She's playing an acrobat and a trapeze artist, and her scenes look seriously strenuous, so the role raises some questions about whether or not Zendaya is really singing in The Greatest Showman. In a nutshell: yes. And that makes sense, because, after all, this is a musical movie, and Zendaya dropped an album in 2013. Presumably, they wouldn't have contracted her to appear on the movie if she wasn't able to deliver the vocal goods.
In a Fox interview with Zendaya and Zac Efron about The Greatest Showman, the reporter asks the pair pretty explicitly about how the singing aspect works. Do they sing live or record later or do a mix of both? Efron confirmed it was a combination and Zendaya explained they record "like a skeleton track" on the day of shooting the scene. Efron said this was "so that you know what notes what you have to hit and what sort of cadence you want to sing at, but you have to really sing on the day or it looks fake."
However, he argued that, as shooting progresses, you may find you have details to add to the song, and so then they'd re-record tracks in the studio sometimes and add them in instead. And Hugh Jackman, who was interviewed on his own earlier in the same video, said that the beginning of many of the songs in the film are live recordings since musicals, as a form, require actors to slip from dialogue into singing.
Meanwhile, Zendaya seemed grounded about the process and the need for studio time. "Nobody probably wants to hear the live version we delivered while swinging around," she admitted in the same Fox interview. "It's a lot of [groans] and shrieking sounds."
And that would make sense. While appearing on The Tonight Show, she explained that her director Michael Gracey called her and said, "You might want to start working out. You have trapeze rehearsals when you get here and I want to use the stunt doubles as little as possible." She had to work hard to develop enough upper body strength to pull off the incredible acrobatics she carried out. Presumably, singing at the same time wouldn't have produced the best vocals the actor is capable of. However, since there appear to be live videos of the artist recording the songs in the studio, presumably it is indeed her and not a vocal stand-in recording her parts.
That comes as no surprise if you've enjoyed the highs and highs of the star's self-titled 2013 album. AllMusic said the former Shake It Up star delivers "a streamlined, self-assured first effort," Renowned for Sound stated "Whilst she may only be 18, Zendaya has quite a mature voice," and MTV described Zendaya's pop album as having "vocals and sounds comparable to Jennifer Lopez and Ciara." Clearly, the former Disney star has a great pair of pipes on her. So, yes, obviously she both recorded live vocals while performing and recorded other songs in the studio.
And she's no stranger to using her remarkable vocals to enhance soundtracks. In 2015, Rolling Stone reported she sung the song "Neverland" for the compilation album Finding Neverland (which accompanied the Broadway musical of the same name) and, according to iTunes, in 2013 she sung the earworm "Keep It Undercover," which ended up being the theme song for the Disney series K.C. Undercover, in which the singer starred as a girl who's a totally normal high school student — apart from the fact that she occasionally has to moonlight as a spy.
Basically, the star really does sing and do her own stunts. Are there no end to her talents? From the looks of things on The Greatest Showman, probably not.