Issa & Molly Are In For Some MAJOR Changes On 'Insecure' Season 3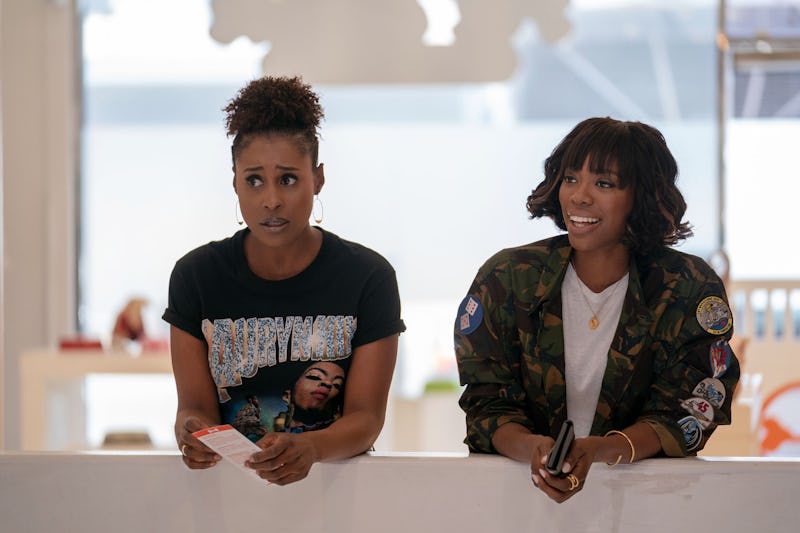 Merie W. Wallace/HBO
Insecure is back, and the way things left off last season for Issa and her friends mean that things are definitely in need of a shakeup — or a reboot, if you will, like the fictional sitcom that Issa watches at the end of Sunday's episode. Even small things can lead to drastic change in life and here, as can be seen through the conversations between Issa and Molly in the Insecure Season 3 premiere. It's clear that both women are finally setting some boundaries and ready to look out for number one and make some tough decisions. Even if they each still have one foot in the past, it feels like they're just minutes — or episodes, at least — away from living their best lives.
In the Season 3 premiere, Issa has been living on Daniel's couch for weeks, not quite letting on that she still has feelings for him. He's not making it easier, either, bringing girls back without giving her so much as a head's up. Molly, on the other hand, decides to cool things off with Dro as he clearly wants more than just a physical relationship. He lets himself into Molly's life and literally into her home when he shouldn't be there.
Issa's also unable to make the necessary changes she wants to make at We Got Y'all, since she's stuck on desk duty from last season. While she does call the unsatisfied schools on her list to check in, she's not supposed to, and can't do anything to address their complaints about the program: Many of which she was already aware of as an employee.
Even her one so-called ally at work, Frieda, doesn't want to rock the boat. Nothing is going right. Molly, on the other hand, is starting a new job at her new law firm, and her not falling back into old habits with Dro solidifies that fresh start.
Taking on a side hustle as an Lyft driver doesn't seem to be fulfilling Issa career-wise, even if she does meet exciting new people that way, but it is a useful way for her to clear her head, save up to move, and further take control of her situation — behind the wheel of her own car, choosing who gets the Capri Suns. She and Molly even offer advice to their passengers, going so far as to change their destinations. Sure, it's a distraction for both of them. But it's also a way to bond with each other in a way that viewers haven't seen in a long, long time. It feels like things are coming full circle for each of them, and their friendship.
There's a lot of very necessary communication happening in this premiere episode. Despite everything going on, Daniel and Issa and Dro and Molly are technically "good" at the end of the episode. But there's a sense that more is coming in terms of both of these relationships. And that the two women are going to start looking for some validation outside of their romantic relationships, which is just as exciting as it is scary.
Admitting what's bad (or even "not great") for you is one of the hardest things to do, especially when those "bad" things are the people and patterns you've learned to love. The premiere of Insecure Season 3 is probably just a taste of what's to come — and with both Molly and Issa finally drawing some lines in the proverbial sands about what they want from life, and even from each other, things are likely to only get more real from here.