It's Going To Be Especially Illegal To Share Revenge Porn In the Military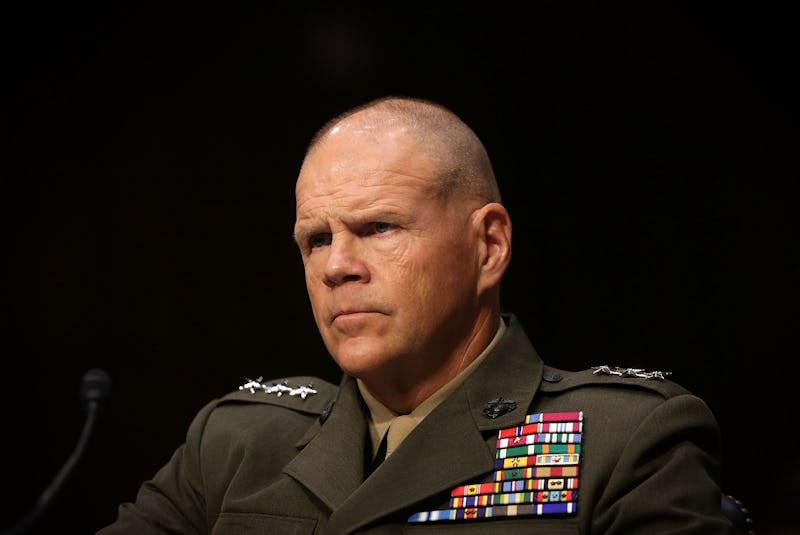 Alex Wong/Getty Images News/Getty Images
Partisanship may be rife on Capitol Hill, but there's at least one issue that Republicans and Democrats can agree on. After a scandal in the Marines involving explicit images being distributed without consent, the House passed a bill banning nonconsensual nude photo sharing in the military.
Earlier this year, the military was rocked by news that a Marine Facebook group was sharing compromising photos and videos of female service members without their knowledge or consent. At least two dozen female members were identified in the photos, according to reports. The group, "Marines United," included more that 30,000 active-duty or retired Marines, Corpsman, and British Royal Marines. Some members shared links to photos on the group page.
Although the original group was deleted after it was busted, others have reportedly formed and allegedly continued sharing nude photos. If the members thought that their activities would go undetected in the new groups, perhaps they shouldn't have used the names "Marines United 2.0" and "Marines United 3.0" for their exploits.
The Marine photo-sharing scandal led to a Senate hearing, as well as a Pentagon investigation. Marine Corps. Commandant Gen. Robert Neller testified before the Senate Armed Services Committee that the Marines did not condone the behavior exhibited on the page and promised to take action.
The Protecting the Rights of IndiViduals Against Technological Exploitation Act (PRIVATE Act) would prohibit service members from sharing intimate images of others without consent, even if the individual gave consent to create the images, according to NBC News. Those who break the law could be tried by court-martial.
U.S. Navy regulations were also updated in April in order to make revenge porn in the Marines and Navy illegal. Any sharing of intimate images without the subject's consent intended to humiliate, harass, or threaten is now banned.
The bill was passed 418-0 in the House, in a rare unanimous vote. It now heads to the Senate before reaching President Donald Trump's desk to sign into law.
Although service members make a great sacrifice in dedicating their lives to the safety of the United States, they are not above the law. Hopefully this issue, along with the problem of sexual assault in the military, will be reduced as the public becomes more aware of them. No one should be subjected to photos of themselves being passed around without their consent, and certainly not the men and women who fight for our freedom.