It's Perfectly OK To Care About Beauty While Battling Breast Cancer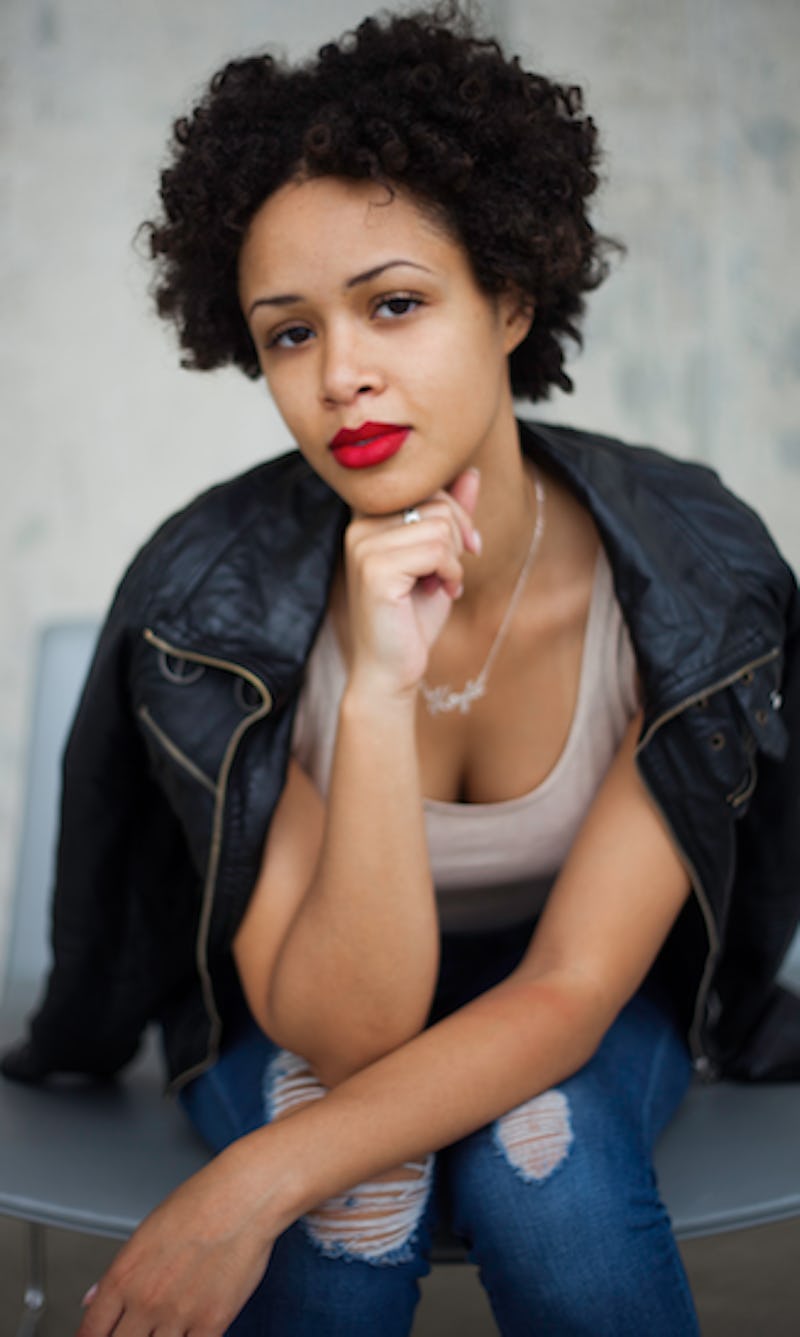 Angelyn Francis
When I found a lump in my left breast back in 2013, I immediately started to panic. I remember my heart raced and my hands trembled as I left my bathroom to text my best friend, telling her that I needed to see her right away. As I left my apartment and hopped on the bus to go to her place, my mind was going around and around in circles as I pictured myself in the place of my loved ones who I saw battle cancer — and I was terrified.
As soon as I got to her apartment, I climbed into her bed and started bawling. I told her that I had found a lump and asked her to feel it for herself, which she did. Then she looked at me with that assuring, comforting smile she always has and said, "Kayla, I just don't think it's cancer." Still, I wanted to be absolutely sure, so I went in to see my doctor right away. She did a breast exam and came to the same conclusion as my friend, but still sent me in for a biopsy to be completely sure.
About a week later I was dressed in a hospital gown waiting for biopsy, my heart, and mind, once again racing. I understood the seriousness of a diagnosis, but as the doctor injected me with lidocaine, I couldn't stop thinking about potentially losing my hair or my breast(s). And I felt so guilty for having the thoughts even cross my mind — despite personally knowing other women who shared the same fears.
But thankfully, I was one of the lucky ones, as it turned out the lump I found was only a fibroadenoma, a common benign tumor that likely would go away on its own. I felt so fortunate — and still do — but I know all too well that there are so many other young black women who find breast lumps and don't always have the same outcome.
Fast forward five years and I can still say without a doubt that the whole ordeal was one of the scariest moments of my life, and I have not taken my health for granted ever since. But the experience also taught me that black women's relationship with their bodies is complex, especially since we've long had our natural bodies, features, and hair excluded from the beauty conversation. That said, why should the people who've just been hit with a diagnosis be shamed or feel guilty for thinking about beauty or body image at this time in their lives? Even if they're the one doing it to themselves.
Standing By Our Sisters is Bustle's new series that explores young black women's journeys with breast cancer, body image, and beauty. It aims to dismantle the idea that those fighting the disease should just be "thankful to be alive." Its goal is to spark a conversation around why it's OK for black women to embrace whatever they're feeling when it comes to how they look — both during and after treatment and surgery. Because, believe it or not, feeling confident is an important part of the process as well.
And while cancer can affect anyone regardless of race, it was paramount to make black women the focal point of this package for one main reason. According to breastcancer.org, black women are not only 20 to 40 percent more likely to die from breast cancer than white women, but the CDC reports they are also at a higher risk of developing triple-negative breast cancer — a more aggressive form of the disease. Despite all this, a 2013 U.S. study focusing on black women's perspectives on breast cancer, found that participants generally thought of it as a "white disease," largely because awareness campaigns primarily only showcase white women — which is a huge problem.
Standing By Our Sisters will include beauty product and clothing recommendations from those who have gone through this journey first-hand, along with feature pieces covering how to take care of brown skin during and after treatment, the way breast cancer shaped various black women's relationships with their hair and body, why there's an overall lack of visual representation in the cancer community for this group, along with a few other touching stories.
Black women have spent way too much time being on the sidelines of this important conversation, and it's time to change the narrative.