Ivanka & Jared Reportedly Had To Push Trump To Condemn Anti-Semitism After Pittsburgh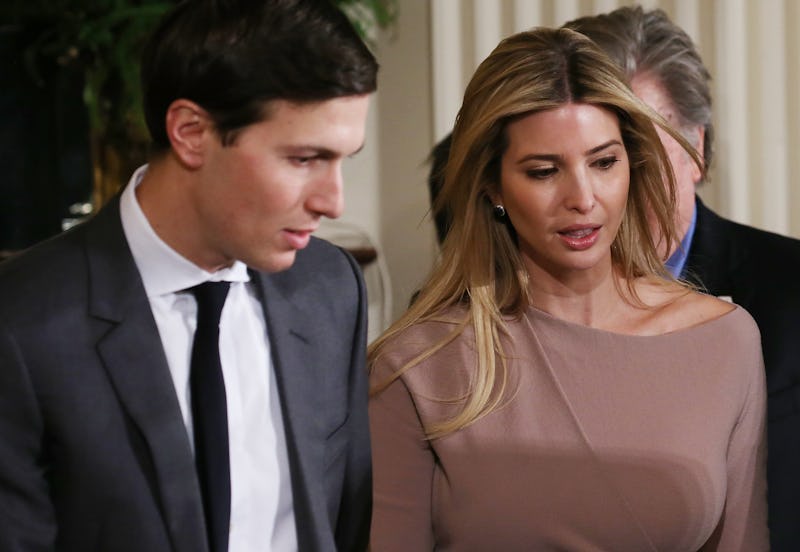 Mario Tama/Getty Images News/Getty Images
After the mass shooting at a Pittsburgh synagogue over the weekend, President Donald Trump released a two-part statement on Twitter to condemn the shooting that left 11 dead. But according to a report from The New York Times on Sunday, it was Jared Kushner and Ivanka Trump who convinced Trump to denounce anti-Semitism forcefully.
Times journalists Peter Baker and Maggie Haberman reported that Kushner and Ivanka (who converted to Judaism when she married Kushner) had pushed Trump to release a statement. Bustle has reached out to the White House for comment.
"All of America is in mourning over the mass murder of Jewish Americans at the Tree of Life Synagogue in Pittsburgh. We pray for those who perished and their loved ones, and our hearts go out to the brave police officers who sustained serious injuries..." Trump tweeted on Saturday.
In a second tweet, Trump continued his statement. "...This evil Anti-Semitic attack is an assault on humanity," Trump added. "It will take all of us working together to extract the poison of Anti-Semitism from our world. We must unite to conquer hate."
However, the tone of the statement was short-lived as Trump was back to tweeting about the World Series and "fake news" at the end of the night. "The Fake News is doing everything in their power to blame Republicans, Conservatives and me for the division and hatred that has been going on for so long in our Country. Actually, it is their Fake & Dishonest reporting which is causing problems far greater than they understand!" Trump tweeted on Sunday night.
The New York Times reported that Kushner and Ivanka encouraged Trump to visit Pittsburgh in light of the attack. Politico reported that First Lady Melania Trump will be accompanying the president on the visit. Two White House aides, Jason Greenblatt and Avi Berkowitz, have already traveled to Pittsburgh, according to The New York Times.
"The president cherishes the American-Jewish community for everything it stands for and contributes to our country. He adores Jewish-Americans as part of his own family," Press secretary Sarah Huckabee Sanders told reporters during a press briefing on Monday, according to Politico. "The president is the grandfather of several Jewish children. His daughter is a Jewish-American and his son-in-law is a descendant of Holocaust survivors."
The alleged shooter has been charged with at least 29 federal crimes, including multiple counts under hate crime statutes, according to Politico.
After a week that saw multiple pipe bombs sent to vocal critics of Trump such as California Democratic Rep. Maxine Waters and prominent Democrats such as former President Barack Obama, some questioned how Trump's harsh language contributed to an heated political environment.
Vice President Mike Pence told NBC News that he didn't believe Trump's language wasn't linked to any attacks. "Everyone has their own style, and frankly, people on both sides of the aisle use strong language about our political differences. But I just don't think you can connect it to acts or threats of violence," Pence told NBC News.