Ivanka Reportedly Opposes Trump's Family Separation Policy — But Not Publicly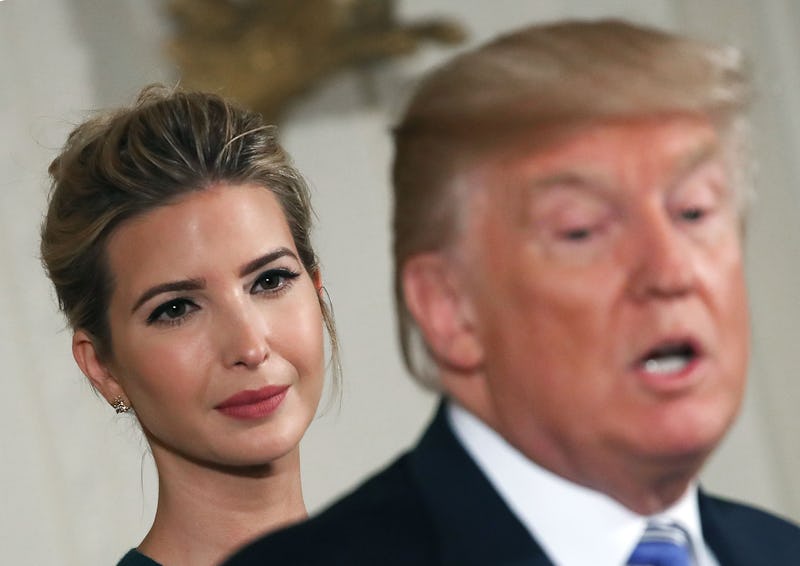 Mark Wilson/Getty Images News/Getty Images
On June 19, President Trump sat down with GOP lawmakers in a closed session meeting to discuss his controversial policy of separating parents from children at the United States-Mexico border. During the meeting, Trump reportedly explained that Ivanka Trump opposes the administration's family separation policy, and has spoken to him about her desire for the policy to end, according to The Daily Beast. In that same meeting, Trump reportedly told the lawmakers that there needs to a be legislative fix to ending the policy in the near future. Bustle has reached out to the White House for comment.
To The Daily Beast, Representative Carlos Curbelo (R-Florida) relayed some of Trump's supposed words after the meeting. "[Ivanka Trump] has been apparently very affected by this and moved, and asked him to find a way to stop this practice," Curbelo said. "[Donald Trump] said that he agrees that this should end, but he believes that it should end with a legislative fix."
Curbelo continued, "[Donald Trump] said he does recognize that it needs to end and the images are painful and he's looking for a legislative solution ... He discussed the optics and the policy itself and I think he's not comfortable with either."
On the topic of optics, one anonymous GOP member also told CNN that Trump told lawmakers in the same meeting that "the crying babies doesn't look good politically." That GOP member further clarified that Trump reportedly only talked about the family separation policy in the "context of political optics — not the actual policy," CNN reports.
The same GOP member who reported Trump's emphasis on optics also claimed that Trump didn't tell them to proactively support any bill or measure that's currently on the floor or circulating through the Senate. The member added, "I don't want to be set up again like I was with the Omnibus. He said he supported it then threw us all under the bus."
This meeting could be a positive sign for the Democratic senators who are unanimously in support of a bill condemning family separation. However, it might not lead to an immediate end to the family separation policy, given Trump's reported vagueness on what a "legislative fix" might actually look like. The Democratic Senate bill that aims to dissolve the family separation policy is officially called the Keep Families Together Act, and was introduced by Senator Dianne Feinstein (D-Calif.) a few weeks ago. The bill, which now has the support of every Senate Democrat and no Senate Republican, according to Vox, would ban the separation of families at the United States-Mexico border, excluding any instance where it seems like the child is in danger (such as being trafficked, or abused). Vox notes that the bill is also supported by several reputable immigration rights and advocacy organizations, such as the Women's Refugee Commission and Kids in Needs of Defense.
However, even if the bill were to receive support by Senate Republicans, the next challenge would be convincing Senate Majority Leader Mitch McConnell to bring it to the floor for a vote. And that's why it could be massively helpful if Trump told GOP Senators to support the bill.
As for Ivanka Trump, who has been extensively criticized for her silence on the family separation policy, it's unclear what exactly she has encouraged her father to do, as she hasn't made any public statements about the crisis. But according to CNN, Ivanka Trump has been working privately to put an end to the policy, and has reportedly personally reached out to two Republicans, House Majority Leader Kevin McCarthy (R-Calif.), and Senator Susan Collins (R-Maine) to talk to them about the matter.
After Trump's meeting with lawmakers, Collins told reporters that Ivanka Trump had reportedly "seen the images and said for a lot of reasons we should be dealing with this." Ivanka Trump has yet to make a public statement on the matter though.
If you want to personally contribute to helping migrant families that have been separated at the border, check out this list of immigration rights organizations that you can donate to.