Ivanka & Jared Aren't Going To Save Us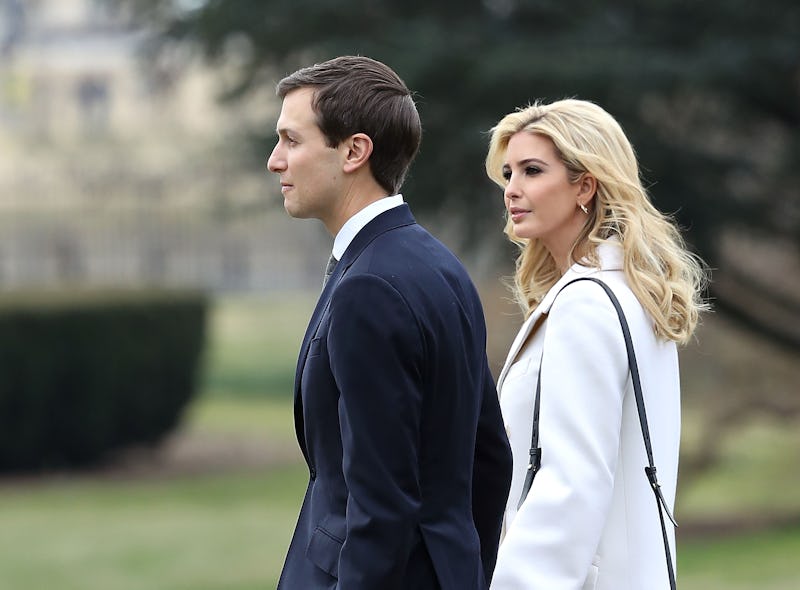 Mark Wilson/Getty Images News/Getty Images
Throughout the 2016 campaign, one of Donald Trump's most important surrogates was his daughter, Ivanka. She delivered a well-received speech at the Republican National Convention, balancing out the doom-and-gloom diatribe her father delivered on the final night. Throughout the campaign, she was an influential and moderating force, and after her father's victory, many looked to Ivanka and her husband, Jared Kushner, to be counterweights against the president's more extreme moments. But now, at the end of the fifth week of Trump's presidency, it's unclear how much influence Ivanka and Kushner are exerting on Trump — or if they have any influence at all.
A report in The Wall Street Journal Thursday stated that language critical of a global climate deal was struck from an upcoming executive order at the behest of of Ivanka and Kushner. Trump has long been critical of climate change, even going so far as to call it a hoax perpetrated by the Chinese, and in choosing Scott Pruitt to run the Environmental Protection Agency, Trump has made clear his intention to roll back protections put in place by President Obama. Thus, the notion that there's any force within the White House pushing back against that anti-environmental agenda is almost reassuring.
Or almost.
According to The Wall Street Journal's sources, the removal of the language from the executive order simply means the climate deal — signed by close to 200 nations in Paris in 2015 — isn't on the chopping block at this moment. But as we've seen with other causes supposedly championed behind the scenes by the first daughter and her husband, nothing in Trumpland seems to be permanent.
Reports surfaced at the beginning of February that Ivanka and Kushner had worked to scuttle an early executive order that would have rolled back protections for federal LGBTQ workers established under President Obama. Though they appear to have been successful, and Trump will maintain those protections, after Wednesday's rollback of federal guidelines protecting transgender students' bathroom rights in public schools, Ivanka and Kushner's influence is beginning to be questioned — as is the sincerity of their advocacy.
As we get deeper into the Trump administration, its only fair for us to hope for defenders of fairness and common sense on the inside. But as we saw with Betsy DeVos' unsuccessful push-back against the Trump's adminsitration revocation of protections for transgender students, an ineffectual insider isn't worth a whole lot.