Syracuse Protesters Greeted Ivanka Trump With Chants Of "Shame!"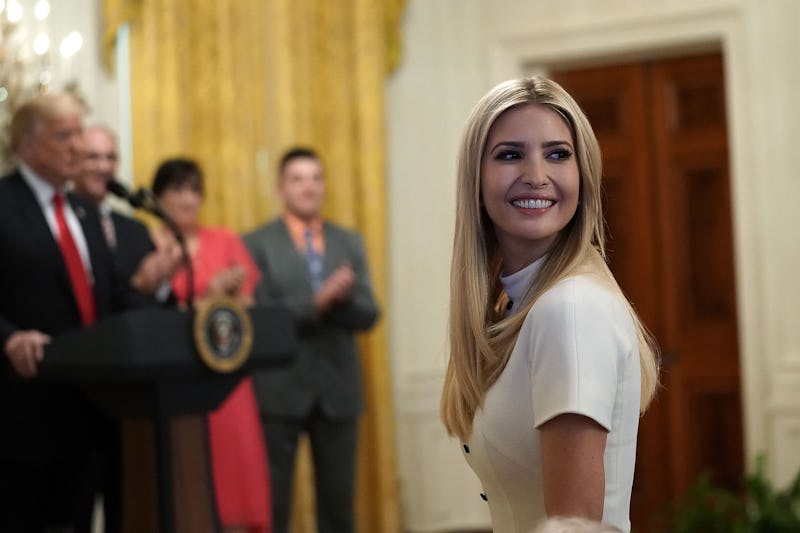 Alex Wong/Getty Images News/Getty Images
The latest in a series of Trump administration officials to receive public backlash for policy outcomes, Ivanka Trump was met by protestors in Syracuse on Monday, after a meeting with Republican Rep. John Katko to discuss vocational education and labor development.
According to the Syracuse Post-Standard, some 100 people gathered outside the Institute of Technology at Syracuse's Central High School, where the discussion was held, chanting "Shame" and "What about the children?" as her motorcade passed by. Some protestors also carried signs denouncing Katko and chanted slogans calling him complicit with the Trump administration's policies. One demonstrator, dressed in a black suit and red tie, wore a papier-mâché Trump head over their own and a sign strung around their neck, which read "monster."
Katko initially refused to support Donald Trump in the 2016 election, and called for him to drop out of the race for his crass comments about women. He even reportedly wrote in then South Carolina Gov. Nikki Haley's name on his presidential ballot. Katko's Democratic opponent, Dana Balter, was present at the Syracuse protest, where she claimed Katko is not the moderate Republican his advertising suggests he is, and that he deserved a protest for aligning himself with the Trump administration.
The angered response in central New York that met Trump on Monday echoed sentiments from politicians in the state. Over the weekend, New York Lt. Gov. Kathy Hochul wrote an open letter to Trump, admonishing her for not speaking out against the administration's "all-out assault on women and on reproductive rights."
"During the campaign, you said advocating for women was 'core' to your 'personal and professional mission,'" she wrote. "So why do you not speak out agains the President's anti-women agenda? Your silence is deafening."
Ivanka also stopped at a paving company in a small town outside of Syracuse, to celebrate the impact of the Trump administration's Tax Cuts and Jobs Act. "It's incredible to come back to a community to see the effects of a policy you truly believe in," she said, according to The Post-Standard. Her arrival at the paving company was also met by protestors, who were holding anti-Trump signs.
During her visit, Ivanka claimed 6 million Americans have received wage increases or bonuses as a result of the GOP tax bill, and that the legislation helps working families. It's unclear whether her numbers are accurate, but the public response to the legislation has been largely negative and critical of the deep tax cuts given to large corporations. The Congressional Budget Office estimated the bill will add $1.85 trillion to the federal deficit over the next 10 years.
At the beginning of her father's term in office, Ivanka said she intended to be a moderating influence on the president, whose campaign was marked by nationalist fervor. She later backtracked on that goal during an interview with Dr. Oz, in which she said it wasn't her job to undermine the president's agenda, and that simply having a seat at the table was enough. "I don't need to couple that with a denouncement on every single issue I disagree with," she said.
Since then, she's been hit with regular public outcry over multiple aspects of her political life, including promoting her brand using a 60 Minutes appearance, her label being exempt from the president's trade tariffs, and thanking her father for signing an executive order that stopped family separation, after more than 2,000 children had already been placed in detention.
Ivanka's main policy agenda concerns her paid family leave proposal, which is set to receive a Senate committee hearing on Tuesday.