New York's Lieutenant Governor Wrote Ivanka An Open Letter & She Didn't Hold Back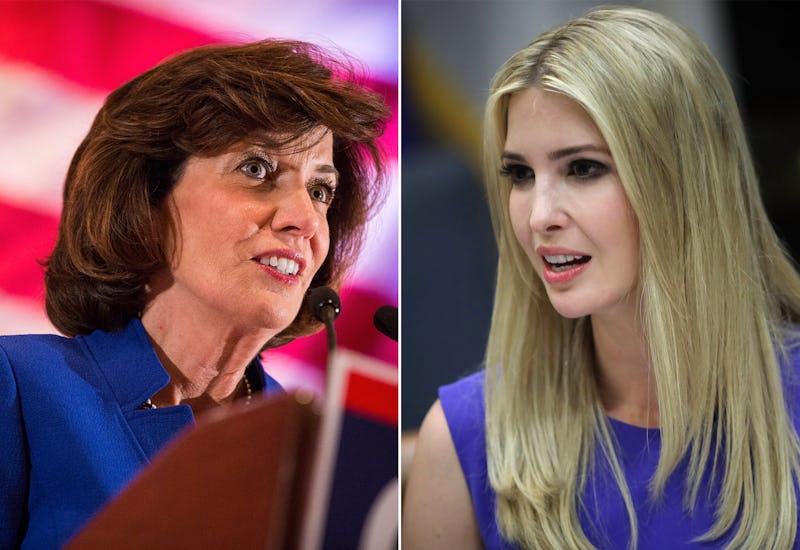 Andrew Burton/Getty Images News/Getty Images / Win McNamee/Getty Images News/Getty Images
The president's oldest daughter, who was nearly a lifetime New Yorker until she joined Trump in Washington, D.C., is headed back to her home state. It's just that politicians in the state aren't so excited to welcome her back. New York Lt. Gov. Kathy Hochul wrote Ivanka Trump an open letter calling out the administration's "all-out assault on women and on reproductive rights." She went on to ask Ivanka to join her in their fight to protect the rights of all New Yorkers.
Ivanka will be in the state on Monday visiting Syracuse's Pathways in Technology Early College High School and the Suit-Kote Corporation in Tully, just about an hour from Seneca Falls, the birthplace of the women's rights movement in 1848.
The letter is biting, and starts by reminding the first daughter of her home state's role in the fight for equal rights. "Dear Ms. Trump," it begins:
Welcome back to New York, the birthplace of the women's rights movement. As your administration leads an all-out assault on women and on reproductive rights, I hope you use this visit to remember our shared values and what we stand for here in New York. During the campaign, you said advocating for women was "core" to your "personal and professional mission." So why do you not speak out agains the President's anti-women agenda? Your silence is deafening.
And from there it hammers home again and again President Trump's actions against women. Hochul wrote that "the federal government is attempting to turn back the clock on decades of progress." She lists attacks on Planned Parenthood, actions to deny women contraceptive coverage and health services, the reshaping of Title X, and the imposition of "an outrageous gag rule to prevent health care providers across the country from referring their patients for safe, legal abortion."
But that wasn't all. She noted the potentially lasting damage to come from Trump's SCOTUS pick. "Your administration is poised to appoint an extreme conservative Supreme Court Justice who will put Roe v. Wade and advancements in reproductive health care in jeopardy," Hochul wrote.
That's in contrast to what New York leaders are pushing, she continues:
In New York, Governor Cuomo and I believe that all people should have control over their own health and bodies; we believe that a woman who does not control her own body is not truly equal to a man; and we believe that after generations of advancements in women's equality and advancements in women's status, we do not want to go back.
She detailed the work done in New York "while Washington wages war on women." She noted "the progress we made enacting the most comprehensive paid family leave program in the nation" as well as removing "guns from domestic abusers." The state has also the "most-comprehensive" anti-sexual harassment protections in the nation, Hochul wrote.
"And when your administration tried to destroy the Affordable Care Act, we acted immediately with regulatory action to ensure that contraceptive drugs and devices are covered by commercial health insurance policies without co-pays, coinsurance or deductibles," Hochul wrote.
The lieutenant governor is running for reelection and faces a primary challenger from New York City Council Member Jumaane Williams. Hochul has been endorsed by national progressive groups such as EMILY's List.
Hochul ended her letter with an urging for Ivanka to visit Seneca Falls while in the area. "It was here 170 years ago that women and men gathered at the Seneca Falls Convention to launch the modern women's rights movement," Hochul wrote. "Today, New York is upholding the legacy of Seneca Falls and fighting to protect and strengthen the rights of all New Yorkers. From one New Yorker to another, I hope you will join us in this fight."
She signed the letter, "Sincerely, Lieutenant Governor Kathy Hochul." No word on whether Ivanka will take her invite seriously.