Ivanka Doesn't Say Much About Her Sister Tiffany — But Here's What She Has Dished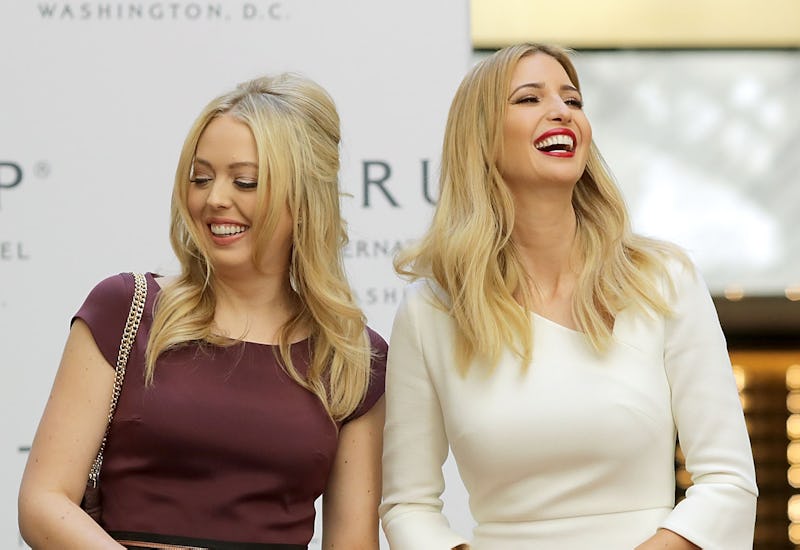 Chip Somodevilla/Getty Images News/Getty Images
Last year on Tiffany Trump's birthday, some noticed that no one in the Trump family took to Twitter, Instagram, or another public form of social media to wish her a happy birthday — not even her big sister wished her well publicly. But that's actually somewhat consistent with what Ivanka Trump has said about Tiffany. The oldest Trump daughter has actually said very little about her younger sister.
Their relationship has been the subject of a number of articles, but direct quotations to go on are nearly impossible. Ivanka has only tweeted with mentions of her sister seven times — in as many years. There are also only a few Instagram posts of the two of them, and the most talked about were uploaded by Tiffany and her mom, Marla Maples.
Among the tweets the past seven years was a welcome to Twitter, a few interview mentions, and a Snapchat selfie. More recently, Ivanka uploaded to Twitter a picture of her with Tiffany and her two sisters-in-law. "Love these ladies! Happy #NationalSistersDay!" she wrote.
The love between them has been questioned in the press repeatedly, with a report from Newsweek last year pointing to potential animosity surrounding Tiffany's part of the Trump family inheritance. But one Ivanka quote about Tiffany would suggest that is not true. It comes from about eight years ago, long before their dad arrived at the White House.
One sentiment Ivanka shared about her sister came in her book, The Trump Card, which was published in 2010. And it didi focus on their dad's money — specifically, giving Tiffany more of it. Ivanka wrote:
Big Sis did an end-around to save Tiffany the trouble. I didn't tell her, of course, but I went to our father and suggested he think about surprising Tiffany with a credit card for Christmas, with a small monthly allowance on it. Sure enough, he did just that. Tiffany was thrilled and relieved. And so appreciative. That made all the difference, we all appreciate what we have. We don't take advantage of it or expect it as our due.
In July 2016, another statement also suggested the two were quite close — no big drama as has been suggested at times. That year, Ivanka spoke about Tiffany with People. "She's my little sister!" Ivanka told the magazine. "I've been close to Tiffany her whole life, and I really love her." The two were on opposite coasts for much of Tiffany's childhood, but Ivanka told the magazine that the two "would see each other on all of the holidays and talk to each other frequently."
At the time of the interview, though, Tiffany was living in New York, which Ivanka was happy about. "It's wonderful because she's right here in New York," Ivanka said. "She'll come with [me and Jared to our country house] on weekends sometimes, and she's always with my kids. She's a really good person."
Now, the two are both living in Washington, D.C. Ivanka is working for their dad as an adviser to the president, while Tiffany is studying law at Georgetown. The two have been spotted together at the White House, and they also saw each other at Christmas, as witnessed in Tiffany's Instagram.
Besides that, there aren't a ton of quotes about Tiffany from Ivanka. Of course, though, there's no telling how often the two see each other when the cameras are not rolling. Living in the same city may award Ivanka and Tiffany more opportunities to see each other than either get to see their older brothers, Don Jr. and Eric, who are both in New York running the family business.
Ivanka may stay private about her sister, but what she has said is all positive. And just because she didn't tweet a happy birthday last year, doesn't mean she wouldn't. Back in 2014, Ivanka uploaded a photo of the two for Tiffany's birthday and sent it out on Twitter, too. "I'm so proud of the woman you have become!" she wrote of her little sister.