Ivanka Trump Responds To The Las Vegas Mass Shooting With A "Broken Heart" But Twitter Wants Action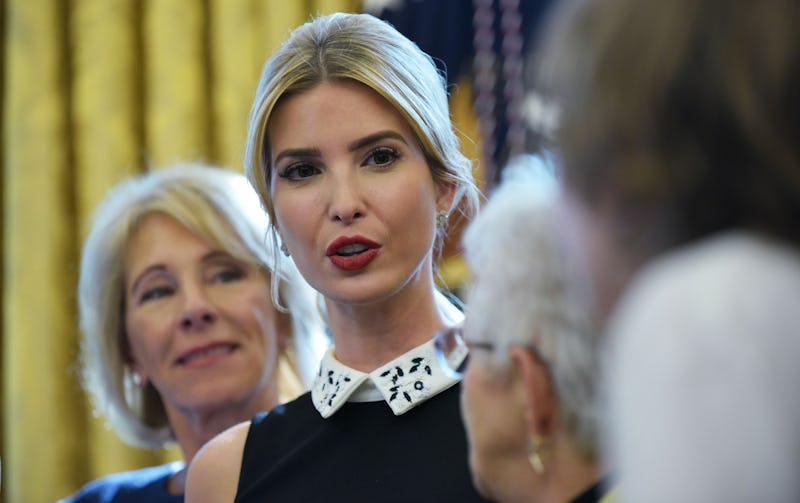 /AFP/Getty Images
On Sunday, Oct. 1, as the Route 91 Harvest festival closed out on a late Las Vegas evening, a man identified by local police as a a 64-year-old Nevada resident opened fire, killing at least 50 people and sending at least 406 people to the hospital with various injuries. At 7:25 a.m. Eastern time the next day, Ivanka Trump responded to the Las Vegas mass shooting tragedy with two tweets.
However, critics of both her father's administration and the prevalence of gun violence in America in general were not impressed by her words. The confirmed death toll makes the Las Vegas event the deadliest mass shooting in modern American history, and tweets from political figures offering "thoughts" and "prayers" in response to previous gun deaths have obviously not lessened the threat.
In her first tweet, Trump — First Daughter and an advisor to President Donald Trump — said, "1:2 America woke up this morning to the horrific news of a devastating mass shooting in Las Vegas." The second tweet, which immediately followed the first, reads, "2:2 Our collective hearts are breaking for the victims and their families. #lasVegas," with a heart emoji preceding the hashtag.
It's not clear who the "we" indicates in Ivanka Trump's tweets. She could be referring to her own family, to herself and her father, or to Trump's White House, among other options.
Las Vegas police have said that they have ruled out terrorism as motivation for the shooting. Sheriff Joseph Lombardo told reporters at a press conference who asked whether he'd classify the Oct. 2 shooting as an act of terror:
No, not at this point. We believe it was a local individual. He resides here locally.
This response has been criticized, since The Independent reported that the Nevada statute that defines terrorism does not include any consideration of where the perpetrator lives or lived. Ivanka Trump's tweeted response does not include the word "terrorism" or "terrorist," and neither does the response of Donald Trump, who offered his "warmest condolences" a few minutes before his daughter made her own statement.
According to the Gun Violence Archive, over 11,500 deaths have been caused by guns in the first nine months of 2017 alone.
Sadly, many Americans are no longer surprised to wake up to news of a new incident. They also know to expect tweets and statements of support from leaders that include no indication that concrete steps will be taken to put a stop to this violence, whether that's by passing stricter gun control laws or funding more mental health programs. It's hard not to be jaded by words that feel empty without calls to action behind them; that disillusionment is apparent in replies to Ivanka Trump's Monday morning tweets.
In addition to responding to tweets by Ivanka and Donald Trump, Twitter users are venting their frustration in other ways. In the hours after news of the shooting spread, #GunControlNow has been trending on the service. According to BBC News, Nevada gun laws are among the most permissive in the country, not requiring gun-owners to register as owning a gun, allowing private sales by citizens, and having no overall ban on assault weapons.
Details are still emerging as to what weapons the shooter owned and how he acquired them, but that hasn't stymied the passionate conversation that arises with each new mass shooting. Some demand a reevaluation of gun laws and for politicians to refuse funds offered by the National Rifle Association; some declare that to even speak about policy in the wake of a tragedy is to somehow disrespect the memory of its victims.
Sentiment alone is clearly not working in combatting the epidemic of gun violence that plagues the United States. And Twitter users are not satisfied by those sentiments expressed by Ivanka Trump, as her words seem to have inspired no confidence that action will be taken to back them up.
Here are some ways you can help the victims in Las Vegas.