Ivanka Trump Responds To The Florida Shooting With Prayers ... Again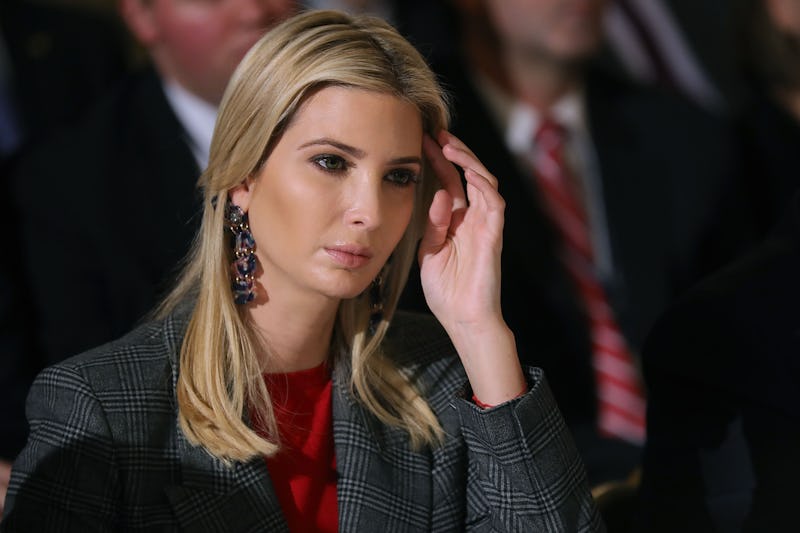 Chip Somodevilla/Getty Images News/Getty Images
After 17 people died from the high school shooting in Parkland, Florida, Ivanka Trump responded to the tragedy in typical Ivanka fashion. In a tweet Wednesday night, Ivanka wrote, "Praying for the innocent lives lost, their families and the Parkland, Florida community in the wake of today's unspeakable tragedy."
These condolences are in line with Ivanka's usual response to mass violence — which is to send "thoughts, prayers, and love." For example, in response to October's car attack in New York City, Ivanka tweeted she was praying for the victims in light of the "heartbreaking news."
For most people it's not an uncommon response to horrific events like the Florida shooting. But critics have raised their eyebrows at what seems to be a pattern of just "thoughts and prayers," but silence on gun control legislation. Ivanka, a senior adviser to President Trump, has yet to speak out on actionable measures to prevent mass shootings, nor has she commented on the influence that gun lobbyists hold over politicians (the National Rifle Association spent $50 million in the last general election to bolster Republicans who attack stricter gun laws).
And with Ivanka's reputation as the voice of reason for her more volatile father (unrealistic or not), thoughts and prayers aren't enough for some people.
Ivanka's response to the shooting racked up nearly 2,000 replies in three hours. One commenter wrote:
Keep your thoughts and prayers. They are meaningless. As a "senior advisor" make real gun control a priority.
Another scoffed at her sympathies:
Thanks but you should pray for our country which has sold its soul to the NRA.
The first daughter seems to be aware of the criticism however, and in the past explained her reasoning behind her choice to not speak up on policy changes that aren't advocated by the NRA-endorsed Trump or Republican Party. To the Financial Times:
To voice dissent publicly would mean I'm not part of the team. When you're part of a team, you're part of a team. That doesn't mean everyone in the White House has homogeneous views – we don't, and I think that's good and healthy – but that doesn't mean we're publicly undermining [each other] and this administration.
She also said it was unrealistic for people to think Ivanka could change Trump's mind on the key issues that helped get him voted into office in the first place.
In the aftermath of the Parkland, Florida mass shooting, President Trump also offered up his own condolences and prayers; he is among numerous politicians who began pouring in with their own prayer tweets. At the same time, Bess Kalb, a writer for Jimmy Kimmel Live!, took this as an opportunity to retweet each one of them with the amount of money they've taken from the NRA.
You can browse for yourself on the Open Secrets project which lawmakers have accepted contributions from the NRA. The Center for Responsive Politics, a nonpartisan and nonprofit research group, compiled the data. Coming out on top of the list are House Speaker Rep. Paul Ryan (R-Wis.), followed by Rep. Karen Handel (R-Ga.).
But it isn't exactly money that buys members of Congress, argues Lee Drutman, a senior fellow at the nonpartisan think tank New America Foundation. While he acknowledges the rationale behind thinking that the NRA influences lawmakers with money, Drutman told Vox that there's a bigger power from gun lobbyists that Republicans fear: the ability to mobilize and excite voters in a large turnout.
The way you rise up in Republican politics is by supporting gun rights issues, and you do that because there a lot of Republican voters in the coalition who care very deeply about gun rights.
If that's the case, then it might be another reason why Ivanka won't make any statements that will buck the Republican Party's status quo.