Ivanka Trump Was Booed At The Women20 Summit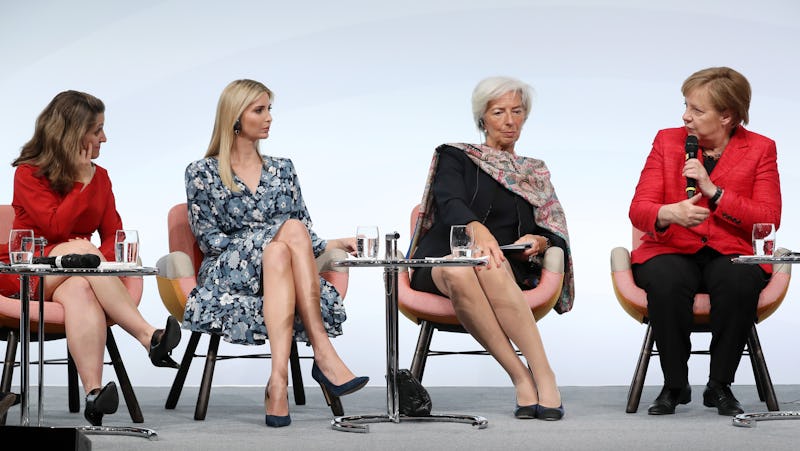 Sean Gallup/Getty Images News/Getty Images
The first daughter's first international trip as an official member of her father's administration was met with criticism similar to the kind directed at her back home. Multiple sources reported that Ivanka Trump was booed at the Berlin Women20 Summit after saying that her father is "a tremendous champion of supporting families and enabling them to thrive."
Trump faced the tough questioning at a panel discussion on women's empowerment alongside German Chancellor Angela Merkel, Queen Maxima of the Netherlands, and International Monetary Fund managing director Christine Lagarde. Moderating the panel was Miriam Meckel, the editor-in-chief of WirtschaftsWoche, one of Germany's best-selling business magazines. Meckel reportedly wasted no time getting to the core of the issues with Trump, including grilling her about what her position in the White House entails.
"What is your role, and who are you representing? Your father as president of the United States, the American people, or your business?" Meckel reportedly asked Trump.
"Certainly not the latter," Trump responded. "I'm rather unfamiliar with this role as well... It has been a little under 100 days and it has just been a remarkable and incredible journey."
Later on in the panel, Trump was reportedly booed when she touted her father's supposed commitment to paid family leave. The subject became a hot topic in the election last fall when Trump endorsed paid parental leave for women only. However, the move was viewed as largely political, without evidence from Trump's own business practices to back up the self-professed sentiment — the Trump Organization doesn't offer its employees paid leave, only unpaid leave as mandated by federal law.
According to NBC News, Trump was invited to speak at the summit primarily as a way to strengthen diplomatic relations between the German government and the White House. Donald Trump and Merkel had an uncomfortable meeting last month at the White House, and now that the president's daughter is widely considered one of his closest advisors, the hope was that the she would be able to smooth that over.
Yet the public response to Trump's statement about her father may indicate a wider barrier between the two countries. A Pew Research Center study taken last year before the election found that only six percent of Germans had confidence in Trump as a leader. Clearly, some of the negative attitude still persists, and it's difficult to imagine the German people accepting too close a relationship with the Trump administration — or the Trump family, for that matter. The first daughter was supposed to be there to improve relations, but she may have reminded the German people of exactly why they don't want that.