It Looks Like Ivanka Trump Won't Head The World Bank After All, But She's Still Involved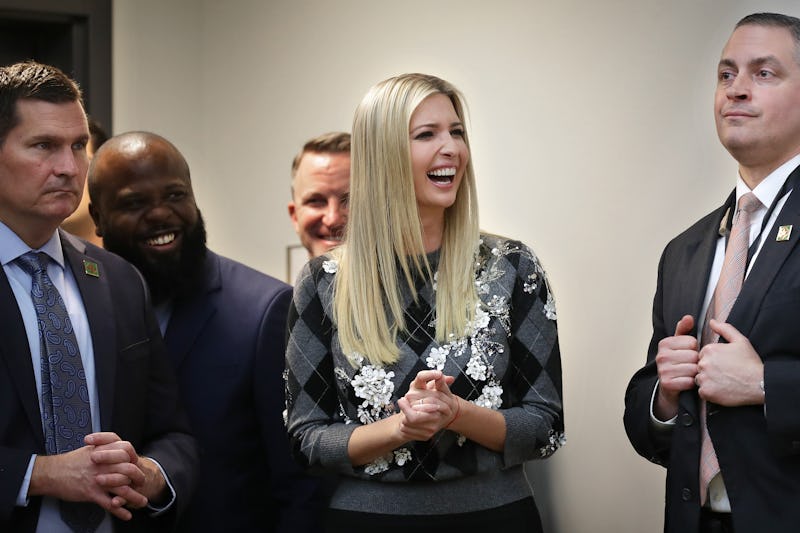 Chip Somodevilla/Getty Images News/Getty Images
In the news whirlwind that was last week, a Financial Times report about Ivanka Trump being considered for the next president of the World Bank still managed to raise a few eyebrows. But now, the first daughter is reportedly not in the running to lead the organization. Rather than actually getting the job herself, Ivanka Trump will help select the new World Bank president, The New York Times reports.
Trump's name was one of several reportedly being considered for the head of the World Bank, including former United Nations Ambassador Nikki Haley. At the time of the report, the White House didn't respond to Bustle's request for comment.
The news immediately drew criticism on Twitter and elsewhere. Rep. Ted Lieu (D-California), for example, responded to the news by tweeting, "Of all the people in US who could be World Bank President, the most qualified is Ivanka Trump, who lost her fashion line & happens to be the daughter of @POTUS. I see."
In response to The New York Times' report about Trump's involvement in the selection process, White House spokesperson Jessica Ditto told the newspaper that the first daughter had "worked closely with the World Bank's leadership for the past two years."
Ditto also called the previous reports that Trump's name had been under consideration for the role "false" and said it was Treasury Secretary Steven Mnuchin and acting White House Chief of Staff Mick Mulvaney who asked her to be involved with the process, according to The Hill.
Despite criticism directed at the reported possibility of Trump's appointment to the position, she has worked with the organization in her role as a senior advisor at the White House. For example, Trump worked with the World Bank to launch the Women Entrepreneurs Finance Initiative, or We-Fi, as Bloomberg reported in 2017. The stated goal of the international initiative, as stated on its website, is to "help women in developing countries gain increased access to the finance, markets, and networks necessary to start and grow a business."
While Trump was working on the launch of the We-Fi initiative, The New York Times reported that Trump had developed a "close working relationship" with Jim Yong Kim, the current World Bank president. Kim announced his resignation in early January, a decision which came as a surprise, because his term isn't set to end until 2021, as The Times wrote.
Traditionally, the World Bank's member countries generally accept the recommendation of the American president to head up the organization, according to The Times. However, it isn't explicitly defined that the World Bank president has to be an American. If this tradition holds for the Trump administration's nominee, the first daughter could play a significant role in choosing the next leader. However, the Trump administration has filled numerous positions with people who critics viewed as unqualified — which at least one expert believes the World Bank wouldn't stand for.
"The Trump administration folks have some hard thinking to do about the path forward," said former Treasury official and Center for Global Development fellow Scott Morris, speaking with The Times. "It is not a given that an American pick will be the next bank president."