Ivanka Took To Social Media To Express Her Love For Jared On Their Anniversary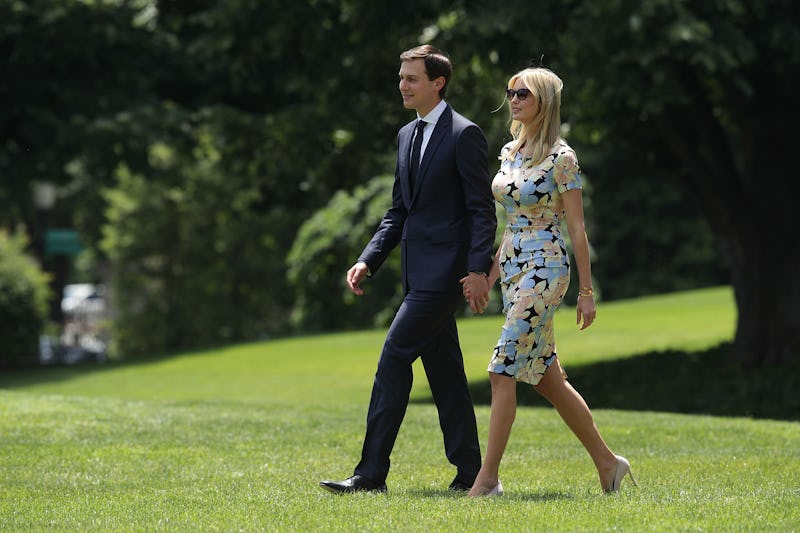 Alex Wong/Getty Images News/Getty Images
On Thursday, the first daughter took to Twitter to share a personal and celebratory message. Ivanka Trump posted an anniversary tweet for Jared Kushner, calling him "my life" and juxtaposing photos that show how far they've come since they tied the knot nine years ago.
"You are my light, my love, my life," the first daughter wrote. "Happy 9th anniversary, Jared." She posted two images side by side: one from their wedding, and one that appears to have been taken more recently.
Trump also posted a similar message on Instagram. Kushner didn't reciprocate, but he doesn't engage with social media — while he does have a Twitter account, The Washington Examiner reports that he's only ever tweeted twice, back in 2011. Those two posts have been deleted. Mashable notes that he doesn't seem to have a profile on any social media platform.
But he's quick to praise his wife in other settings. "She's really amazing," he told Van Jones at a CNN forum this week. "She puts her mind to accomplishing things and she's able to get them there. Everyone wants to work with her and she's a great team player." Kushner also gushed, "When we started dating, I told her that if I wasn't so attracted to her, she'd just be my best friend."
The couple first met in 2007 at a networking meeting, per Vogue. Instead of leaving with a business deal, they left with romantic feelings — and then quickly started dating. According to The New Yorker, they broke up in 2008, reportedly because Kushner's parents wanted him to marry a Jewish woman and Trump was upset that he wasn't sticking up more for her.
But they soon got back together again and married the next year (after Trump converted to Judaism) at the Trump National Golf Club in Bedminster, New Jersey. They have three children together; Arabella is the oldest at age 7.
Their relationship undoubtedly shifted when they entered the busy world of the White House, but they've always been hard workers. "Jared and I both work long hours," Trump said to People in 2009. On NBC's Today show in 2012, she explained that the two of them used to work next to each other on laptops after their daughter went to bed. "It's nice being able to do that together, next to each other," she said.
"I would say she is definitely the CEO of our household," Kushner said of her in a 2015 Vogue interview, "whereas I'm more on the board of directors. We both pick up slack for each other where it's needed, but she doesn't want to outsource mothering, so she's very involved."
It's not yet clear how they're planning to celebrate their anniversary. As Refinery29 notes, although President Donald Trump's schedule is publicly disclosed, the first daughter's is not.
It is clear, however, that she plans to head to Kentucky on Friday to survey three job-training centers with the state governor, including at least one for the aerospace industry, per The Courier-Journal. Maybe she and her husband will get in some quality time before then.