Jared Kushner Dishes On What It's Like To Work & Be Married To Ivanka Trump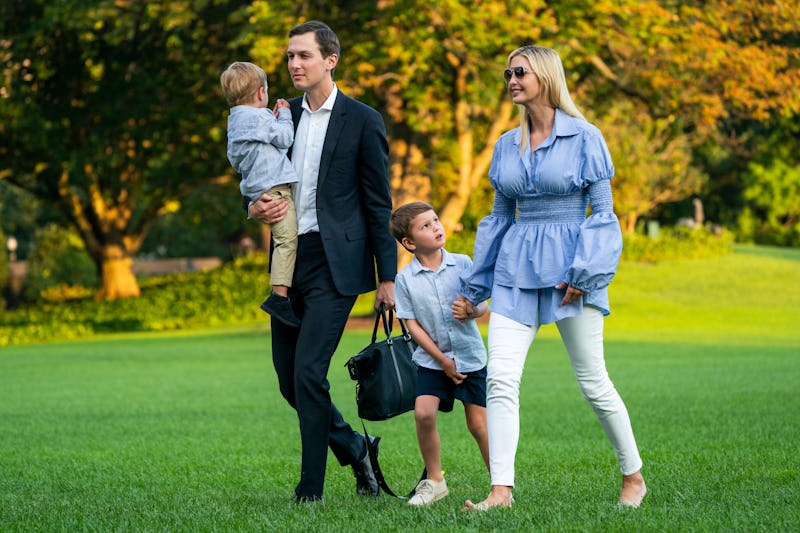 Pool/Getty Images News/Getty Images
Some have called them a power couple. Others, if you believe Omarosa Manigault-Newman, have called them White House Ken and Barbie. But on Monday, Jared Kushner talked about being married to Ivanka Trump, telling CNN in a rare interview that it's his wife who puts the "power" in their "power couple" label.
"Anyone with Ivanka would be a power couple," Kushner told CNN's Van Jones during a panel at Citizen, a day-long political forum the cable news network held Monday in New York City. "She's really amazing."
Kushner, who serves as senior adviser to President Donald Trump, went on to say that Ivanka Trump was "brilliant" and that he gained a deeper appreciation for his wife by working alongside her in the White House. "We were always involved in each other's business and knew what was going on, but working together has given me an even greater appreciation for just how effective she is with everything she does," he said. "I mean, she puts her mind to accomplishing things and she's able to get them there. Everyone wants to work with her and she's a great team player."
He then went on to applaud Trump for her work both with her father and with their three children. "Having two parents in the White House is a big strain obviously for the family, but she does a great job balancing it, and I don't know how she does it, because I wouldn't be able to do it," he said.
Kushner also implied that he would have wanted a close relationship with Trump even if they hadn't had the chemistry and romance they did. "When we started dating, I told her that if I wasn't so attracted to her, she'd just be my best friend," he said.
Of course, this isn't the first time Kushner has publicly lavished praise on his wife. In 2016, Variety had Kushner pay tribute to Trump, who'd been named one of 50 people in the magazine's New Power of New York list, in a column dripping with compliments. "In the last week, Ivanka opened a $200-million hotel on Pennsylvania Avenue, unveiled a legislative policy to benefit working families and managed to do the first day of school drop-offs and pick-ups for our children — all before Wednesday," Kushner boasted.
He went on to claim Trump is a "supermom," an "amazing wife," and the definition of "hands on" in whatever she does — be it in business or in motherhood. "Grace under pressure is what she does best and I could not be more proud of her," he wrote.
While Kushner had plenty of complimentary things to say about his wife while speaking with CNN on Monday, he made sure to lavish praise on his father-in-law, too. "He's a great father to his children and a really great grandfather," Kushner told Jones when asked to reveal something personal about the president.
"We work very long hours in the White House and early on my kids would come over to visit me for dinner on nights when I'd be staying late and he'd heard that they were there and I didn't bring them by," he continued. "Now, every time they're there he makes sure I bring them by and he has a little candy drawer where he knows how to make sure they get stuff their mom won't let them have."