Why Experts Think Ivanka Closing Her Company Means She's Eyeing A Future In Politics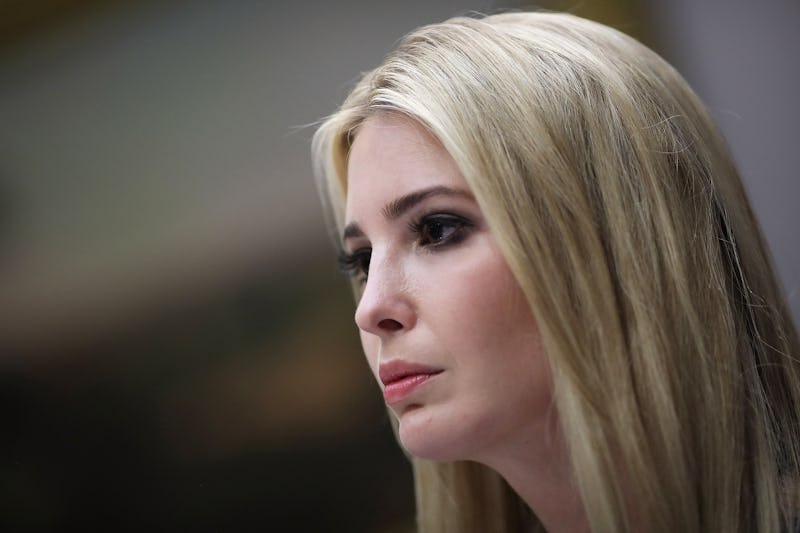 Win McNamee/Getty Images News/Getty Images
By now, you've probably heard that Ivanka Trump's clothing brand is shutting down. The announcement, made on Tuesday, has sparked plenty of reactions — including from experts who caution that the first daughter's decision to close her clothing company does not de facto remove all conflicts of interest for her. Some even say that Ivanka, a senior White House adviser, could be eyeing a future in Washington, D.C.
Scott Amey, general counsel at the non-profit Project On Government Oversight, says that Ivanka's decision to shutter her clothing brand could indicate the possibility that she wants to dive deeper into national politics. "Mixing business and national politics were never a good idea," Amey tells Bustle. "There have been criticisms and ethics concerns lodged day after day, and therefore getting out of the fashion business might indicate Ivanka Trump's commitment to public service or possibly a bigger role in this administration."
Author of books about the White House like The Residence and First Women, Kate Andersen Brower, also tells Bustle that she wouldn't be surprised if Ivanka "decides to run for office" someday. Brower adds, "I think this signals that she intends to stay in Washington and devote herself to politics rather than business. Though of course there's a fine line between the two, especially in this White House."
There are skeptics, too. Norman Eisen, a senior fellow at The Brookings Institute and former ethics czar for Barack Obama's presidency, tells Bustle that the public should take the news of Ivanka's company shutting down with a "healthy dose of skepticism."
"It would have been praiseworthy 18 months ago," Eisen says. "But today you have to wonder if it's motivated by ethical concerns or because the bottom is dropping out of her brand and she's looking for excuses to save face."
Eisen refers to Nordstrom dropping Ivanka's clothing line in 2017, citing poor performance as its reason. A whole host of other retail stores have dropped her brand in the past year; most recently, the Canadian retail giant Hudson's Bay announced it would phase out Ivanka's brand from its stores.
On Tuesday, Ivanka's company rejected speculation that declining sales is the reason that the brand is shutting down. In a comment to Bustle, Ivanka said, "After 17 months in Washington, I do not know when or if I will ever return to the business, but I do know that my focus for the foreseeable future will be the work I am doing here in Washington, so making this decision now is the only fair outcome for my team and partners."
However, Eisen notes, "Part of the reason to be skeptical is because she's not giving up her trademarks and those continue to be a profound source of conflict [of interest]. Then there's the ongoing entanglement of her husband [Jared Kushner] and her father whose conflicts get worse by the day."
Eisen also points to other assets that Ivanka may possess. "We have no information," he says, "that she's abandoning other conflicted entanglements like The Spa by Ivanka Trump at the Trump International Hotel in Washington, D.C."
Echoing Brower and Amey's sentiments, Eisen says that it's possible this is a "sign of her extending her stay. He adds, "but it's equally likely that the bottom is falling out of the brand."
For him, this is a "face-saving move unrelated to future plans." Eisen calls it "typical in the Trump world."
Jordan Libowitz, communications director for Citizens For Responsibility and Ethics In Washington, tells Bustle that Trump's decision, from an ethical point of view, "was the right thing to do." Libowitz points to ethical quandaries raised by incidents such as White House counselor Kellyanne Conway promoting Ivanka's brand.
"This is something she should have done a long time ago," Libowitz says. "Americans should not be questioning whether senior officials are being influenced by their private businesses."
Though a spokesperson from the Ivanka Trump company told Bustle that the decision to shut down the brand was tied to Ivanka's decision to stay in Washington indefinitely, not everyone's convinced of the timing as far as attempting to clear herself of potential conflicts of interest goes. As Eisen puts it, it's "too little, too late."