Ivanka Tweeted About Women's History Month & People Are Asking, WYD??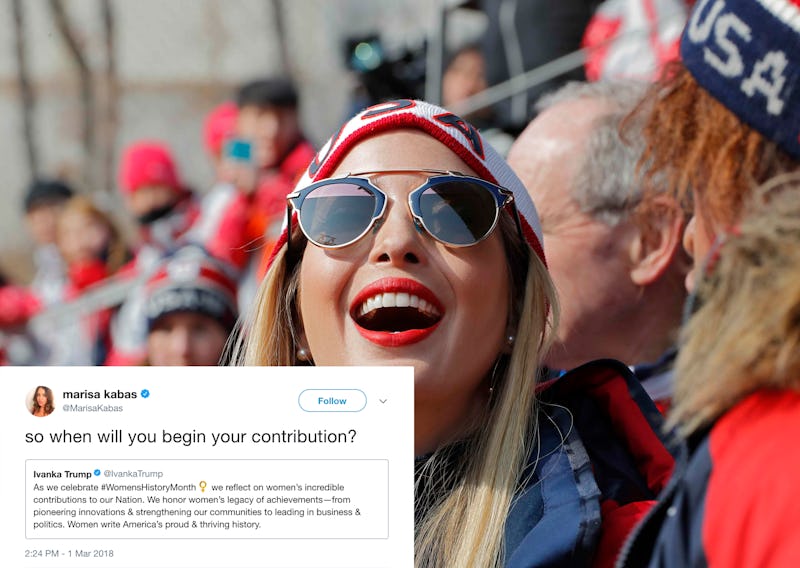 Pool/Getty Images Sport/Getty Images; Marisa Kabas/Twitter
Given President Donald Trump's track record, it's hard to imagine anyone from his administration successfully tweeting about honoring women without raising eyebrows. Ivanka Trump's tweet about Women's History Month on Thursday was no exception. Let's just say, a number of Twitter users let the first daughter know that actions speak louder than a single tweet ever will.
"As we celebrate #WomensHistoryMonth we reflect on women's incredible contributions to our Nation," Ivanka tweeted Thursday. "We honor women's legacy of achievements — from pioneering innovations [and] strengthening our communities to leading in business [and] politics. Women write America's proud [and] thriving history."
Traditionally, the president declares March to be Women's History Month in an effort to highlight women's contributions to history and society. President Trump upheld the tradition this year with a proclamation that was more than a little awkward, considering that at least 19 women have gone on the record to accuse him of sexual misconduct. Those accusations range from assault to unwanted groping, nonconsensual kissing, sexual harassment, and walking in on women while they were in various stages of undress. Trump has strongly denied all these allegations and even has called his accusers "liars."
Ivanka recently had a tense interview with an NBC News reporter who asked her if she believes her father's accusers. She told NBC's Peter Alexander she thought it was "a pretty inappropriate question" to ask. "I believe my father," she went on to say in reference to her father's claims there is no truth to his accusers' stories. "I know my father. So, I think I have that right, as a daughter, to believe my father."
A number of Twitter users found Ivanka's latest tweet disingenuous, considering both her father's own rhetoric toward women and the Trump administration's track record on women's issues. Others asked her to step up with real action rather than an easy-to-fire-off tweet.
In Light Of The #MeToo Movement
A number or Twitter users appeared unable to stomach Ivanka's tweet in light of her recent refusal to support the more than a dozen women that have publicly accused her father of sexual misconduct (allegations President Trump has denied).
Standing On The Wrong Side Of (Her)story
For one Twitter user, Ivanka is clearly standing on the "wrong side" of Women's history.
Please Look Up "Complicit"
For one Twitter user, Ivanka's actions — or lack of action, in this case — said more about her efforts to honor and celebrate women.
Is This How We Honor Women?
Some Twitter users noted the irony behind Ivanka's tweet honoring women's legacy of achievements and the Trump administration's efforts to roll back women's reproductive rights and strides toward equal pay.
Girl, Please.
Sometimes all you need to make your point is an Obama GIF.
When Can We Expect Your Contribution?
One Twitter user noted the country would be eagerly awaiting to see Ivanka's contribution.
Hooray For Women #NotYou!
"We celebrate women who have achieved great things. On their own," one Twitter user said in reply to Ivanka's tweet. "So hooray for all women who have done that. #NotYou!"
Tone Deaf
There's an appropriate meme for everything and yes, it's always an appropriate time for memes.
How To Be A True Advocate For Women: Tweet Less
One Twitter user was quick to note that working to advance women's issues took more than tweeting in celebration of women's strength.
To Make A Difference, Start With The Person In The Mirror
One Twitter user advised Ivanka to start with herself and her own actions if she truly wanted to make a difference and advocate for women.
Wait, Who's "We"?
One Twitter user simply asked, "Who do you mean by 'we'?"
Eye-Roll
Sometimes when words can't do justice, people will use a GIF. In this case, Ivanka's tweet got a Jersey Shore eye-roll.
Rest In Peace, Irony
One Twitter user shared an image of a tombstone for irony.
Do You Even Know Who Your Father Is?
One Twitter user said that Ivanka needed to be introduced to her father.
Hollow "Sound Bytes"
For some, like this Twitter user, Ivanka's words were empty and meaningless.
I'm Out
In more than one instance, Twitter users shared eye-roll GIFs that screamed "girl, please" in response to Ivanka's tweet.
Mehreen Kasana contributed to this report.