Ivanka Trump Changed Her Twitter Bio & Women Everywhere Are Rolling Their Eyes At It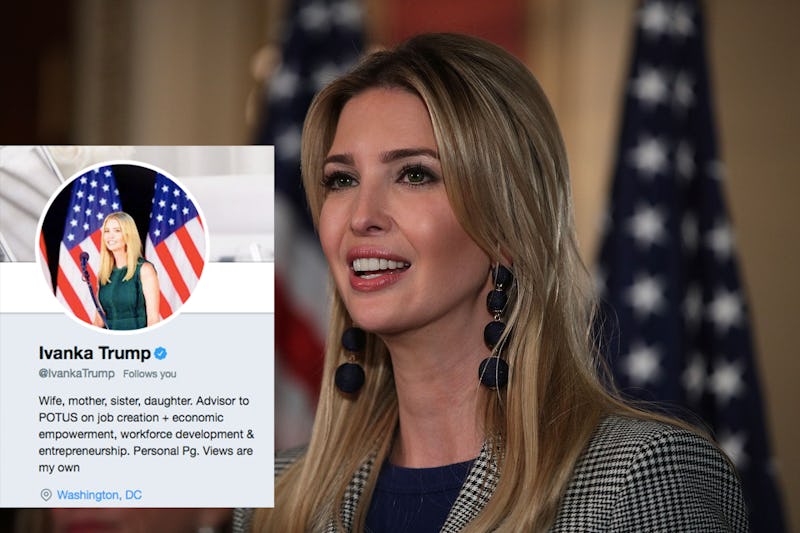 Alex Wong/Getty Images News/Getty Images; Ivanka Trump/Twitter
While others were busy making New Year's resolutions to exercise more and get more sleep, the president's oldest daughter made a different kind of change to kick off 2018. On New Year's Day, Ivanka Trump updated her Twitter bio so that it no longer said she's a "passionate advocate for the education and empowerment of women and girls." While the change first appeared at the beginning of the year, the fact that the White House adviser erased a pretty feminist line from her Twitter profile didn't really get traction until the 2018 Women's March over the weekend.
Trump's new bio reflects her position in the White House, reading: "Wife, mother, sister, daughter. Advisor to POTUS on job creation + economic empowerment, workforce development & entrepreneurship. Personal Pg. Views are my own." She also changed her location from New York to Washington D.C., removed the word "entrepreneur," and got rid of a link to ivankatrump.com.
After MSNBC's Stephanie Ruhle and Vogue's Michelle Ruiz pointed out the difference on Twitter, other women chimed in to roll their eyes. Some said Trump's elimination of the assertion that she's an advocate for women and girls is more accurate than what she'd previously listed in her bio. "No one believed it any way," one Twitter user wrote.
Huge crowds of women took to the streets for a second year in a row this weekend, calling for politicians to address persistent gender inequalities and recognize women's autonomy. Because of the increased national attention to women's issues, Trump's Twitter bio update struck a chord with those critical of her "women who work" brand of feminism.
Despite her Twitter account previously identifying her as an "advocate" for women and girls, Trump has accomplished very little on issues that disproportionately effect women. She supported her dad's decision to roll back an Obama-era equal pay provision, telling The Wall Street Journal she didn't believe it would "yield the intended results," but also not offering a new solution. Her pet issue of paid family leave has also yet to become a reality, and she pushed the GOP's tax bill, which will negatively impact many families.
Because Trump hasn't effectively elevated a feminist agenda in White House, some women on Twitter found her updated bio more believable. As Twitter user @SelHudson wrote:
Well, we've known that for a while that her job clearly didn't entail advocating for women and girls. It just took her a while to realize that, I guess.
Ruiz made a similar argument in Vogue, writing that "it's been clear for quite some time" that Trump was never "the great feminist savior of the Trump White House." As she further argued:
Perhaps Trump is finally getting real and admitting the truth to herself. Or, her dad or one of his cronies demanded she remove that woman nonsense from her Twitter profile, lest she be conflated with those pussy hat–wearing marchers who just won't give it up. On that count, the Trump administration has nothing to worry about: At this point, Ivanka could never be confused with someone who actually cares about supporting women. We gave up on her long ago. Maybe she's finally giving up, too.
Trump's Twitter bio now reflects her current position in her father's administration, and thus reads as a bland job description rather than a personal manifesto. The replacement of the words "women and girls" with "job creation," "economic empowerment," and "workforce development" also give the impression that her focus has shifted. A shift in priorities is natural for anyone transitioning from running a business to politics, of course — but Trump changing her bio 10 months after making her White House job official is interesting timing, regardless of how you view her politics.