23 Women's March Signs That Are Fierce & Feminist As Hell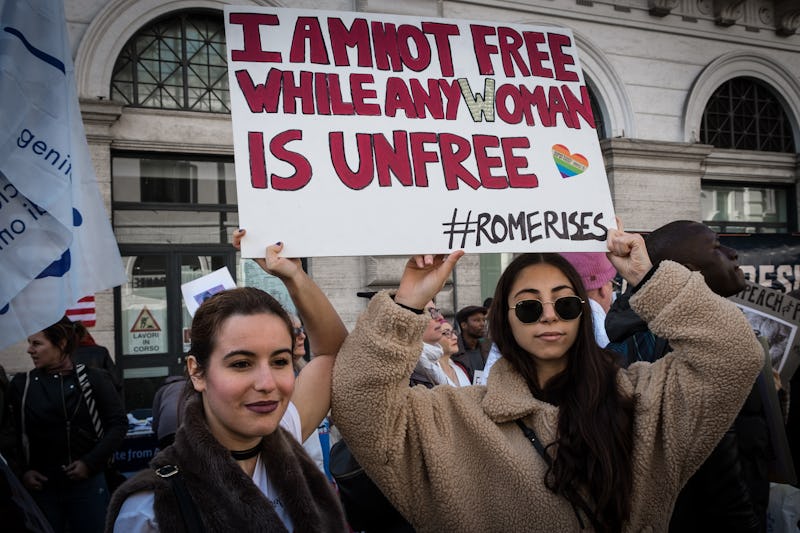 NurPhoto/NurPhoto/Getty Images
Thousands took to the streets in cities across the country on Saturday, Jan. 20, to participate in this year's Women's March. The demonstrations were as exuberant and hopeful as they were the year before, and the feminist, funny signs from this 2018 Women's March show that people have managed to keep their sanity — and humor — despite the whirlwind of a year 2017 was.
It's been one year since Donald Trump was inaugurated as president, and, boy, has it been a rough one. In one year alone, Trump has clamped down on reproductive rights, taken a hardline immigration stance that is ripping American families apart, and emboldened white supremacists. He has used Twitter to announce haphazard policy decisions, personally attack people of color and women, and conduct an escalating war of words with a world leader armed with nuclear weapons. As president, Trump is presiding over a country with deep political divisions that many say he has made even worse.
But it's not all doom and gloom. The policies his administration has put out and the mere fact that he, a real estate mogul who has peddled racist conspiracies and bragged about sexual assault on tape, can become president has sparked a tsunami of political activism. And the turnout at the 2018 Women's March is indication that this wave of political involvement will carry on through the next three years of Trump's term.
Respect My Existence
There were plenty of young women at the march, many bearing signs that made their demand for respect and equality quite clear.
Feminism Without Intersectionality Is Just White Supremacy
One protestor raised an important point about intersectional feminism.
A Solid Pun
It's really not that hard.
Just Because I Dance ...
These signs make a prescient point about the stigma sex workers and strippers face — even from self-proclaimed feminists.
Narcissist — Impeach 45
This group told BuzzFeed reporter Nidhi Subbaraman that they brought their "narcissist" signs last year, and added "impeach #45" at the back for this year.
Wonder Woman Made An Appearance In D.C.
Alongside the thousands of women advocating for their rights.
And Elsewhere
In the words of a feminist superhero, "liberty and justice for all — all regardless of race, color, or religion."
Fight Misogyny, Then Brunch
Smashing the patriarchy works up an appetite.
If I Wanted Politics In My Vagina ...
Many women at the march expressed the same sentiment: Get your politics out of our reproductive organs, dudes.
No One Is Free When Others Are Oppressed
Young people showed up in cities across the country.
Run Like A Girl
A record number of women are running for office in 2018.
Boss Of My Body
Moms and daughters marched alongside each other, just like they did last year.
Boy, Bye
Some kept it short and sweet.
Females Are Strong As Hell
There were trainloads of young people heading to the marches, armed with feminist protest signs.
If I Make My Uterus A Corporation ...
... Will y'all stop regulating it?
Don't Mess With Girls
Many kids bundled up and headed to the march with their parents.
We Are All Dreamers
And some made signs supporting Dreamers and advocating for racial justice.
Girl Power
One mom who attended the march with her daughter told HuffPost's Emma Gray that the accusations against Aziz Ansari made her realize how badly society needed to change.
Same Fight, Different Times
Many also expressed how exhausting it was to go fight for the rights that women fought for decades ago.
Saving What We Love
Some signs also quoted Star Wars' strong female characters.
Nolite Te Bastardes Carborundorum
Others referenced The Handmaid's Tale, a show about a dystopian future in which women are forced to be subservient procreators.
Grab 'Em By The Midterms
If the Women's March was a taste of the political momentum that's coming in 2018, the midterm elections could completely change the game.
We Know The Difference
Lots of signs focused on the issues of sexual harassment and assault and the ongoing conversation around #MeToo.
More to come...