Why I've Decided To Read More Latinx Classics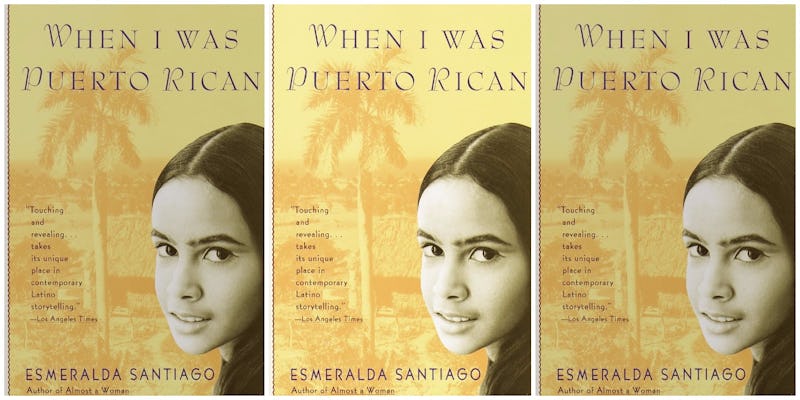 The first time I can actively remember reading a book by a Latinx author was the summer of sixth grade. I had been placed into an advanced summer program thanks to my good grades in English. My class was assigned The House On Mango Street by Sandra Cisneros, and I spent the summer falling in love with Esperanza Cordero's story, asking my mother to translate the Spanish words so I could write them down in the notebook we'd been asked to keep of their meanings. I don't think it really struck me then that it was the first novel about a Latina girl I'd ever read.
I grew up with my mother's Puerto Rican family, in a neighborhood filled with other Latinx families. My abuela had passed away a couple of years before that summer of The House On Mango Street, but memories of her food, her music, the toy coqui bandstand I danced to on Christmas Day were still then, and now, fresh in my mind. Reading Esmeralda's story didn't feel monumental or spectacular to me then; it felt natural, like reading about my friends or any girl from my neighborhood.
I was later lucky enough to attend an all-girl's high school, where those stories, too, were normal, expected parts of the curriculum. We read Esmeralda Santiago's When I Was Puerto Rican, Sandra Cisneros's Caramelo, and Julia Alvarez's In The Time of the Butterflies. It's only now that I can recognize how special it was to have teachers who made sure we were reading from diverse experiences, cultures, time periods. Sure, we read Shakespeare and Austen, Hemingway and Fitzgerald. But we also read Malcolm X and Danzy Senna, Zadie Smith and Chang-rae Lee. So many don't get the opportunities to read as diversely and widely as I did then, and I'm more grateful for that now than I ever would have thought to be back then.
But as much as I would like to say that my high school reading assignments set me up on the path to picking up more of these books post-school, I would be lying. While I continued to read works from writers like Ralph Ellison and Jhumpa Lahiri in college, I have yet to return to some of the most famous works of Latinx fiction out there. Of course, I've read tons of new books with diverse main characters, adult and YA alike, that share the stories of Latinx people.
But Like Water For Chocolate, Love In The Time Of Cholera, The House of the Spirits, The Brief Wonderous Life Of Oscar Wao, How The Garcia Girls Lost Their Accents... all classic books by and about Latinx men and women that have been on my TBR for years but which I have never picked up. And more than ever, recently, I have been thinking it's time to change that.
You don't need me to tell you that being Latinx in America is... complicated right now. From our President's vocal disdain for Hispanics and the cruel immigration laws being enacted, there is so much for the Latinx community to face. Now add to that my own personal relationship with my identity—I identify as Latina but am actually what some people would call a "mutt", made up of many different cultural backgrounds; I am also white and do not speak fluent Spanish, which can make identifying as Latina even more interesting due to questions of my own privilege as a non-black Latina and also acceptance from other Latinx—and you've got a hodgepodge of confused feelings.
But as I've gotten older, I've only felt connected to my Puerto Rican heritage more and more. And cultural figures like Selena Quintanilla-Perez and Gina Rodriguez, and projects like LatinxReads, have made me think less and less about what makes me different from other Latinx, and instead what makes me the same. We all have different foods, different traditions, different skin colors, we might not all have grown up speaking Spanish... but what we all undeniably share is our pride in being Latinx. The definition of Latinx is broad and there is room for all of us at the table.
So I am going to take that pride and grow it, by reading those books I've so long kept on the shelf. Immersing myself in these beloved, widely read stories of people within the community can only strengthen my connection to it — as well as help me learn more about the experiences within that I will never have. After all, the best way to show pride in your heritage is to share stories within it, to amplify its voices, and to make yourself a part of the culture by keeping its traditions and tales alive. And I'm committed to doing that, one book at a time.